Play

Play Next

Add to queue
Play

Play Next

Add to queue

15,677 plays

Play

Play Next

Add to queue

6,620 plays

Play

Play Next

Add to queue

6,608 plays

Play

Play Next

Add to queue

3,919 plays
Genre: Jazz / R&B / Rockabilly

Location CHICAGO, Illinois, US

Profile Views: 59662

Last Login: 3/8/2011

Member Since 4/19/2006

Website www.fourcharms.com

Record Label Hi Style Records-Chicago, IL

Type of Label Indie

Bio

For merch/CDs and more info visit www.fourcharms.com ...... ...... ...... ...... Jimmy Sutton's Four Charms debuted their fusion of classic American music on New Years Eve, 1998. The bands intense chemistry and energetic show was an immediate hit. For four years, from 1999 to 2003, the Four Charms performed to a standing room only audience at Chicago's historic Green Mill jazz club. A quartet that is versatile in all forms of American roots styles, the Four Charms recall the sincerity and musical depth of Tiny Grimes, Merle Travis, The Treniers and Willie Dixon's Big Three Trio. The Four Charms are passionate about their music and the band has never paid attention to trends. Key elements of the Charms sound are their dynamics, guitar/sax harmonies and their call and response style, as evidenced on their original tunes, "Sherry Flip", "Dont Make Me Beg" and "Triskaidekaphobia", as well as their translations of familiar and obscure material (from Roy Brown's "Up Jumped The Devil" to the lesser known Five Blazes tune "Chicago Boogie"). Jimmy Sutton has been playing the doghouse bass since his high school days. Nominated twice by the Illinois Entertainer as the best bass player in Chicago, Sutton incorporates many diverse musical styles. He has recorded with highly acclaimed rockabilly, country and blues artists, including Ronnie Dawson, Koko Taylor, Willie Big Eyes Smith, Deke Dickerson and has shared the stage with a roster of greats, as well. Most notably, Jimmy Sutton was co-founder of Chicago's Mighty Blue Kings. You can now find Jimmy Sutton touring with The Del Moroccos, Deke Dickerson, Chicago Blues Round Robin, and performing under his own name. After three years with the Mighty Blue Kings Sutton teamed up with Madison, Wisconsin blues guitar ace (and vocalist) Joel Paterson, who has performed with noted blues artists such as Jim Liban and Paul Black. When he's not slinging guitar with the Charms, Joel plays in a few other Chicago bands including, Devil in a Woodpile, Steve Dawson, and his own project, Joel Paterson's Blues Round-Up. Joel Paterson has released two solo discs: Down At The Depot (2001) and Go Lightnin (2004). Sutton and Paterson then recruited former Mighty Blue King tenor and baritone saxman, Jonathan Nappy Doyle. Nappy was a fixture on the Chicago jazz scene, until his relocation to Austin, Texas, where he played with the Asylum Street Spankers, and now plays with Witt Smiths Hot Jazz Caravan, while regularly sitting in with other Austin greats. Cincinnati, Ohio export Jim Barclay on drums rounds out the quartet. Barclay also plays with Joel Patersons Blues Round-Up and with his own band, The Federales. In 2000, the debut disc from the Four Charms, Flatland Boogie, was received with tremendous reviews and sold 5,000 copies. In 2005, The second disc, Triskaidekaphobia, is a current favorite for American and European rockabilly and blues audiences. It is in its second pressing. The Charms have played across the US and Europe and have had the opportunity to share the stage and back up some legendary acts such as Jimmy McCracklin, Joe Houston, The Calvanes, The Cleftones, The Teenagers, Billy Lee Riley, Wanda Jackson, and Vernon Taylor. The foursome have been featured on the PBS television program, Wild Chicago and have received airplay on Midwest radio including Chicagos WXRT - FM and many national College and Blues stations. In 2001, the band won the Chicago Musicians award for Best Rock Entertainer. Call them swing, call them rockabilly, call them jump rhythm-and-blues, call them jazz.....just dont call them before noon! .. ....

Members

JIMMY SUTTON-Lead Vocals and Upright Bass, JOEL PATERSON-Lead Guitar and Vocals, JONATHAN DOYLE-Saxophone, JIM BARCLAY-Drums ...... ......

Influences

Tiny Grimes, Merle Travis, The Treniers and Willie Dixons Big Three Trio

Sounds Like
No recent updates in this category.
Why not...
Bio:
For merch/CDs and more info visit
www.fourcharms.com


Jimmy Sutton's Four Charms debuted their fusion of classic American music on New Years Eve, 1998. The bands intense chemistry and energetic show was an immediate hit. For four years, from 1999 to 2003, the Four Charms performed to a standing room only audience at Chicago's historic Green Mill jazz club. A quartet that is versatile in all forms of American roots styles, the Four Charms recall the sincerity and musical depth of Tiny Grimes, Merle Travis, The Treniers and Willie Dixon's Big Three Trio. The Four Charms are passionate about their music and the band has never paid attention to trends. Key elements of the Charms sound are their dynamics, guitar/sax harmonies and their call and response style, as evidenced on their original tunes, "Sherry Flip", "Dont Make Me Beg" and "Triskaidekaphobia", as well as their translations of familiar and obscure material (from Roy Brown's "Up Jumped The Devil" to the lesser known Five Blazes tune "Chicago Boogie"). Jimmy Sutton has been playing the doghouse bass since his high school days. Nominated twice by the Illinois Entertainer as the best bass player in Chicago, Sutton incorporates many diverse musical styles. He has recorded with highly acclaimed rockabilly, country and blues artists, including Ronnie Dawson, Koko Taylor, Willie Big Eyes Smith, Deke Dickerson and has shared the stage with a roster of greats, as well. Most notably, Jimmy Sutton was co-founder of Chicago's Mighty Blue Kings. You can now find Jimmy Sutton touring with The Del Moroccos, Deke Dickerson, Chicago Blues Round Robin, and performing under his own name. After three years with the Mighty Blue Kings Sutton teamed up with Madison, Wisconsin blues guitar ace (and vocalist) Joel Paterson, who has performed with noted blues artists such as Jim Liban and Paul Black. When he's not slinging guitar with the Charms, Joel plays in a few other Chicago bands including, Devil in a Woodpile, Steve Dawson, and his own project, Joel Paterson's Blues Round-Up. Joel Paterson has released two solo discs: Down At The Depot (2001) and Go Lightnin (2004). Sutton and Paterson then recruited former Mighty Blue King tenor and baritone saxman, Jonathan Nappy Doyle. Nappy was a fixture on the Chicago jazz scene, until his relocation to Austin, Texas, where he played with the Asylum Street Spankers, and now plays with Witt Smiths Hot Jazz Caravan, while regularly sitting in with other Austin greats. Cincinnati, Ohio export Jim Barclay on drums rounds out the quartet. Barclay also plays with Joel Patersons Blues Round-Up and with his own band, The Federales. In 2000, the debut disc from the Four Charms, Flatland Boogie, was received with tremendous reviews and sold 5,000 copies. In 2005, The second disc, Triskaidekaphobia, is a current favorite for American and European rockabilly and blues audiences. It is in its second pressing. The Charms have played across the US and Europe and have had the opportunity to share the stage and back up some legendary acts such as Jimmy McCracklin, Joe Houston, The Calvanes, The Cleftones, The Teenagers, Billy Lee Riley, Wanda Jackson, and Vernon Taylor. The foursome have been featured on the PBS television program, Wild Chicago and have received airplay on Midwest radio including Chicagos WXRT - FM and many national College and Blues stations. In 2001, the band won the Chicago Musicians award for Best Rock Entertainer. Call them swing, call them rockabilly, call them jump rhythm-and-blues, call them jazz.....just dont call them before noon! ..
Member Since:
April 19, 2006
Members:
JIMMY SUTTON-Lead Vocals and Upright Bass, JOEL PATERSON-Lead Guitar and Vocals, JONATHAN DOYLE-Saxophone, JIM BARCLAY-Drums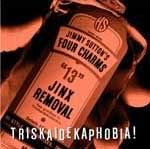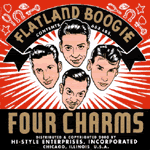 Influences:
Tiny Grimes, Merle Travis, The Treniers and Willie Dixons Big Three Trio
Record Label:
Hi Style Records-Chicago, IL