No recent updates in this category.
Why not...
Play

Play Next

Add to queue

Play

Play Next

Add to queue

Play

Play Next

Add to queue

Play

Play Next

Add to queue

Play

Play Next

Add to queue
About me:
I adore abstract thought.I'm sure it's from being raised on Twilight Zone and Sci-Fi.I enjoy fog and everthing eerie and macabre (POE,Edward Gorey,and things that go bump in the night) It's about the adrenaline I'm sure of it.Don't get me wrong I also adore all things cute and cuddly. Hello Kitty,Muppets,Faires,etc...etc.I also love art...PreRaphaelites,Brom,Michael Whelan,Michael Parkes,Arthur Rackman just to name a few of my
favorites.My
music taste is eclectic along with the films I LOVE to watch.I have been acused of having especially heightened senses,but like everything else it has it's good points and bad. Activites that I enjoy are hiking and dancing.I told ya all I was eclectic.
Ishiki by Audery Kawasaki
Circus by Shelly Wan
Tranquil Aftermath by Jonathan Weiner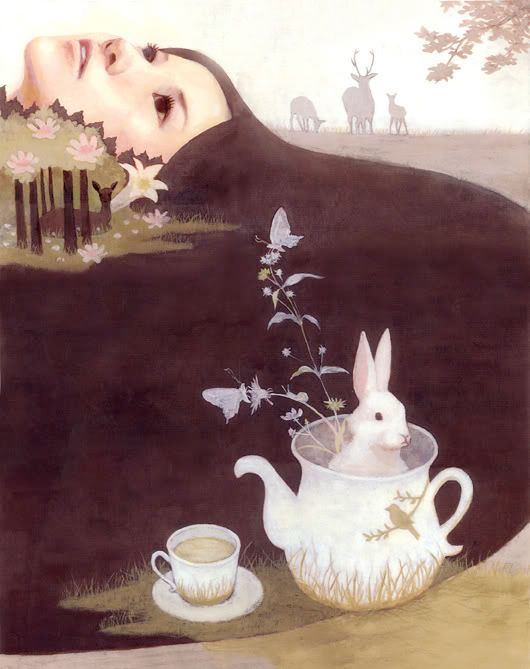 Green Tea by Erika Yamashiro
Rainy Downtown by Joao Ruas
Oracle by Martha Dahlig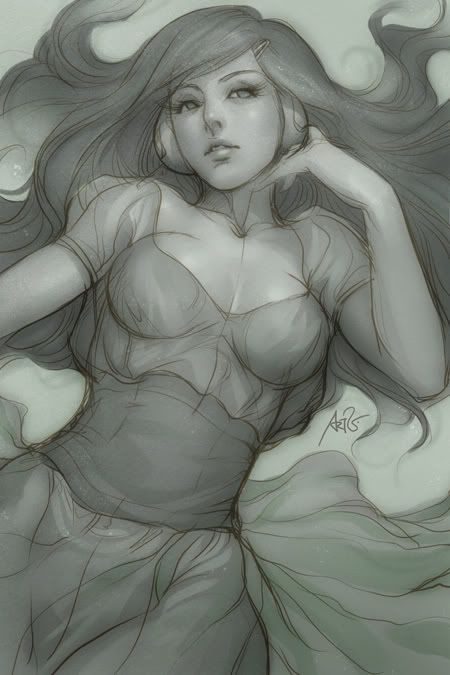 Pepper Rest by Artgerm
House of Blues Anaheim THUR!
http://www.houseofblues.com/tickets/eventdetail.ph...
Powered by ShareThis
Who I'd like to meet:
Thinkers,preferably thoughtful ones. And... Brad Anderson:writer/director/editor
Status:

Single

Orientation:

Straight

Religion:

Other

Zodiac Sign:

Pisces

Children:

Undecided

Smoke:

No

Occupation:

Freelance Bartender
General

If it has ology in it I'm intersted.Presently my top four favorites are neurobiology,mythology,psychology,and sociology.Yes I'm admiting I think to much.I tell myself to stop so I can sleep at night. Mmm crazy? Maybe a little.

Music

(echo echo) "as i do" steve carson band "beautiful" the shys "call in the calvary" mighty six ninety "mistakes like these" transfer "the rest of your life" airborne toxic event "does this mean you're moving on" the 88 "all cause of you" lemon sun "telephone" rachael yamagata "worn me down" jamie lidell "daddy's car"

Movies

Blade Runner

,

Jacobs Ladder

,

V for Vendetta

,

Night Watch

,

12 Monkeys

,

Memento

,

Butterfly Effect

,

Stay

,

Altered States

,

Lost Boys

,

Sleppy Hollow

,

Fire in the Sky

,

Mean Machine

,

Something Wicked This Way Comes

,

Stir of Echos

,

Dracula

,

Underworld

,

Count of Monte Cristo

,

Bourne

,

Dangeous Beauty

,

Braveheart

,

13th Warrior

,

Gladiator

,

Dreamchild

,

Lord of the Rings

,

28 Days Later

,

Very Thought of You

,

Skeloton Key

,

Labyinth

,

Princess Bride

,

Dark Crystal

,

Secert of N.I.M.H.

,

Escape to Witch Mountain

,

Amelie

,

Garden State

,

Flatliners

,

and any thing Hayao Miyazaki does.That also goes for Alfred Hitchcock

,

Terry Gilliam

,

all things Henson and Brad Anderson(Next Stop Wonderland

,

Happy Accidents

,

Session 9

, and his latest The Machinist)Above all is

Lucas.Pioneer.Revolutionary.Benevolent.He

has been generous to share his story and vision.

Television

X-files

,

Twight Zone

,

Outer Limits

,

Roswell

,

Medium

,

Taken

,

Nova

,

Criminal Intent ( Vincent D'Onofrio is a joy to watch

,

plus he reminds me of Orson Welles)

,

Farscape(1st season)

,

BBC

,

Discovery

,

TLC

,

Comedy Central

,

History Channel

,

and Mystery(PBS preferably Sherlock with Jermey Brett another actor who has mastered his craft)

Books

When God Was a Woman-Merlin Stone,Mercedes Lackey(Valdamar Series),Always Talk to Strangers-David Wygant,Calvin and Hobbes,Clive Barker,The Queen's Man : A Medieval Mystery-Sharon Kay Penman,and a lot more non-fiction.

Heroes

Boudicca: Boudicca was the wife of Prasutagus, who was head of the Iceni tribe in East England, in what is now Norfolk and Suffolk. In 43 CE, the Romans invaded Britain, and most of the Celtic tribes were forced to submit. However, the Romans allowed two Celtic kings to retain some of their traditional power; one was Prasutagus. The Roman occupation brought increased Roman settlement, military presence, and attempts to suppress Celtic religious culture. There were major economic changes, including heavy taxes and money lending. In 47 CE the Romans forced the Ireni to disarm, creating resentment. Prasutagus had been given a grant by the Romans, but the Romans then redefined this as a loan. When Prasutagus died in 60 CE, he left half his kingdom to the Emperor Nero to settle this debt. The Romans arrived to collect, but instead of settling for half the kingdom, seized control of it. To humiliate the former rulers, the Romans beat Boudicca publicly, raped their two daughters, seized the wealth of many Iceni and sold much of the royal family into slavery. The Roman governor Suetonius turned his attention to attacking Wales, taking two-thirds of the Roman military in Britain. Boudicca meanwhile met with the leaders of the Iceni, Trinovanti, Cornovii, Durotiges, and other tribes, who also had grievances against the Romans including grants that had been redefined as loans. They planned to revolt and drive out the Romans. Led by Boudicca, about 100,000 British attacked Camulodunum (now Colchester), where the Roans had their main center of rule. With Suetonius and most of the Roman forces away, Camulodunum was not well-defended, and the Romans were drive out. he Procurator Decianus was forced to flee. Boudicca's army burned Camulodunum to the ground; only the Roman temple was left. Immediately Boudicca's army turned to the largest city in the British Isles, Londinium (London). Suetonius strategically abandoned the city, and Boudicca's army burned Londinium and massacred the 25,000 inhabitants who had not fled. Archaeological evidence of a layer of burned ash shows the extent of the destruction. Next, Boudicca and her army marched on Verulamium (St. Albans), a city largely populated by Britons who had cooperated with the Romans, and they were killed as the city was destroyed. Boudicca's army had counted on seizing Roman food stores when the tribes abandoned their own fields to wage rebellion, but Suetonius had strategically seen to the burning of the Roman stores. Famine thus struck the victorious army, weakening them. Boudicca fought one more battle, though its precise location is not sure. Boudicca's army attacked uphill, and, exhausted, hungry, was easy for the Romans to rout. Roman troops of 1,200 defeated Boudicca's army of 100,000, killing 80,000 to their own loss of 400. What happened to Boudicca is uncertain. It is said she returned to her home territory and took poison to avoid Roman capture. A result of the rebellion was that the Romans strengthened their military presence in Britain and also lessened the oppressiveness of their rule. Boudicca's story was nearly forgotten until Tacitus' work, Annals, was rediscovered in 1360. Her story became popular during the reign of another English queen who headed an army against foreign invasion, Queen Elizabeth I.