Play

Play Next

Add to queue
Play

Play Next

Add to queue

2,893 plays

Play

Play Next

Add to queue

10,845 plays

Play

Play Next

Add to queue

625 plays

Play

Play Next

Add to queue

284 plays

Play

Play Next

Add to queue

265 plays
Genre: Jazz / R&B / Soul

Location Nashville, Los Angeles, Austin, Japan, Un

Profile Views: 71098

Last Login: 7/15/2011

Member Since 6/3/2005

Website www.JNaeMusic.com

Type of Label Indie

Bio

"J'Nae is Sarah Vaughan mixed with Aretha. She's got the 'money' kind of voice."--- as stated by Beegie Adair, internationally known EMI recording jazz pianist/artist. J'Nae is an eclectic singer, songwriter and pianist that combines jazz, R&B, funk, spoken word and improvisation through unique musical compositions that can only be described as 'J'Nae'. Her explosive stage performance, down-to-earth rapport with the audience and pure emotion radiates as she sings. J'Nae claims, "I love to feed off my band guys. I never know exactly where we'll go in the piece. We never play anything the same way twice. We're intently listening to each other and playing off each other and that's the number one reason I love jazz". She has finally accepted that she lives 'outside the box' and is proud to sing and write with her genuine voice. J'Nae's upcoming album "Flow" truly represents her authentic voice. The album includes ten original works and arrangements of cover songs by The Beatles, Dizzy Gillespie, Billy Strayhorn and Michael Jackson, interpreted as only J'Nae can perform. She is an individual, although one can definitely hear her influences from Jill Scott, Sting and Me'shell N'degeocello to Dianne Reeves, Jamie Cullum and Etta James. Since she was four years old, J'Nae has been on stage. She recalls, "Everyday after school I had dance lessons---tap, jazz, contemporary, hip-hop, ballet. I was also completely focused on being a competitive pianist. So I danced constantly, practiced piano for hours, did my homework and then went to bed. During countless weekends for years, my parents would drive me to various classical piano competitions all around the state of Texas. Since I can remember, my life has been music, music, music!" Now, J'Nae is a prolific ASCAP songwriter, writing over four hundred songs. She consistently receives honors as an artist and songwriter. She was named Music Connection's 'Top 100 Unsigned Artists', comprised of all genres and J'Nae being only one of three jazz artists named on the entire list. She was named 'Top Female Artist' for the 'So Cal Live Acoustic Competition', vying against numerous female singer/songwriters over six months for the title. She has placed in the 'International Songwriting Competition' Jazz Composition and Performance categories, with over 15,000 applicants, as well. J'Nae was also selected as the very first Vocal Jazz major at the University of Southern California. She received her Bachelor of Music in Jazz Studies at USC and advanced to UCLA to earn her Post-Graduate in Music Business and Songwriting. After her education, J'Nae recorded her first CD "Soultry Jazz", her straight-ahead jazz album, which has received airplay since its release. J'Nae is based out of Los Angeles, CA. and Nashville, TN. and continues to play the jazz and singer/songwriter venues in those areas. She's frequently on the road with music opportunities around the United States and performs in what she calls her "second home", Japan, as much as she is able. She has played shows in the jazz festival circuit, including the Pasadena, John Coltrane and Long Beach Jazz Festivals, just to name a few. In addition to her performance, J'Nae obtains TV/Film song placement and her voice can be heard on jingles and voice-overs, as well. She has signed several music licensing agreements to license her songs in various areas. On an alternate note, J'Nae has also toured as a professional dancer and performs in Musical Theatre, most recently starring in "BOTH: A Beatles Nativity" at the Open Fist Theatre in Hollywood, CA. Describing J'Nae is sometimes best left to others: Jeff Steinberg, arranger for the Nashville Symphony states: "J'Nae's voice and songwriting is like Ray Charles meeting Gershwin. Her songs are totally unique". The LA Jazz Scene explains her like this: "J'Nae is an extraordinary singer of jazz, ballads, and the blues. She has a sultry voice and her showmanship rocks out! She moves to the music while delivering the song she is involved with and puts 100% of soul and heart into each number." Marc Harris, record producer for Michael McDonald and BeBe & CeCe Winans, wrote about her voice like this: "J'Nae's singing and writing is off the hook. She is soooo soulful it's amazing. OK, I'm convinced there's a soul sista' on the inside of her." And in her own words, J'Nae adds, "When I was eight years old, I remember singing 'It Don't Mean A Thing If It Ain't Got That Swing'. While other kids were listening to teeny-bop music, I was scatting over Duke Ellington tunes." Her passion is jazz. "All my life I've been attracted to R&B and funk and soul music. For some reason, it's just my connection. It's in my blood." Her heart is R&B. "When I sit at my piano, I expose every thought and feeling I'm having through my lyrics and my tunes. It's my therapy. Songwriting is how I function and breathe". Her songs flow out of her soul. And by the early summer, she is undoubtedly going to have the album to prove it.

Members

J'Nae (Vocals, Piano, Rhodes, Songwriter--All Lyrics and Music)

Influences

Jill Scott, Sting, Me'Shell N'degeocello, india.arie, Dianne Reeves, Cassandra Wilson, Jamie Cullum, Rachelle Ferrell, Etta James

Sounds Like

J'Nae
Bio: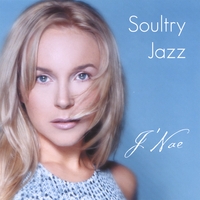 "J'Nae is Sarah Vaughan mixed with Aretha.  She's got the 'money' kind of voice."--- as stated by Beegie Adair, internationally known EMI recording jazz pianist/artist. 
J'Nae is an eclectic singer, songwriter and pianist that combines jazz, R&B, funk, spoken word and improvisation through unique musical compositions that can only be described as 'J'Nae'.  Her explosive stage performance, down-to-earth rapport with the audience and pure emotion radiates as she sings.  J'Nae claims, "I love to feed off my band guys.  I never know exactly where we'll go in the piece.  We never play anything the same way twice.  We're intently listening to each other and playing off each other and that's the number one reason I love jazz".  She has finally accepted that she lives 'outside the box' and is proud to sing and write with her genuine voice.
J'Nae's upcoming album "Flow" truly represents her authentic voice.  The album includes ten original works and arrangements of cover songs by The Beatles, Dizzy Gillespie, Billy Strayhorn and Michael Jackson, interpreted as only J'Nae can perform.  She is an individual, although one can definitely hear her influences from Jill Scott, Sting and Me'shell N'degeocello to Dianne Reeves, Jamie Cullum and Etta James. 
Since she was four years old, J'Nae has been on stage.  She recalls, "Everyday after school I had dance lessons---tap, jazz, contemporary, hip-hop, ballet.  I was also completely focused on being a competitive pianist.  So I danced constantly, practiced piano for hours, did my homework and then went to bed.  During countless weekends for years, my parents would drive me to various classical piano competitions all around the state of Texas.  Since I can remember, my life has been music, music, music!"
Now, J'Nae is a prolific ASCAP songwriter, writing over four hundred songs.  She consistently receives honors as an artist and songwriter.  She was named Music Connection's 'Top 100 Unsigned Artists', comprised of all genres and J'Nae being only one of three jazz artists named on the entire list.  She was named 'Top Female Artist' for the 'So Cal Live Acoustic Competition', vying against numerous female singer/songwriters over six months for the title.  She has placed in the 'International Songwriting Competition' Jazz Composition and Performance categories, with over 15,000 applicants, as well. 
J'Nae was also selected as the very first Vocal Jazz major at the University of Southern California.  She received her Bachelor of Music in Jazz Studies at USC and advanced to UCLA to earn her Post-Graduate in Music Business and Songwriting.  After her education, J'Nae recorded her first CD "Soultry Jazz", her straight-ahead jazz album, which has received airplay since its release.
J'Nae is based out of Los Angeles, CA. and Nashville, TN. and continues to play the jazz and singer/songwriter venues in those areas.  She's frequently on the road with music opportunities around the United States and performs in what she calls her "second home", Japan, as much as she is able.  She has played shows in the jazz festival circuit, including the Pasadena, John Coltrane and Long Beach Jazz Festivals, just to name a few.  In addition to her performance, J'Nae obtains TV/Film song placement and her voice can be heard on jingles and voice-overs, as well. She has signed several music licensing agreements to license her songs in various areas.  On an alternate note, J'Nae has also toured as a professional dancer and performs in Musical Theatre, most recently starring in "BOTH:  A Beatles Nativity" at the Open Fist Theatre in Hollywood, CA.
Describing J'Nae is sometimes best left to others:  Jeff Steinberg, arranger for the Nashville Symphony states:  "J'Nae's voice and songwriting is like Ray Charles meeting Gershwin.  Her songs are totally unique". The LA Jazz Scene explains her like this:  "J'Nae is an extraordinary singer of jazz, ballads, and the blues.  She has a sultry voice and her showmanship rocks out!  She moves to the music while delivering the song she is involved with and puts 100% of soul and heart into each number." Marc Harris, record producer for Michael McDonald and BeBe & CeCe Winans, wrote about her voice like this: "J'Nae's singing and writing is off the hook. She is soooo soulful it's amazing. OK, I'm convinced there's a soul sista' on the inside of her."
And in her own words, J'Nae adds, "When I was eight years old, I remember singing 'It Don't Mean A Thing If It Ain't Got That Swing'.  While other kids were listening to teeny-bop music, I was scatting over Duke Ellington tunes."  Her passion is jazz.  "All my life I've been attracted to R&B and funk and soul music.  For some reason, it's just my connection.  It's in my blood."  Her heart is R&B.  "When I sit at my piano, I expose every thought and feeling I'm having through my lyrics and my tunes.  It's my therapy.  Songwriting is how I function and breathe".  Her songs flow out of her soul.  And by the early summer, she is undoubtedly going to have the album to prove it.