Play

Play Next

Add to queue
Play

Play Next

Add to queue

2,402 plays

Play

Play Next

Add to queue

3,953 plays

Play

Play Next

Add to queue

1,570 plays

Play

Play Next

Add to queue

1,425 plays
Genre: Blues / Classic Rock / Psychedelic

Location Please select your region, Un

Profile Views: 50163

Last Login: 4/2/2012

Member Since 7/15/2007

Website http://www.msplinks.com/MDFodHRwOi8vd3d3LmpvaG5jaXBvbGxpbmEuY29tLw==

Record Label Capitol / EMI

Type of Label Major

Bio

.. .. The Official John Cipollina Memorial mySpace page. Please feel free to send us a friend request and/or leave your comments about John Cipollina! .... Born in Berkeley, California on August 24, 1943, John Cipollina represents the archetypal San Francisco 1965-1975 musician. .... As a founding member of Quicksilver Messenger Service, John went on to perform and record with dozens of bands , blazing a trail from rock to blues to jazz over a brilliant twenty-five year career. .... .. John Cipollina's guitar sounded like no other. His unique resonance touched people in places they didn't know existed. His signature sound will stand alone for all time as a part of the musical thread the San Francisco Bay Area has wrapped around the world. .... John passed away from a lifelong respiratory ailment on May 29, 1989. He left behind a great musical contribution for his worldwide audience to enjoy. For those of us who knew him, we share the memory of a truly wonderful person, whose being so perfectly reflected the magic in his music. .... In 1995 John's legendary amp stack was donated to the Rock and Roll Hall of Fame , ensuring him a place in music history. .... .. .. Find out more at the Official John Cipollina Memorial web site - click here.. .... ....

Members

John Cipollina - guitarist, vocals, musician.. ......

Influences

Quicksilver Messenger Service, Copperhead, Raven, Dinosaurs, Zero, Terry And The Pirates, Fish and Cip (with Barry "the Fish" Melton), Fish Stu, Nick Gravenites, Gravenites Cipollina Band (AKA Cipollina Gravenites Band), Thunder and Lightning (AKA Gravenites Cipollina Band ), Mickey Hart, Robert Hunter and the Mystery Band, Kingfish, Man, Problem Child, Rocky Sullivan, Novato Frank Band, Once, Freelight, San Francisco AllStars, Summer Of Love All Stars, Sounds Of San Francisco, 68 Band, Seven Deadly Sins

Sounds Like

John Cipollina
No recent updates in this category.
Why not...
Bio:
..

The Official John Cipollina Memorial mySpace page is just getting started and we're hoping to find many of John's fans and friends here. Please feel free to send us a friend request and/or leave your comments about John Cipollina!
Born in Berkeley, California on August 24, 1943, John Cipollina represents the archetypal San Francisco 1965-1975 musician.
As a founding member of Quicksilver Messenger Service, John went on to perform and record with dozens of bands , blazing a trail from rock to blues to jazz over a brilliant twenty-five year career.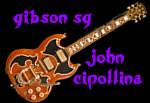 John Cipollina's guitar sounded like no other. His unique resonance touched people in places they didn't know existed. His signature sound will stand alone for all time as a part of the musical thread the San Francisco Bay Area has wrapped around the world.
John passed away from a lifelong respiratory ailment on May 29, 1989. He left behind a great musical contribution for his worldwide audience to enjoy. For those of us who knew him, we share the memory of a truly wonderful person, whose being so perfectly reflected the magic in his music.
In 1995 John's legendary amp stack was donated to the Rock and Roll Hall of Fame , ensuring him a place in music history.
Find out more at the Official John Cipollina Memorial web site - click here
Member Since:
July 15, 2007
Influences:
Quicksilver Messenger Service, Copperhead, Raven, Dinosaurs, Zero, Terry And The Pirates, Fish and Cip (with Barry "the Fish" Melton), Fish Stu, Nick Gravenites, Gravenites Cipollina Band (AKA Cipollina Gravenites Band), Thunder and Lightning (AKA Gravenites Cipollina Band ), Mickey Hart, Robert Hunter and the Mystery Band, Kingfish, Man, Problem Child, Rocky Sullivan, Novato Frank Band, Once, Freelight, San Francisco AllStars, Summer Of Love All Stars, Sounds Of San Francisco, 68 Band, Seven Deadly Sins
Sounds Like:
John Cipollina
Record Label:
Capitol / EMI