..
..
Play

Play Next

Add to queue
Play

Play Next

Add to queue

365 plays

Play

Play Next

Add to queue

210 plays

Play

Play Next

Add to queue

208 plays
.. ..

PRE-ORDER 'MODERN LOVE' HERE and receive exclusive download tracks!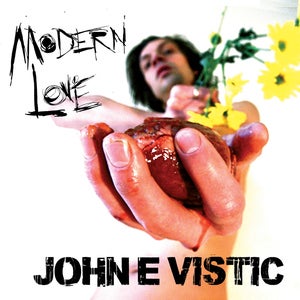 ..
Bookings:
For Bookings and Press please contact info@vistic.co.uk
Genre: Alternative / Country / Rock

Location Bristol, Southwest, Un

Profile Views: 140077

Last Login: 6/20/2011

Member Since 2/4/2006

Website www.vistic.co.uk

Record Label www.blackheartstudios.co.uk

Type of Label Indie

Bio

JOHN E VISTIC ..'Always on the outside of whatever side there was - when they asked why it had to be that way, 'well', he answered 'just because''... JOHN E VISTIC 'MODERN LOVE' Produced by Paul Corkett BRISTOL ALBUM LAUNCH 24th MARCH 2011, THE TUNNELS, BRISTOl. OFFICIAL RELEASE DATE 24th APRIL 2011. John E Vistic's new album 'Modern Love' was recorded straight to two and a half inch tape at Bristol's Toybox Studios by Ali Chant (PJ Harvey) and produced by Paul Corkett (Nick Cave, The Cure, The Horrors). All songs were written by Singer Songwriter and multi-instrumentalist, John E Vistic (except track 4, a monumental cover of Nick Cave's 'The Weeping Song'). 'Modern Love' is an epically amped-up album of dark love songs and familial meditations played with electrifying power by Vistic's legendary rock n roll band – Adam Coombes (Keys, String arrangements and Backing Vox) Guy Fowler (Bass), and Dan Clibery (Drums and Percussion) with stunning additional vocals from Daisy Chapman (Crippled Black Phoenix). An early special pre-album release version of the track 'Til My Loneliness Has Gone is also available now on vinyl with Impedance Records in Australia.

Members

JOHN E VISTIC - Lead Vox and Guitars, GUY - Lead Bass, DAN - Lead Drums, ADAM - Lead Keys, BVs

Influences

That bloke that bottled JEV outside Ajax's, Bob Dylan, Johnny Cash, Tom Waits, The Pogues, Woody Guthry, Elvis Frickin Presley, Radio Birdman, Dinosaur Jnr, Blitza Bargeld, The Stones, Wolf Mother, Jason Webley, Leonard Cohen, Alabama 3, The Scientists, Dr. Dre, KLF, Subgod, The KMK, The Waterboys, Dave Grainey and the Coral Snakes, Beasts of Bourbon, Isaak Hayes, Linton Kwasi Johnson, Burning Spear, Abu Shanti, Nick Cave, Mick Harvey, Roland S Howard, The Slub, The Strokes, Kate Bush, Patti Smith, The Ramones, Iggy Pop, The Stooges, Blue Aeroplanes, Chaos UK, Roger Waters, Pre-1986 Floyd, Tex Perkins, The Libertines, Gorecki, Ezra Pound, John Ford, Tom Nashe, Jaroslav Hasek, Ferdinand Celine, Will Shakes, Gaddis, Bellow, Beckett, Bukowski, Hemingway, Mailer, Yeats, General-Motors, Holden, Ford and Valiant Automobiles. The Big Blue Dream Mk 1 Ford Granada (see Vistic video).

Sounds Like

Cash in the Cave with The Shadows. Bad Seeds Meets the Stooges in a Dinosaur Jnr SoundHole.