Date:    7/25/2010 7:00 PM
Type:    Race
Course:    BAC 5K
Distance:    5 kilometers
Duration:    15:41
Pace:    5:03 / mile
Equipment:    adidas adizero Mana II (Mana-Red&White)
Weight:    169.0 lb
Misc:    Quality: 3/10, Effort: 1/10
Field Placement:    18
Age group:    35 – 39
Group Placement:    4
Weather:    95° F, Sunny
Event URL:    results.racecenter.com/2010/res_ac10.htm#overall
Notes:    Beaverton, OR - The inaugural Nike BAC 5K road race had plenty of solid competition - it was also the USATF Oregon 5K Grand Prix.

Rough drive up to Beaverton tonight as there was an accident on the highway that really slowed things up. The drive zapped me a bit.

While I am on excuses, I would like to add the 95 degree heat. Ok, done.

Race was 1.75 loops around the Nike perimeter road at NWH. Mostly flat with kind of a rolling hill here or there. Biggest difference was sun vs. shade.

The race delayed a bit with issues with the timing company. Only 5 of the starting mats were working so everyone had to scooch to the left at the starting line.

Race went off and a solid pack of about 20-25 of us were together at the mile in 4:48 pace. Then it started to separate and I was most certainly on the wrong side of the equation.

I was disappointed in my complete and utter lack of toughness. My fortitude is questionable to begin with but then sprinkle some heat and fuhgettaaboutit.

I devolved to a 5:12 second mile and the effort was disturbingly low.

I kind of paced off of two guys from there with a lack of focus being my prevailing attribute at that point.

We turned the corner toward the finishing stretch and I picked it up - realizing how little of my reservoir I had used amidst my wimpiness.

Oh well. Here is the silver lining: 15:41 is not too bad for a bad race. An unfocussed, train-through, in the heat.

So, that's that.

Lowest finish in Oregon 18th. Lowest age-group, 4th.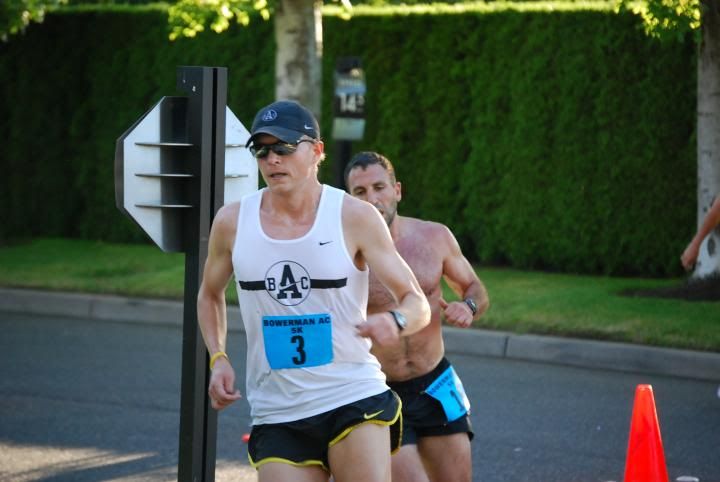 http://results.racecenter.com/2010/res_ac10.htm#overall
Statistics:    Calories: 397
VO2 Max: 66.1