Play

Play Next

Add to queue
Play

Play Next

Add to queue

233 plays

Play

Play Next

Add to queue

706 plays

Play

Play Next

Add to queue

752 plays

Play

Play Next

Add to queue

91 plays

Play

Play Next

Add to queue

121 plays
Please visit www.hipsterdeath.com

"Joy Von Spain combines avant-garde (de)compositional knowledge with noise...provocation, resulting in intriguing, often unsettling music that sounds like a dream/nightmare collaboration between Karlheinz Stockhausen and Coil, or Iannis Xenakis and Lustmord..." - Dave Segal, The Stranger's blog 12-22-08
Genre: Classical Opera and Vocal / Experimental / Live Electronics

Location SEATTLE, Washington, US

Profile Views: 33955

Last Login: 8/10/2011

Member Since 4/1/2006

Website www.hipsterdeath.com

Record Label Hipster Death Records

Type of Label Indie

Bio

Members

Influences

Sounds Like

Art Song, Noise, Electronic, Doom, Electronic, Avant-Garde Classical, Experimental
Member Since:
April 01, 2006
Sounds Like:
Art Song, Noise, Electronic, Doom, Electronic, Avant-Garde Classical, Experimental
Record Label:
Hipster Death Records, Backwards Records NW, SLF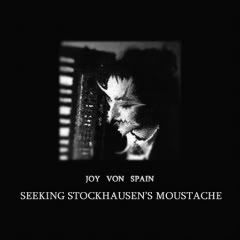 SEEKING STOCKHAUSEN'S MOUSTACHE

"Highbrow neoclassical composition meets antagonistic noisician instincts in Joy Von Spain's compelling pieces. Her 2007 disc Seeking Stockhausen's Moustache comes shrouded in a bracing darkness and distinctive tonalities. It will one day be regarded as a classic in Northwest avant-garde music—if it isn't already. Her new work, Lady Lazarus, is going to flip some wigs and trigger some seizures, as well." - DAVE SEGAL - The Stranger 1-7-09

Pro-pressed CDr in jewel case

..2010 Re-issue + bonus track w/alternate design now available from Hipster Death Records - Order here.





THE SOFT CAGE - maxi-single with remix kit


remixes & covers of in the Age of Terminal Static's "The Soft Cage" by Joy Von Spain, Amphetamine Virus, Murder, and Mikhail Bohonus
..order the CD here
Hipster Death Records 2010





DREADFUL PASSAGE


Dreadful Passage Joy Von Spain & Patrick Urn, Black 13, Murder, Cathartech, Numb Erone
Eight pieces reflecting ruin, woe, forlorn hope...
..order the CD here
Hipster Death Records 2010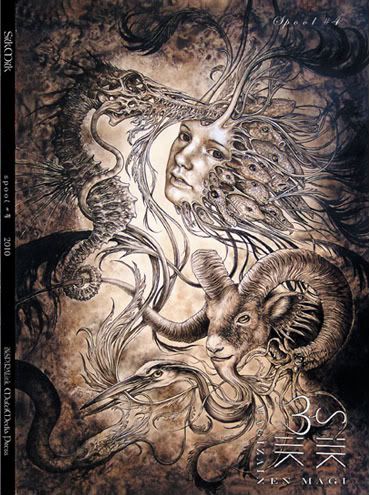 ..order SilKMilk MagiZain s p o o l no. 4 here


Square-bound A4-size Journal:
184 pages, 80 in full colour, including colour pull-out and covers. Comes with DVD of over one hour video and one hour audio, plus 78 min. audio CD. Complete project created by 70 contributors.

Includes Joy Von Spain's cover of "The Soft Cage" (original by In the Age of Terminal Static). $28US (+$16 postage). Click on link above for more details or to order.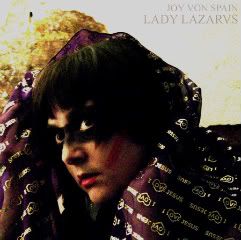 LADY LAZARUS


..order the 2010 seven track re-issue + bonus track here

"Von Spain makes some of the most menacingly beautiful music today, and deserves as much love (and press) as, say, Diamanda Galas, or Tom Waits or Carla Bozulich. Or even Gorecki. "Lady Lazarus" makes us uneasy by easily mining the classical and the experimental to create gritty, fearlessly emotional music...These are songs that wait in the dark for the right moment to attack themselves...'Lady Lazarus,' like its author, is genius. Difficult and harrowing, but honest and therefore holy, the songs of Joy Von Spain cant be forgotten if you tried, unless you exorcise them out of you." 9/10 -- Mike Wood, foxy digitalis
Read entire review here

Hipster Death Records 2010





HARSHFEST 2009 compilation


BR0064
Sold Out / physical release limited to 75 copies.
Compilation & 12-page Booklet includes 16 tracks by Seattle & Denver artists: Dried Up Corpse, Page 27, Amphetamine Virus, Slicing Grandpa, Numb Erone, MURDER, In the Age of Terminal Static, Joy Von Spain (The Soft Cage), Overdose the Katatonic, biostatic, Brocken Spectre, Forest of Grey, Penetration Camp, EBOSA, Blowupnihilist, and XISIX...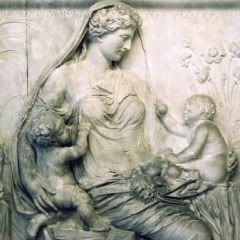 LADY LAZARUS


2009 first edition limited to 150 copies

The Scatological Liberation Front / SLFcd56
Also Available Through:
CD BABY
..SCATOLOGICAL LIBERATION FRONT
"Dreadful Passage Part 2" is now available on the Droning Earth vol 34 net compilation out of Finland: Droning Earth......




_____________________________________________________________

FREE DOWNLOAD:
* NASTY HUNTER "Beast Blob Parasite"
* SON OF NONE "The Road To Hell Is Paved With Good Intentions"
on Audio Ugly 4 net comp from .. Extreme Volume Pop

_____________________________________________________________

FREE DOWNLOAD:
* JOY VON SPAIN "Nite-Mary" on Audio Ugly 5 net comp from
.. Extreme Volume Pop

____________________________________________________________


Upcoming Releases:



"MAGNIFICAT" For Soprano & Harp Soccer Mom Ebonics Slated for release this year on installment 4 of the infamous Sparkle Girl Mix Tapes

"O ARTEMISIA" new album currently in production

"Joy Von Spain...occupies an integral position in the city's noise-music underground as half of 100Pieces with Murder, while also collaborating with various sonic brutes around town...it's kind of like if Ruth White were moonlighting in Wolf Eyes. While writing compositions of great subtlety and unconventional beauty, Von Spain also shapes extreme frequencies into experimental noise pieces that show formidable thought regarding dynamics..."
..Article in Data Breaker - The Stranger June 23, 2009

"Some people just don't know when to say no. Usually, I'd say to let these people suffer, and that they would learn the paces on their own one day... However, some people never say no because they have so much mental excretion of such a high potency that it would be nothing less than murder to imbibe by that which they so very much need cleaned from their bodies...Joy Von Spain is one of these such people. So, go to see her perform; Never use the excuse "She always plays-I can catch her again some time," because every time is different - and that one show you miss out on is probably the one you, stern listener, needed to hear."

- PATRICK URN / SYPHILIS SAUNA