About me: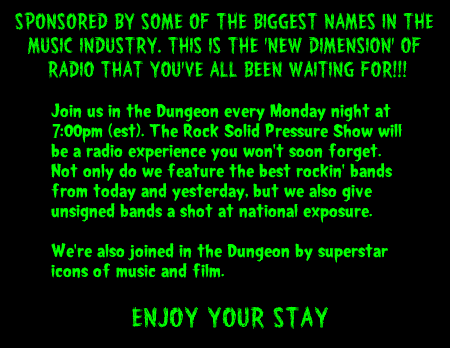 Hi, we're 'J-Rock & Patty The Radio Girl'.. We host the nationally syndicated radio phenomenon..
'Rock Solid Pressure'!
ROCK SOLID PRESSURE airs Monday night 7:00pm (EST USA) on these internet stations: Please check the schedules for the FM stations (all different)

LOCALIZED INTERACTIVE INTERNET RADIO

PURE ROCK RADIO (Canada)

WRBC 91.5 FM (Maine)

THE ROCKET 104.7 FM (Oklahoma)

**WRRY MEGAROCK RADIO 100.1 FM (Missouri)

.. METAL X RADIO

WDYN 100.1 FM (New York)

RADIO METAL STORM 87.9 FM (Connecticut)*Off air

You can also check out the weekly airing of the show on The Panther on Sunday nights from 9p-10p EST! ..

95.7 The Panther (Georgia)



Some stations air re-runs throughout the week. Check station schedules if you miss the show

Join us for our 11th season on WRBC 91.5 FM (Maine), PURE ROCK RADIO (Canada), RADIO METAL STORM 87.9 FM (Connecticut), THE ROCKET 104.7 FM (Oklahoma), THE PANTHER 95.7 FM (Georgia), MEGAROCK RADIO 100.1 FM WRRY (St. Louis), METAL X RADIO, LOCALIZED INTERACTIVE INTERNET RADIO, WDYN 100.1 FM (New York)

J-Rock's an ex-touring rocker and music industry professional from Jersey who has shared stages with some of the best bands in the world. Patty's a former broadcaster from Connecticut, and has worked in television in Greece. Now based in Central Florida, this high level DJ team cram a giant show into a one hour fireball. Best known for the 'Rock Solid Pressure' radio competitions which kick off in January every year. These high profile battles have become legend in the unsigned music community. These competitions begin on the first week of January every year. After the battle, they venture under the ruins and into the 'Dungeon' for a celebratory 'After Party'.. This is where they toast the victor of the match and share the spoils of war. They raise the goblet and send you on a Dungeon Tour that spans 4 decades of rock/metal music. They also mix in the best, and coolest, unsigned rock/metal bands. Many superstars and giants of the music industry always stop in for live interviews as well. Rock Solid Pressure is also sponsored by some of the biggest names in the music biz. Check it out!!

Some of the most well known rock music icons and industry insiders have crept in for live interviews. They've been joined in the dungeon by ROB ZOMBIE, STEVE VAI, CARMINE APPICE, JON ANDERSON from YES, BILL WARD from SABBATH, MAX CAVALERA from SOULFLY/SEPULTURA, RUDY SARZO, MICHAEL WILTON from QUEENSRYCHE, CHRIS CAFFERY from SAVATAGE, JOHN 5 from MARILYN MANSON/ROB ZOMBIE, BUMBLEFOOT from GUNS N ROSES, PIGGY D from THE ROB ZOMBIE BAND, KIRK and PEPPER from DOWN, DAVE ELLEFSON from MEGADETH/F5, BENJI from SKINDRED, ROSS THE BOSS from MANOWAR, ERIC BLOOM, ALBERT BOUCHARD, TOMMY Z from BLUE OYSTER CULT, RICK DERRINGER, ALAN PARSONS, PAUL GILBERT from RACER X/MR. BIG, STEVE WHITE from KMFDM/PIG, JASON from SHADOWS FALL, MICHAEL ANGELO BATIO, CRAIG GRUBER from RAINBOW/ELF,RAT SKATES from OVERKILL, PAGE HAMILTON from HELMET, RAYMOND HERRERA from FEAR FACTORY, ROBBIE STEINHARDT from KANSAS, JESSE DAYTON from CAPTAIN CLEGG AND THE NIGHT CREATURES, FRAN SHEEHAN from BOSTON, OLIVER POLATAI from KAMELOT/DORO, ARISTOTLE from DESTROPHY, JOE LESTE from BANG TANGO. The entire BTO, VICIOUS RUMORS, CRIMSON GLORY, UNDEROATH, SAINT VITUS, SENSES FAIL, LILLIAN AXE, TEMPLE OF BRUTALITY, THE ABSENCE, BOBAFLEX, HYDROVIBE, BONDED BY BLOOD, KYLESA, HOWL, ATLAS MOTH, RED FANG, LORDS OF ACID, ANGELSPIT, JOHN BINGHAM from FISHBONE, DH PELIGRO from THE DEAD KENNEDYS, THE DEVIL WEARS PRADA, IT DIES TODAY, MILJENCO MATIJEVIK from STEELHEART/ROCKSTAR MOVIE, TOMMY BOLAN from NYC/WARLOCK, BILL LEVERTY from FIREHOUSE, CLIFF MORRISON (Jim Morrison's Son), PHIL NARO from TALAS, BRIAN VOLLMER from HELIX, RONNY MUNROE from METAL CHURCH, DAVE EVANS from AC/DC, MARTHA DAVIS from THE MOTELS, STEVE GRISHAM from THE OUTLAWS, PHIL STOKES from PURE PRAIRIE LEAGUE, THE NAKED COWBOY, BILL PASCALI from VANILLA FUDGE, CHARLIE SOUZA from THE TOM PETTY BAND, ROB GRILL from THE GRASS ROOTS..and hold on..They've even had GARTH BROOKS, JOAN OSBORNE, PAUL WILLIAMS, STEPHEN BISHOP, GARY WRIGHT and many many more on the air for interviews. They also delve into the horror movie industry and feature live interviews with icons such as SHERI MOON ZOMBIE, BILL MOSELEY, SID HAIG, MICHAEL BERRYMAN, LESLIE EASTERBROOK, LINNEA QUIGLEY, SHAWNEE SMITH, CLEVE HALL, BJORN JISKOOT, MICHAEL FRANCE (Acclaimed Hollywood Screenwriter)and many more!! Also, mega-producers have stopped by the Dungeon like RICHARD CHYCKI (Aerosmith, Rush, Simple Plan, etc), THE TRACKBOYZ, and more. They're always profiling horror directors too, and you're always gonna get cool swag from the guests in the form of dvd's, cd's, signed 8x10's, and more.
So tune in and WIN STUFF!!

ROCK SOLID PRESSURE is sponsored and supported (Previously and currently) by MAXELL, DAISY ROCK GUITARS, THE JOHN LENNON SONGWRITING CONTEST, SAM ASH, INDIE-MUSIC.COM, OLD DOG PRODUCTS, DEANADOLL DESIGNS, FULL WAVE SOUND STUDIOS of TAMPA, ACE HIGH PRINTING, LEE HATE, TATTOOED STEEL (From VH-1's Rock Of Love),

They also have record label affiliates and A&R friends which include EARACHE RECORDS, C.E.D. ENTERTAINMENT (A division of Red Distribution/Sony BMG), ROADRUNNER RECORDS, SMALL STONE RECORDS, MERCURY RECORDS, RAT PAK / CENTURY MEDIA RECORDS, ATLANTIC RECORDS, BEILER BROTHERS RECORDS, VICTORY RECORDS, NIGHTMARE RECORDS, FUELED BY RAMEN, MELODIC REVOLUTION RECORDS, MOHAWK BOMB RECORDS, LOCOMOTIVE RECORDS, CHAVIS RECORDS, DECADENT SUITE RECORDS, CITY CANYONS RECORDS, BALD FREAK MUSIC, PAUL CONROY (Ferret Records), JOE CERINI, (VP A&R Sony Records), JEFFREY PRINGLE (Former GM of TransCon Records, currently heads JOHN GALT ENTERTAINMENT), KEN KRONGARD (Mercury, RCA, J Records, MajorLabelScout.com). Ken signed Avril Lavigne and runs the globe-trotting A&R company 'Major Label Scouts'..

Since 2002, Rock Solid Pressure has been ruling the airwaves!! It's an intense one hour ride. It's fun, dark, and sometimes totally off the wall. But one thing's for sure, IT ROCKS!!! And don't miss the year end 'Rock Solid Pressure Industry Showcase' where many of the best unsigned bands in the nation perform for the music industry.

For a more in-depth look at 'Rock Solid Pressure', please visit RockSolidPressure.com

..

Listen in on any one of the cool stations they're syndicated with..
......
Who I'd like to meet:
We wanna meet YOU!! Next time you're in Florida, you'll find us hosting a national concert event at the biggest and best venues in Tampa Bay and beyond!! We'll have the torches lit for ya..Come on out and party with us!!
General

Music, Horror Movies, Hangin Out With Rockstars lol!

J-Rock and Patty have organized, hosted, and/or have been involved in numerous national concert events as well as working closely with over 300 local bands. Click on the following link to see alphabetized list!

ROCK SOLID PRESSURE HOME

NEW SPONSOR ALERT!!!! Go check out Ace High Printing specializing in all your band's printing needs!! Click on the logo to visit

..

Music

Movies

Television

Books

Heroes

We've had the pleasure of hanging out with most of our rock and metal heroes (See the list on the other side). We're also proud to call many of them friends. But our real heroes are the fans and supporters who tune us in every week and come out to the national concert events that we host. YOU GUYS TOTALLY ROCK!!!
J-Rock And Patty The Radio Girl has 19884 friends.
Status:

Single

Here for:

Networking

Orientation:

Straight

Zodiac Sign:

Leo

Children:

Love kids, but not for me

Education:

Grad / professional school

Occupation:

Radio Personalities
Radio
Promotion
Media Director

The Rock Solid Pressure Show features the best rock/metal music the underground has to offer. Our After Party playlist mixes unsigned bands with 4 decades worth of rock/metal classics and innovative new music. We also feature live interviews.
posted a new blog entry:

Hey Fiends, We had a great time in the dungeon last night. Hope you had a chance to tune in. We were joined by iconic rock vocalist PAMELA M...