Play

Play Next

Add to queue
Play

Play Next

Add to queue

2,712 plays

Play

Play Next

Add to queue

2,393 plays

Play

Play Next

Add to queue

1,285 plays

Play

Play Next

Add to queue

941 plays

Play

Play Next

Add to queue

804 plays
Genre: Country / Indie / Pop

Location NASHVILLE, Un

Profile Views: 76465

Last Login: 11/8/2012

Member Since 3/27/2006

Website facebook.com/julieburton

Record Label RocketJam Records (Cds @ Cdbaby.com & I-tunes)

Type of Label Indie

Bio

.. .. .. .. WHAT'S NEW?! Finishing up 2012 Christmas album! Denmark tour dates t.b.a.! .. .. "BUTTERFLY TATTOO" FEATURED IN MUSIC ROW MAGAZINE!! .. THE NEW SINGLE RECORDED BY RISING COUNTRY ARTIST LAUREN BRIANT GOING FOR RADIO ADDS MARCH 19TH!!! .. PLEASE CALL YOUR LOCAL RADIO STATIONS & REQUEST "BUTTERFLY TATTOO!" .. YOU CAN VISIT LAUREN'S WEBSITE AT: www.myspace.com/laurenbriant FOR A LIST OF STATIONS & PHONE NUMBERS IN YOUR AREA!! .. ALSO CHECK OUT LAUREN'S BUTTERFLY TATTOO/DRAW YOUR WINGS GEAR!!! .. PLEASE CHECK BACK FOR THE LATEST NEWS & NEW SONGS COMING SOON! THANKS FOR YOUR SUPPORT EVERYBODY!! .. GOD BLESS! .. Julie .. P.S. PLEASE VISIT MY NEW JULIE BURTON MUSIC PAGE ON FACEBOOK & BECOME A FAN! .. .. .. THANKS FOR VISITING MY LITTLE SPACE! I really appreciate you stopping by & I hope you like my music! Here's a little bit about me.... .. Nashville has been my home for the last 12 years. I came to Nashville from the Washington, D.C. area after being offered my first publishing deal with Killen Music Group. During my first year in Nashville I also sang at The Stockyard/Bullpen, Buddy Killen's Club, as well as doing demo sessions for other writers. It wasn't until I was signed with Tanasi Music Group that I got my first cut, "Like A Rocket," with Lila McCann. I also had the opportunity to sing backup vocals for Sheryl Crow & Willie Nelson! (Doing The CMA's with them was fun!) .. .. I CURRENTLY HAVE THREE CDS AVAILABLE at: .. Cdbaby.com .. ITunes.com .. Rhapsody.com .. .. My third cd, "FEEL" includes my Lila McCann cut "Like A Rocket" & "Under The Same Sky," which was recorded by Canadian artist Cindy Church. (You can visit www.canoesongs.ca to get a copy of it on "Canoe Songs Vol 2.") .. .. .. .. .. .. .. .. .. .. ..

Members

.............. .. .. .............. .. .. .............. .. .. ...... .. ..............adopt your own virtual pet!.......... ..

Influences

My biggest life influences... whom I admire & adore: Jesus Christ, my husband, my family... My 4 little angels in fur; Bella, Gracie, Sushi(Pookerdoo) & Bongo also with their unconditional love & ability to always make me smile. Some of my biggest musical influences: Olivia Newton-John, Stevie Nicks, Sarah Mclachlan, Amy Grant, The Eagles, The Carpenters, Carole King, Carly Simon, Indigo Girls, The Bangles, Linda Ronstadt, The Corrs, Suzy Boggus, Janis Ian .......... ...... .. ..

Sounds Like

JULIE BURTON
01:39 | 269 plays | Jan 3 2009
Bio:
..
HERE'S WHAT'S NEW!!!

"BUTTERFLY TATTOO" FEATURED IN MUSIC ROW MAGAZINE!!
THE NEW SINGLE RECORDED BY RISING COUNTRY ARTIST LAUREN BRIANT GOING FOR RADIO ADDS MARCH 19TH!!!
PLEASE CALL YOUR LOCAL RADIO STATIONS & REQUEST "BUTTERFLY TATTOO!"
YOU CAN VISIT LAUREN'S WEBSITE AT: www.myspace.com/laurenbriant FOR A LIST OF STATIONS & PHONE NUMBERS IN YOUR AREA!!
ALSO CHECK OUT LAUREN'S BUTTERFLY TATTOO/DRAW YOUR WINGS GEAR!!!
PLEASE CHECK BACK FOR THE LATEST NEWS & NEW SONGS COMING SOON! THANKS FOR YOUR SUPPORT EVERYBODY!!
GOD BLESS!
Julie
P.S. PLEASE VISIT MY NEW JULIE BURTON MUSIC PAGE ON FACEBOOK & BECOME A FAN!


THANKS FOR VISITING MY LITTLE SPACE! I really appreciate you stopping by & I hope you like my music! Here's a little bit about me....
Nashville has been my home for the last 12 years. I came to Nashville from the Washington, D.C. area after being offered my first publishing deal with Killen Music Group. During my first year in Nashville I also sang at The Stockyard/Bullpen, Buddy Killen's Club, as well as doing demo sessions for other writers. It wasn't until I was signed with Tanasi Music Group that I got my first cut, "Like A Rocket," with Lila McCann. I also had the opportunity to sing backup vocals for Sheryl Crow & Willie Nelson! (Doing The CMA's with them was fun!)

I CURRENTLY HAVE THREE CDS AVAILABLE at:
Cdbaby.com
ITunes.com
Rhapsody.com

My third cd, "FEEL" includes my Lila McCann cut "Like A Rocket" & "Under The Same Sky," which was recorded by Canadian artist Cindy Church. (You can visit www.canoesongs.ca to get a copy of it on "Canoe Songs Vol 2.")

Member Since:
March 27, 2006
Members: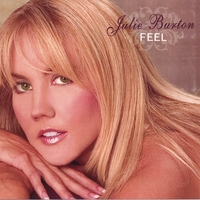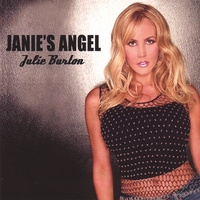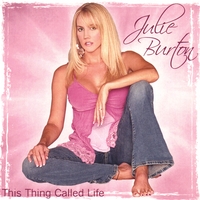 Influences:
My biggest life influences... whom I admire & adore: Jesus Christ, my family...Mom & Dad, Jeff & Jamie, Laura, Denise, Kim, Bianca, Tina & my friends & family in Christ at New River Fellowship & The Nashville Church. My 5 little angels in fur; Mini-Me, Gracie, Sushi(Pookerdoo) Bongo & Jasper also with their unconditional love & ability to always make me smile. Some of my biggest musical influences: Olivia Newton-John, Stevie Nicks, Sarah Mclachlan, Amy Grant, The Eagles, The Carpenters, Carole King, Carly Simon, Indigo Girls, The Bangles, Linda Ronstadt, The Corrs, Suzy Boggus, Janis Ian

..
Sounds Like:
JULIE BURTON
Record Label:
RocketJam Records (Cds @
Cdbaby.com
& I-tunes)