No recent updates in this category.
Why not...
Jill Conklin hasn't earned any badges yet... have you?
General


imikimi - Customize Your World

GRIEF Sometimes I'm tired because I feel like I have spent the whole day gasping for air. It's like a 50 pound weight is sitting on my chest and no matter how hard I try I can't seem to catch my breath. Sometimes I feel a dull aching in my chest and every time there is a moment of silence I try to fill it up so that I can't hear the wind whistling through the hole in my heart. Sometimes I cry so hard that I can't breathe and I feel like I'm going to throw up. and sometimes I just miss her. I miss every thing about her and I want her back so bad. She can't be gone because I'm not finished. I'm not prepared to live my life with out my daughter Unknown Writer


imikimi - Customize Your World

Movies

Television

Heroes

Missing children information is provided via RSS feed, free of charge by NCMEC
Mapping provided free of charge by Yahoo! Maps

Click The Banner Below To Visit This Profile
Play

Play Next

Add to queue

Play

Play Next

Add to queue

Play

Play Next

Add to queue
About me:
My Beautiful dauthter Jill Conklin disappeared December 12th 2006 from Baltimore, Md. Her identification was found and turned in around the vicinty of Saratoga
Street.On
March 28,2007 a local fisherman came across her body in the woods, she had been missing for 3 1/2 months. No one has come forward with any leads as to how she got there. We know she didnt get there by herself. It's like she was dumped. If you have any information leading to her disappearance or her death, any ideas, Call the Anne Arundel Cnty Police Dept or Det. Shelly Powell at 410-222-3428. She was a mother of two sons. Her youngest son's name is Tristan, he died on March 22, 2006. She was so devastated. He was 10 months old. Her oldest son DJ, has experienced so much loss.First his baby brother,then his mom. He has a family though, that loves and supports him.
This is the story of Jill and her son Tristan. May their story help save a life from the horrors of addiction. Saturday, March 21, 2009 Keeping Jill's name Alive to Help Those Suffering from Addiction Hello Family, My name is Gina. I am writing this really for my own selfish reasons, and hopefully it helps save someone else's life. I just feel like I need to talk about what happened in my recovery, because I am feeling some feelings lately. Please bare with me this isn't that easy..... I really struggle now when March rolls around. You see, I had a beautiful daughter named Jill, and a gorgeous grandson named Tristan. Both died in March. Not at the same time either. They both have their own separate story..... .. .. First, I will begin with Tristan. When my daughter Jill gave birth to him, she believed she had been given a second chance, for she had lost custody of her first son to her in-laws due to her drug addiction. She had a really hard time accepting that her son lived with them. She had a real hard time accepting responsibility for her disease..... Any way, Tristan was born addicted to methadone and marijuana. The court system would have let Jill take Tristan home after his detox had the hospital not found marijuana in his system. You see, Methadone is viewed legal. I had approx 7 yrs clean then. .... I tried to temporarily get Tristan through the court before they sent him to a foster home, but the court brought back my past with CPS when I was a using addict and said no! They didn't care how much clean time or work I did on myself. I took so many women with me that would vouch for my character as a mother and a person in recovery. They just didn't want to hear it..... Jill had to do several things to get Tristan back; 1) Go to the meth program daily and provide clean urines. 2) Go to parenting classes, and 3) Go to NA meetings..... She really did well there for awhile, maybe 3 months. She got the baby back. We were all so happy. I was really grateful; my daughter really liked NA. .... Then she met this guy at the meth clinic, and they started a romance. Not only did he drink methadone but he had some illness (so he says) that he had to take clonopin pills too. Next thing you know Jill was doing it too..... I would come over and I knew what was going on, and I would threaten her that I was going to call CPS, and she would say, I'm going to stop. I would try and get Tristan on the weekends when I didn't have to work..... I remember it like it was yesterday. Tristan was 10 months old then, he was crawling and trying to pull his self up to stand. No matter what that boy was always happy..... I got the call March 22; I just got home from work and decided to lie down for an hour. Jill called me frantically and told me she thinks Tristan is dead and to hurry up and come to the hospital. I was so freaked out. And naturally so was Jill. Tristan was dead!.... What happened to Tristan could have happened to any using addict with a child. I need to stress that Jill was no different than the rest of us..... You may be asking how Tristan died. Well my daughter Jill wasn't feeling well and decided to lie on the couch, probably because of her drug using, and she asked the boyfriend who drank methadone and ate pills to lay the baby down with him for a nap. Jill awoke with this overwhelming feeling and urgency to check on her son,(as she described it). When she reached the bedroom, she realized her boyfriend was lying over Tristan asleep. Thus, Tristan had suffocated to death. .... This tragedy would change our family, especially my daughter Jill forever. .... I blamed Jill for her lifestyle for Tristan's death, and there were times that I struggled to be loving and kind. I tried my best. Jill became suicidal for awhile there..... Jill started to use cocaine after Tristan's death. I remember reaching out to her and telling her to come home with me, that she should let me help her. A few months later she took me up on that offer and moved in, and she began to go to meetings again. This time seemed a lot different, yes she was still grieving her son, but she seemed excited to go to her home group on Wednesday nights, and see her friends. She even went to the Meth clinic talking about NA to her peers on Methadone. ....Ill.... never forget her being at our State convention on Thanksgiving weekend. How I remember seeing her in the dance, with all these girls her age enjoying life for a minute. I remember sitting on the floor behind a chair because I just didn't want her to see me, and stop dancing and having fun with clean people. I wanted her to experience fun, and feeling apart of. That was so important to me in my early recovery..... I know Jill still struggled at times, I remember my girlfriend telling me after Jill passed that Jill told her that she was terrified of getting clean and having to experience the feelings of guilt from Tristan's death. I now wish she had told me that. I so understood..... I remember I was starting a new job on Dec 11th 2007. Jill actually woke up with me that morning and told me to have a nice day at my new job. I didn't know that was the last time I would ever see her again. .... When I got home that night Jill called me and asked could she bring this girl home for the night from the clinic. I was like No Way! I told Jill, I don't know her, and my youngest daughter doesn't need to be exposed to that. So Jill said, okay and that she would be home later after a meeting. Jill never made it home. I remember waking up in the middle of the night to check on her, and after not seeing her in the bed; I called her cell phone and yelled some horrible things on her answering service..... The next day someone turned in her license to the police that was found not far from her program..... I started to get a weird feeling, that something was wrong. She wouldn't answer her cell phone and this was just so not like her. We reported her to the police as a missing person, their response was "Drug addicts go missing every day, maybe she doesn't want to be found". Wow, I was irate! Thanks to my HP, I just endured and looked for her everyday. I prepared myself for the worst. I had learned in NA that this disease kills, and Jill was no exception to the rules of addiction..... Jill's body was found 3 months later on my son's birthday March 28th, almost one year to the date of her son Tristan's death..... She was found in the woods under a overpass bridge. She had been wrapped in a blanket and left there. Her body was badly decomposed..... I was never to see my daughter again. The autopsy report said she died of a drug overdose, but they listed her death as undetermined. I believe Jill was with someone that night and possibly od'd and they freaked out and instead of calling for help dumped her remains in the woods, where she wouldn't be found until 3 months later..... I wasn't about to fall apart because of her death. My kids needed me to be strong. So I went to the only thing greater than myself, which was GOD. I felt such an overwhelming strength and comfort; I can still not explain it verbally today. At that time God placed just the right people in my life to help me with arrangements, and comfort. Over 200 people came to Jill's memorial service. Most of them were members of Narcotics Anonymous. Wow, thinking back, I am still amazed at the love and support you guys gave me and my family..... After all the arrangements were done and my children started back to life, it became time for me to deal with my feelings. I felt so much guilt and shame. It was so overwhelming. I felt that this was my fault, and it was my responsibility to accept my part. I raised Jill in a lifestyle of chaos and drug addiction. I was an overbearing mother and could be downright mean at times. Jill deserved love and guidance, encouragement. I was so caught up in my own addiction that i failed to give her what she needed. Every time I think of this I just well up inside and want to scream. I am so sorry Jill!.... I was so disgusted with this disease. I even prayed for God to give her back to me..... I would be different!.... I have learned so much from my daughter Jill's death. She has made my eyes open to many things about myself and my own personal recovery. It is now my responsibilty to carry Jill and Tristan's story to someone struggling and help save a life. I know my dauhter forgives me for my wrongs done to her. Today I beleive Jills wish for me is to try to be everything to her siblings that she so deserved from me. I love you my Jill. Let someone know you love them today! If you need to talk, leave a message. Love & Friendship, Gina A. Jills Mom (songbirdofna1) ..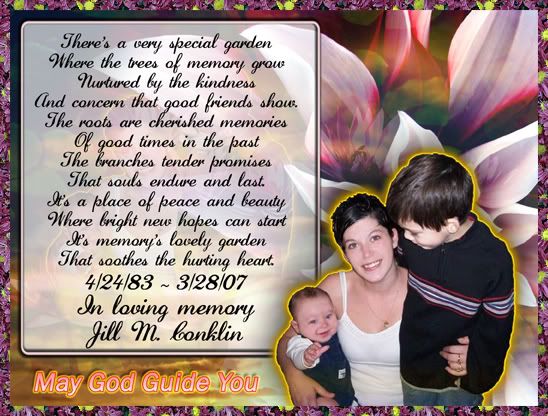 Status:

In a Relationship

Here for:

Networking

Hometown:

Baltimore

Body type:

5' 2" / Slim / Slender

Ethnicity:

White / Caucasian

Zodiac Sign:

Taurus

Children:

Proud parent