Genre:

Stand-Up / Stand-Up / Stand-Up

Website

justincomic.com

Bio

Hailing from Dallas, TX, Justin Foster is a comic quick on the rise. From the minute he takes the stage, the crowd knows that Justin is in complete control. With great energy, quick wit, and his hilarious (sometimes dark) take on life, he is gaining a strong fan base from each show. Justin is no stranger to being on stage, having been the drummer in a rock band for years, Justin takes a combative, "in your face" approach to comedy, but as soon as he flashes a smile you know it's all in good fun. Drawing from his dysfunctional childhood Justin delivers classic-themed jokes with modern twists, such as drunk texting, a crazy family, and dating. A four-year veteran who is off to a great start, he finished in the top 4 out of 150 comics in the Funniest Comic in Dallas competition, had a stint on the Pugs and Kelly Show on Live 105.3 FM, and has headlined the Improv. "Justin has a commanding stage presence, can work any room or audience, and will leave them with a lasting impression. Plain and simple Justin just has fun on stage and watching him is like hanging out with a buddy you've known for years."

Accomplishments:
- Appeared on last seasons Last Comic Standing
- Featured on the cover of Addison Magazine
- Hosted the Body Paint Championships in Las Vegas
- Role in the upcoming film "Saints and Sinners"
- Was a featured comedian on Myspace
- Did voice work and writing for the cartoon "Sea of Idiots"
- Finalist in the Funniest Comic in Dallas Competition
- Regular on the Pugs and Kelly Show on Live 105.3 fm
- Performed at Live 8 at the Palladium in front of 2,000 people
- Was on the cover of LIT Magazines September Comedy Issue
- Regular headliner at the Addison Improv
- Semi Finalist in the HBO Las Vegas Comedy Competition
- Small role in the award winning short film "Chase"
- Stand up video submission for the Sierra Mist and Myspace "Stand Up/Sit Down Comedy Competition" made it all the way to the top 25


Has performed in New York, Dallas, Louisiana, Austin, Arkansas, and Houston, Vegas, at: the Improv Addison, the Improv Houston, Cap City, the Lakewood Theater, the Laff Stop, the Funny Bone, Velveeta Room, Palladium Ballroom, Firewater, Curtain Club, the Village Lantern, Gypsy Tea Room, Liquid Lounge, and Hyena's.


Has worked with:
Daniel Tosh, Doug Stanhope, Nick Di Paolo, Jon Lajoie, Pauley Shore, Russell Peters, Jim Norton, Josh Blue, D.L. Hughley, Sheryl Underwood, Bill Burr, Jim Florentine, & Sebastian

About me:
....
Welcome to my corner of myspace.
My name is Justin, I'm a stand up comic from Dallas, TX.
I tell jokes, people laugh, the end.
Sign My Text List:
..
..
Contact me at:
www.justincomic.com
EMAIL: info@justincomic.com
AOL IM: justinfoster1980
YAHOO IM: dfast78
FACEBOOK
TWITTER
YOUTUBE

-------------------------------------------------------------------------
-------------------------------------------------------------------------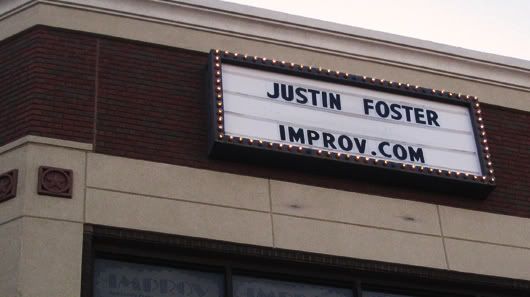 ..
Who I'd like to meet:
Everyone
Status:

Single

Orientation:

Straight

Body type:

Slim / Slender

Ethnicity:

White / Caucasian

Zodiac Sign:

Cancer

Occupation:

Telling Jokes
General

..Long walks on the beach, Watching and performing stand up comedy; playing my drums (loudly); traveling; being on the radio (105.3 Rocks!); taking the time to sign autographs for my fans; going to concerts; reading books; flirting with pretty girls; drinking coffee, designing art for my graphics company; Carrabba's; working out; listening to my i-pod; movies; dancing (badly) at bars; Boomerang from Cartoon Network, my friends & my family; psychology; and your mother...

Music

.. Jimmy Eat World

,

Nine Inch Nails

,

Fair to Midland

,

Smashing Pumpkins

,

The Feds

,

the Killers

,

Toadies

,

30 Seconds to Mars

,

Deftones

,

Astronautilus

,

My Chemical Romance

,

Fall Out Boy

,

the Pixies

,

Frank Black

,

Bad Religion

,

Slow Roosevelt

,

Chevelle

,

Modest Mouse

,

the Used

,

Doosu

,

Thrice

,

the pAper chAse

,

Flaming Lips

,

Fionna Apple

,

Smooth Choppy

,

Three Fantastic

,

Queens of the Stone Age

,

Panic! at the Disco

,

Burning Airlines

,

Failure

,

Stone Temple Pilots

,

the Roots

,

Prince

Movies

Television

Heroes