Play

Play Next

Add to queue
Genre: Folk Rock / Pop

Location Connecticut, Un

Profile Views: 63705

Last Login: 4/17/2013

Member Since 9/25/2004

Website www.kalafarnham.com

Type of Label Major

Bio

Kala Farnham is a folk-rock singer/songwriter based in northeastern Connecticut. She performs regularly throughout Massachusetts, Rhode Island, and Connecticut - and has appeared at such venues as The Bushnell, Six Flags New England, and Mogehan Sun Casino. She is also available as a cocktail pianist and accompanist, and plays a large repertoire of popular cover music. Recent clients include Hyde School (Pomfret, CT), St. Julie Billiart Church (N. Dartmouth, MA), and the Connecticut Ballet (Hartford, CT). Kala's musical passion began when she started taking piano lessons at the age of 5. Since then, she has furthered her studies in music technology, composition, jazz, and classical voice throughout high school and college, where she majored in music performance and composition (Furman University and Hampshire College). In her spare time, she could be found performing in and accompanying musical theater productions. She started writing her own piano/vocal music at the age of 12 - it was only a few years later that she first performed her original compositions onstage. Kala Farnham has a powerful, emotional voice and sings about life's struggles from a fresh new perspective, backing herself up with skillful and passionate piano work. Her music is characterized by elements of folk rock, pop, and jazz. Her song "Eight Months" was voted # 2 on the IAC Alternative Picks list by the Independent Artist Company, an internet radio station based in California. "Eight Months" also reached # 12 on on the KIAC Radio Alternative Chart. Kala's song "Beat" was voted #1 in the May 2007 Electronic Music category on Ourstage.com. In 2008 she released a home-studio demo titled "Raincloud". In 2010 Kala's live album "Naked Honest: Kala Farnham Live 2009" was declared one of the Top 10 Albums of the year by Paul Rosano of www.thetrickismusic.com. Both albums are available via kalafarnham.com, itunes, and cdbaby.

Members

Kala Farnham - music, lyrics, vocals, keyboards, production.

Influences

Sounds Like

"She evokes, in me, feeling reminiscent of my first first encounters with a James Taylor, a Janis Ian or a Sheryl Crow. Honest and delicate musings coupled with authorities well crafted vocals and lush instrumentation, a quality of production that stirs the heart and Goosebumps the flesh." - Musician Ed Talbot
Bio:
My demo CD is now available for purchase on Itunes,
kalafarnham.com
, and
CDbaby.com
!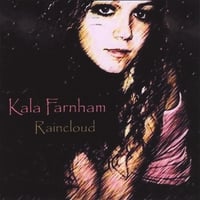 I believe in honesty. I don't want to be loved for a sugar-coated version of myself, or respected for a superficial impression I give. I want to live my truth, no matter how society looks upon me. I want to live it openly and unashamedly, because to cloak it underneath a character I portray is to hide myself from the world and run away from reality, and to be cherished for a false mask is to not be cherished at all. I do not want to hide my faults, but to let the world see me whole, as I sincerely am; because if I am living as a character of my creation than I am not living at all, and instead am shielding myself not only from hatred but also from genuine love. Yet if I go through life genuine and real, than I know I am alive and open to love. I will not observe passively from behind a mask and take on the role of the actress. More than superficial appreciation, respect, and love, more than acceptance, I want this. I want to honor my commitment to truth, no matter how dark or unpopular; I want most to have an honest relationship with the world. Through the medium of music and artistic creation, I communicate my deepest, unspoken truths: the ones that just don't seem to come about naturally in everyday speech, the ones that reflect my most personal and spiritual experience of life. The ones that can only be understood fully within the depth and intensity of communication that music permits.
Kala Farnham is a folk-rock singer/songwriter based in northeastern Connecticut. Her musical passion began when she started taking piano lessons at the age of 5. Since then, she has furthered her studies in music technology, composition, jazz, and classical voice throughout high school and college, where she majored in music performance and composition (Furman University and Hampshire College). In her spare time, she could be found performing in and accompanying musical theater productions. She started writing her own piano/vocal music at the age of 12 - it was only a few years later that she first performed her original compositions onstage. Kala Farnham has a powerful, emotional voice and sings about life's struggles from a fresh new perspective, backing herself up with skillful and passionate piano work. Her music is charactrized by elements of folk rock, pop, and jazz. Kala now performs regularly throughout Massachusetts, Rhode Island, and Connecticut - and has appeared at such venues as The Bushnell, Six Flags New England, and Mohegan Sun Casino. Her song "Eight Months" was voted # 2 on the IAC Alternative Picks list by the Independent Artist Company, an internet radio station based in California. "Eight Months" also reached # 12 on on the KIAC Radio Alternative Chart. Kala's song "Beat" was voted #1 in the May 2007 Electronic Music category on Ourstage.com. Kala was recently declared Best New Artist of 2009 by Paul Rosano on thetrickismusic.com. In 2008 she released a home-studio demo titled "Raincloud", followed by a live album titled "Naked Honest: Kala Farnham Live 2009". Both albums are available via kalafarnham.com, itunes, and cdbaby. She is currently recording her first full-length studio album with a release date of fall 2010.
Kala's song "Eight Months" was voted the number 2 Alternative song on the IAC Picks list by the Independent Artist Company, a website based in California and created to support independent artists. "Eight Months" also reached number 12 on on the KIAC Radio Alternative Chart.
Kala Farnham banner:
Member Since:
September 25, 2004
Influences:
Death Cab for Cutie, Jamison Parker, Claude Debussy, Rachael Yamagata, Emily Bezar, Relient K, Vanessa Carlton, Alanis Morrisette, Sigur Ros, Charlotte Martin, Vienna Teng, Fiona Apple, Michelle Branch, the Honorary Title, Gavin Degraw, Dashboard Confessional, the Dresden Dolls, Christina Aguilera, Sunny Day Real Estate, Mariah Carey, Coldplay, the Cure, Claude Bolling, Rachmaninoff, David Gray, the Flaming Lips, Portishead, Zach Lussier, Justin "JC" Collins, friends and family, philosophy, society and life experiences in general.

Sounds Like:
Honesty, hopefulness, serenity.
Comments on Kala Farnham:
"To see the potential in what it may seem a raw and undeveloped talent is necessary. Kala Farnham composes a music based in piano playing and has a very emotional voice. Her music is deeply felt and is sung sincerely. Honestly Im waiting for her new songs. A promising talent that if its constant has wonderful songs in her." - from KIAC radio
"A promising artist . Shes an artist and I wish that in every new song she'll develop her talent even more." - The Talent Searcher, KIAC Radio
"Kala Farnham is one of the most talented human beings I've ever met. The songs that she write are deep, introspective, and beautiful. Her piano playing abilities are unbelievable, and her voice is like gold." - Review of Kala's demo cd "Raincloud"
"Kala Farnham is extremely talented. She is definitely going somewhere. The lyrics in her songs are extraordinary, any person can connect to the songs. This album is a must have for everyone into something new and exotic; it is not a waste." - Review of "Raincloud"
"Great piano and keyboard playing. Kala is an excellent singer songwriter with a very expressive and emotional voice and should I say personal; her voice is distinctive. Even most important for me is the originality in songs like Beat (an amazing song), Distortions or the wonderful ballad Raincloud. I..m looking forward to hear more too." - CDbaby review
"I listen to a lot of CDs. Many of them, like this one, are from piano-oriented singer-songwriters. I find Ms. Farnham's music particularly striking - the piano work is fantastic, the lyrics are eloquent (and serious without being melodramatic). I'm sure college radio is her primary audience, but there's a lot here for those of us old enough to remember when "Little Earthquakes" was released. I'm looking forward to hearing more." - CDbaby review
"Kala, I happened to find your website and all I can say is "Wow!" I enjoyed your songs so much I listened to all of them twice. Keep it real and from the heart. You'll go far. In peace, Brandon"
"Kala, I just can't say enough how awesome your live performance was. I just wanted to tell you, don't sell yourself short, you're a lot better than you think and don't let anyone tell you different. Trust me, your dreams are what keep your heart and your spirit strong, and if you need someone to help you, I'm here too…Can't wait for your next performance." - Anonymous
If you have a comment that you want put up here, send it in a message right here on myspace or contact me through my official website at kalafarnham.com. I'll make sure people hear what you have to say! Thank you all for the support.
Label Type:
None