Play

Play Next

Add to queue
Play

Play Next

Add to queue

4,478 plays

Play

Play Next

Add to queue

3 plays

Play

Play Next

Add to queue

895 plays

Play

Play Next

Add to queue

723 plays

Play

Play Next

Add to queue

646 plays
Genre: Acoustic / Ambient / Classical

Location Riverside, Rhode Island, US

Profile Views: 38817

Last Login: 1/7/2013

Member Since 8/22/2005

Website www.karitieger.com..

Record Label Tiger Sound

Type of Label Indie

Bio

Kari Tieger is a singer/songwriter who writes and sings in both English and French, primarily about spiritual growth and relationships, sharing her unique perspective on life... .. Compositions range anywhere from classical mood pieces to dramatic vampire love songs to songs of hope for the future. She explores life and love, as seen though the eyes of an American francophone... .. Primarily a solo performer, Kari is a keyboard/vocalist, and her music is an eclectic blend of contemporary pop with classical, jazz, and New Age influences. She released her debut solo album in 1998, "Touch of Magic," followed in 2001 by "En francais, s'il te plait," a collection of songs, poetry and instrumentals inspired by her love of French language and culture. For both projects she drew together many talented musicians, to create a diverse and engaging sound... .. Next in 2004 Kari created the minimalist five-song CD "Pas de Deux," recorded in Paris that summer, as a preview of "Nos Mots" (Our Words), released in 2008. On Valentine's Day of 2007, Kari's most unusual album was born. Produced in collaboration with a French Buddhist monk, "zazen" is an bilingual introduction to zen meditation, with narration, backing music and translation by Kari. In 2009, to accompany the Premiere of the Nightsong musical, Kari re-released her original "Trilogy of Nightsongs: A Romantic View of Vampires," on CD, adding a bonus track in French... .. Working with guitarist/bassist Jon Brennan and drummer Jeff Cruz of Shryne and also percussionist Ron Schmitt of the Gnomes (formerly of Pendragon), along with many other guest artists, Kari continues to develop original material for future release. Another album in English is planned, as well as a collection of songs and pieces featuring strings. .. .. --> "NOS MOTS" was released in MAY 2008 and subsequently voted Americana (Non Rock) ALBUM OF THE YEAR in Motif Magazine's 2009 Music Poll, and Kari was also nominated in Motif again for Best Female Vocalist in 2010. .. .. Kari has a longtime assocation with fellow ASCAP composer and producer Kevin Campbell. She transcribes and co-arranges all of his music, recording on many of his songs, and has served as his co-producer in the studio since 1995. She also teaches piano both privately and at the French American School of RI and encourages her many students to compose..... .......... .... In November 2009 we held the Premiere of NIGHTSONG: A New Vampire Musical, performed by members of the East Providence Community Theatre November 5th-8th, 2009 at the beautiful and magnificent St. Ann's Arts & Cultural Center in Woonsocket, RI. Inspired by and based on Kari's 1996 release, "Trilogy of Nightsongs: A Romantic View of Vampires," our show featured lyrics and music by both Kari and fellow composer Kevin Campbell, and was written and directed by Jon Brennan. This Broadway-style musical explores certain vampiric themes such as love and immortality and was a smashing success. MANY THANKS TO ALL WHO ATTENDED!! .... .......... .... An award-winning member of ASCAP since 1989, the Rhode Island Songwriters Association (RISA) since 1993, and Just Plain Folks since its inception in the late 90s, Kari was inducted into the Cambridge Who's Who in 2007 as a Recording Artist. She has made a number of appearances on RI cable television (Just Plain Folk, Artists/RI, The Don Lincoln Show, Center Stage, Merry Meet) and performs at many New England festivals, Alliance Française events, and area coffeehouses. She also receives national and international airplay, and many of her compositions are used for cable and network television shows. .... .. .. .. .. .. License this music for commercial use through ..Pump Audio.. .. .. .. .. .. .. This work is licensed under a ..Creative Commons Attribution 2.5 License.. .. .. .......... .. ...... .. .. .. .. .. .. .. .. .. .......... ........ ........ .. .. ..

Members

...... .... The Kari Tieger Trio:.. .. Kari Tieger: vocals, keyboards.. Jon Brennan: bass guitar.. Ron Schmitt: percussion.... ...... .. .. ....Other guest artists include:...... .. Paul Gabriel: guitars.. Steve LaValley: percussion, flutes.. Cathy Jacques: bodhran.. Joel Greene: fiddle, mandolin.. Lauren Benowitz, violin.. Erin Quinton: viola and violin.. Barbara Zdravesky: cello.. Jeremy Fortier: viola.. Scott Lopes: French horn.. Rick Nelson: accordion.. Katie Waters: flute.. & from Shryne:.. Andrew Sharp: percussion.. Alex Tirrell: keyboard, backing vocals.. Jeff Cruz: drums.. .... .. ........ .. .. .. ..Check out my latest CD.. ...."Nos Mots".. .. ...... .. .. ..Check out my CD .... "Touch of Magic".. .. .. ........ .... ..Check out my CD ...."En français, s'il te plait".. .. ........ ...... .. ...... .. .. ....Visit my CafePress Store.. .. ..Click here!...... .. .. .. KARI TIEGER VIDEOS: .. .. Accepting Album of the Year: .. .. .. .. .. .. .. .. .. ..Papier glace (Frozen Paper)...... .. .. .. .. .. .. .... .. .. ..Suite royale (Royal Suite)...... .. .. .. .. .. .. .... .. .. ..Valentin...... .. .. .. .. .. .. .... .. .. ..Tu demeures dans mon coeur...... .. .. .. .. .. .. .... .. Juste pour le "fun":.. ..Julien Doré - Les Limites (Clip TV2)...... .. .. .. .. .. .. .... .. Adorable Kitty Nora duets!:.. .. .. .. .. .. .. .......... ..

Influences

Elton John, Joni Mitchell, The Beatles, Sting, Stevie Wonder, Dizzy Gillespie, Michel Legrand, Barbra Streisand, Celine Dion, Moody Blues, ELP, ELO, Mozart, Bach, Faure, Brel, Piaf, Barbara, Brassens, and too many other influences musically across the board to mention.

Sounds Like

Kate Bush, Tori Amos, Joan Baez
04:46 | 126 plays | May 26 2008
Bio:
Kari Tieger is a singer/songwriter who writes and sings in both English and French, primarily about spiritual growth and relationships, sharing her unique perspective on life.
Compositions range anywhere from classical mood pieces to dramatic vampire love songs to songs of hope for the future. She explores life and love, as seen though the eyes of an American francophone.
Primarily a solo performer, Kari is a keyboard/vocalist, and her music is an eclectic blend of contemporary pop with classical, jazz, and New Age influences. She released her debut solo album in 1998, "Touch of Magic," followed in 2001 by "En francais, s'il te plait," a collection of songs, poetry and instrumentals inspired by her love of French language and culture. For both projects she drew together many talented musicians, to create a diverse and engaging sound.
Next in 2004 Kari created the minimalist five-song CD "Pas de Deux," recorded in Paris that summer, as a preview of "Nos Mots" (Our Words), released in 2008. On Valentine's Day of 2007, Kari's most unusual album was born. Produced in collaboration with a French Buddhist monk, "zazen" is an bilingual introduction to zen meditation, with narration, backing music and translation by Kari. In 2009, to accompany the Premiere of the Nightsong musical, Kari re-released her original "Trilogy of Nightsongs: A Romantic View of Vampires," on CD, adding a bonus track in French.
Working with guitarist/bassist Jon Brennan and drummer Jeff Cruz of Shryne and also percussionist Ron Schmitt of the Gnomes (formerly of Pendragon), along with many other guest artists, Kari continues to develop original material for future release. Another album in English is planned, as well as a collection of songs and pieces featuring strings.
--> "NOS MOTS" was released in MAY 2008 and subsequently voted Americana (Non Rock) ALBUM OF THE YEAR in Motif Magazine's 2009 Music Poll, and Kari was also nominated in Motif again for Best Female Vocalist in 2010.
Kari has a longtime assocation with fellow ASCAP composer and producer Kevin Campbell. She transcribes and co-arranges all of his music, recording on many of his songs, and has served as his co-producer in the studio since 1995. She also teaches piano both privately and at the French American School of RI and encourages her many students to compose...
In November 2009 we held the Premiere of NIGHTSONG: A New Vampire Musical, performed by members of the East Providence Community Theatre November 5th-8th, 2009 at the beautiful and magnificent St. Ann's Arts & Cultural Center in Woonsocket, RI. Inspired by and based on Kari's 1996 release, "Trilogy of Nightsongs: A Romantic View of Vampires," our show featured lyrics and music by both Kari and fellow composer Kevin Campbell, and was written and directed by Jon Brennan. This Broadway-style musical explores certain vampiric themes such as love and immortality and was a smashing success. MANY THANKS TO ALL WHO ATTENDED!!
An award-winning member of ASCAP since 1989, the Rhode Island Songwriters Association (RISA) since 1993, and Just Plain Folks since its inception in the late 90s, Kari was inducted into the Cambridge Who's Who in 2007 as a Recording Artist. She has made a number of appearances on RI cable television (Just Plain Folk, Artists/RI, The Don Lincoln Show, Center Stage, Merry Meet) and performs at many New England festivals, Alliance Française events, and area coffeehouses. She also receives national and international airplay, and many of her compositions are used for cable and network television shows.

License this music for commercial use through Pump Audio

..

This work is licensed under a ..Creative Commons Attribution 2.5 License


Member Since:
August 22, 2005
Members: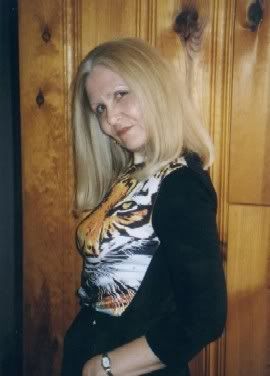 The Kari Tieger Trio:
Kari Tieger: vocals, keyboards
Jon Brennan: bass guitar
Ron Schmitt: percussion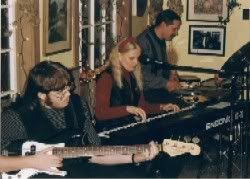 Other guest artists include:

Paul Gabriel: guitars
Steve LaValley: percussion, flutes
Cathy Jacques: bodhran
Joel Greene: fiddle, mandolin
Lauren Benowitz, violin
Erin Quinton: viola and violin
Barbara Zdravesky: cello
Jeremy Fortier: viola
Scott Lopes: French horn
Rick Nelson: accordion
Katie Waters: flute
& from Shryne:
Andrew Sharp: percussion
Alex Tirrell: keyboard, backing vocals
Jeff Cruz: drums
..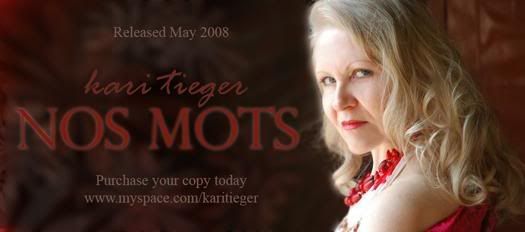 ..

Check out my latest CD
"Nos Mots"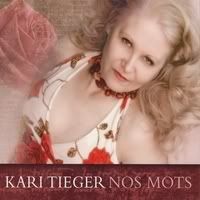 Check out my CD
"Touch of Magic" ..

Check out my CD
"En français, s'il te plait"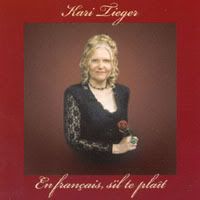 Visit my CafePress Store
Click here!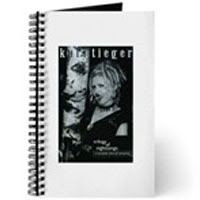 KARI TIEGER VIDEOS:

Accepting Album of the Year:

Papier glace (Frozen Paper)
..

Suite royale (Royal Suite)
..

Valentin
..

Tu demeures dans mon coeur


Juste pour le "fun":
Julien Doré - Les Limites (Clip TV2)


Adorable Kitty Nora duets!:
....


Influences:
Elton John, Joni Mitchell, The Beatles, Sting, Stevie Wonder, Dizzy Gillespie, Michel Legrand, Barbra Streisand, Celine Dion, Moody Blues, ELP, ELO, Mozart, Bach, Faure, Brel, Piaf, Barbara, Brassens, and too many other influences musically across the board to mention.
Sounds Like:
Kate Bush, Tori Amos, Joan Baez
Record Label:
Tiger Sound