Play

Play Next

Add to queue
Play

Play Next

Add to queue

1,520 plays

Play

Play Next

Add to queue

2,135 plays

Play

Play Next

Add to queue

1,848 plays
Genre: Alternative / Electronica / Metal

Location Seixal, Portugal

Profile Views: 36251

Last Login: 5/15/2013

Member Since 11/29/2006

Website http://www.msplinks.com/MDFodHRwOi8vd3d3LmZhY2Vib29rLmNvbS9ncm91cHMvMTM4MjA0NzEyOTIyNzkw

Record Label unsigned

Type of Label Indie

Bio

Members

..Favorite music..: Karuniiru, Blowback, Be..ten, Death Gaze, Mokobot, ?? ?, Kanon..... ..Bloodtype..: K5 Rh -.... ..Birth date..: June.26th.... ..Height..: 1.85m.... ..Weight..: 68kg.... ..Fragrance..: Annick Goutal–Eau d'Hadrien.... ..My present phrase..: Biffer its 4ever aey!.... ..Hobby..: Painting, to exhume things, to pull up wings of flies, drawing dead bodies, go shopping in cheap stores.... ..Something i'll battle for..: to alienate your fuckin poor brains.... ..Something I hate..: clean people with dirty minds....

Influences

Burlesque, glamour, fetish, philosophy, explicit sex acts, torture fantasies, angel's/demons, events of the real life.

Sounds Like

Karuniiru
04:06 | 142 plays | Aug 25 2010



 

Favorite music:

Karuniiru, Blowback, Dir en Grey, Death Gaze, Mokobot,  Mucc, Kanon.

 

Bloodtype:

K5 Rh -

 

Birth date:

June.26th



Height:

1.85m

 

Weight:

75kg

 

Fragrance:

Annick Goutal–Eau d'Hadrien

 

My present phrase:

Biffer its 4ever aey!

 

Hobby:

Painting, to exhume things, to pull up wings of flies, drawing dead bodies, go shopping in cheap stores



Something i'll battle for:

to alienate your fuckin poor brains

 

Something I hate:

clean people with dirty minds




Karuniiru is formed by DominoPawo(Vocals), Melkor(Guitar), and Sangnoir (Guitar & Machinery)
Born in 2005 with the name Carnille. Initially it was formed with some members from other bands in common, and made the first appearance in February of 2006 in the 1st J-Rock event in Portugal . During the Summer of 2006, Carnille gave some concerts in events related with Japan. The band re-appears in 2009 with a new lineup, new philosophy and the redrafting of the name to Karuniiru. From 2009 until 2011 they played continuously from north to south. They had the honor of playing with the Visual K Japanese band "el-Ethnic Legist". The first time that a VisualK band played in Portugal. They still played with renowned bands such as Gaijin Sentai (Brasil), Peste & Sida (Portugal), Unified Theory and others. The year of 2012 was the year of a deep reflection, work and preparation for the 1º album of Karuniiru. 2013 brings the revamped Karuniiru, and a preparation for the YEAR ZERO or ANNUS K.
Written in my skin
http://www.youtube.com/watch?v=3NnWCn7ocdM
Ep "Stupidity"Available
Limited Edition
Email us to know how you can get one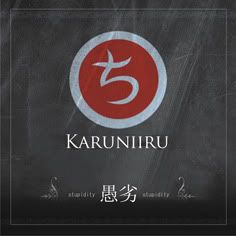 Supports
..