No recent updates in this category.
Why not...
Wong Kar Wai hasn't earned any badges yet... have you?
Wong Kar Wai has 5250 friends.
Play

Play Next

Add to queue

Play

Play Next

Add to queue

Play

Play Next

Add to queue
About me:
..
..
[A Tribute By
Carletto di San Giovanni:]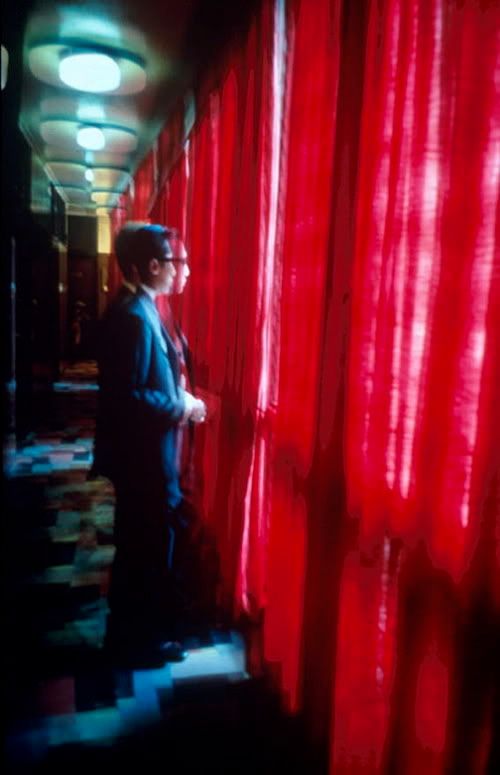 Early Career

Born in Shanghai, he moved to Hong Kong with his parents at the age of five. Coming from the Mainland and speaking only Mandarin and Shanghainese, he had a difficult period of adjustment to Cantonese speaking Hong Kong, spending hours in movie theatres with his mother. After graduating from Hong Kong Polytechnic College in graphic design in 1980, he enrolled in the Production Training Course organized by Hong Kong Television Broadcasts Limited (TVB) and became a full-time television scriptwriter. In the mid-80's, he became a scriptwriter/director at The Wing Scope Co. and In-gear Film Production Company, the production houses owned by renowned Hong Kong actor /movie producer Alan Tang Kwong-Wing. Wong's current nostalgic artsy style took shape during his apprenticeship with Alan Tang Kwong-Wing, who invested in the first movie Wong directed, "As Tears Go By". Wong's career thrived when Alan Tang lost millions of dollars from investing in "Days of Being Wild" (1990), another movie directed by Wong. He subsequently graduated to feature film work. He is credited with about ten scripts between 1982 and 1987, covering an array of genres from romantic comedy to action drama, but claims to have worked to some extent or another on about fifty more without official credit (Hoover and Stokes, 1999). He considers Final Victory (1986), a dark comedy/crime story for director Patrick Tam, his best script.
Feature films
He made his directing debut in 1988 with As Tears Go By. It was a crime melodrama of the kind then hugely popular, and with heavy borrowings from Martin Scorsese's Mean Streets (1974), but already displayed one of his principal trademarks in its atmospheric and sometimes expressionistic color palette. It is his only box office hit to date.
His next film, Days of Being Wild (1991), a drama about aimless youth set in the early 1960s, established his trademark form: elliptically plotted mood pieces, with lush visuals and music, about the burden of memory on melancholy, misfit characters. Days was a box office failure but now regularly tops Hong Kong critics' polls of the best local films ever made. It has been described as a sort of Cantonese Rebel Without a Cause. He also established his own independent production company, called Jet Tone Films Ltd. in English. His partner in the company is Jeffrey Lau, a director and producer who tends to work closer to the populist vein of mainstream Hong Kong film.
Wong went on to direct several more feature films in the 1990s produced by Jet Tone, which allowed him to work at his own pace. Among these were Chungking Express (1994), which follows the lives of two love-struck cops in Hong Kong and the mysterious women they meet and fall in love with. Originally intended to be a distraction piece for him to get his mind off of the heavily delayed Ashes of Time, it ended up being one of his most popular, if not the most popular, films. Fallen Angels (1995), was originally intended to be the third act of Chungking Express, but when the tone didn't fit with the other two parts, he cut it out and made it a standalone movie instead; it is seen as a semi-sequel to Chungking Express as is a neo-noir film about on a disillusioned killer trying to overcome the affections of his partner, a strange drifter looking for her ex-boyfriend, and a mute trying to get the world's attention in his own ways, all set against a sordid and surreal urban nightscape.
Wong's fourth movie, Ashes of Time (1994), released between Chungking Express and Fallen Angels, applied his approach to a star-studded wuxia (martial arts swordplay) story; the desert shoot in Mainland China dragged on for over a year and resulted in one of contemporary Hong Kong cinema's most notorious commercial disasters.
His first major international recognition was at the 1997 Cannes Film Festival where he won the Best Director prize for Happy Together (1997). A film that "uses gorgeous, saturated images set to an eclectic soundtrack of tango by Argentinian maestro Astor Piazolla, Brazilian singer Caetano Veloso and Frank Zappa instrumentals to chronicle the stormy affair of a gay couple living as expatriates in Buenos Aires." [1] In fact, tracing back to his early career, Wong did celebrate his success without being grateful to his mentor, Alan Tang-Kwong Wing.[citation needed] Wong mentioned Tang's name in his thank you speech at the award ceremony.
Despite his background as a scriptwriter, one of Wong's trademarks as a director is that he works largely through improvisation and experimentation involving the actors and crew rather than adhering to a fixed screenplay. This has been a frequent source of trouble for his actors, his financial backers and many other people connected with his films, including sometimes himself. The filming of In the Mood for Love (2000) had to be shifted from Beijing to Macau after the China Film Bureau demanded to see the completed script. This was all in all a minor setback in the "very complicated evolution" of the project which goes as far back as 1997. It was Wong's intention to make two films, one of which would be titled Beijing Summer, the plot unclear at the time, but eventually taking form in Macau. Here Wong planned to call it Three Stories About Food, but saw it better to settle for only one story, A Story About Food, that centers on a writer. Together with scenes shot in Bangkok and Angkor Wat, the filming took as long as 15 months. This was an especially arduous time for lead actress Maggie Cheung whose hair and makeup reportedly took a daily five hours, and who appeared in different cheongsams in each scene. She famously compared the lengthy shoot to a cold she couldn't get rid of. Working without deadlines, the film's upcoming premier at Cannes nonetheless put some pressure on Wong to finish editing. Intending to name the film Secrets he was dissuaded by Cannes, and finally named it In the Mood for Love after Bryan Ferry's cover of the song "I'm in the Mood for Love" he was listening to. Infamous for long drawn out shoots without any real regards to deadlines, it is now well known that a running joke amongst the crew of 2046 (2004), a film about capturing lost memories, was that he would finish in the year 2046.
IN THE MOOD FOR LOVE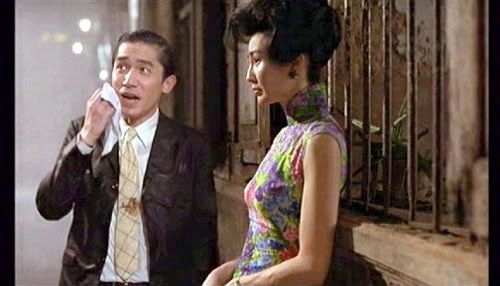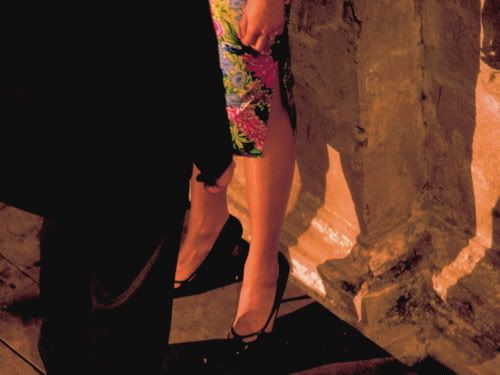 Trivia from IMDB.com

Born in Shanghai but emigrated to Hong Kong at age 5 leaving a brother and sister behind. Did not see them for a decade.
Did not speak the local dialect of Hong Kong, Cantonese, until aged 13.
Dropped out of an art school and joined a screenwriter's program in 1980.
Does not use detailed scripts for his films.
Never went to film school.
He claims that his non-linear style of story-telling is inspired by the late Argentinian writer Manuel Puig's novel titled "The Buenos Aires Affair".
Wife Esther and son Cheng, now 9 years old (2004), spend lots of time in New York with Esther's relatives.
The director with the most films (6, all directed between 1989 to 2000)selected among the Best 100 Chinese Motion Pictures selected by Hong Kong Film Awards in celebration of 100 years of movies.
1st Chinese to win the Best Director Award at Cannes film Festival (1997)
[January 5, 2006] It was announced that he has been selected President of the Jury for the 2006 Cannes Film Festival.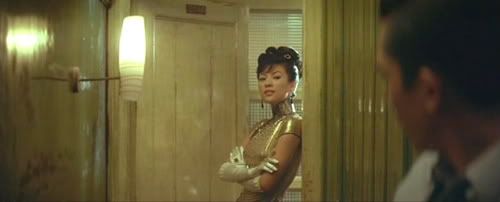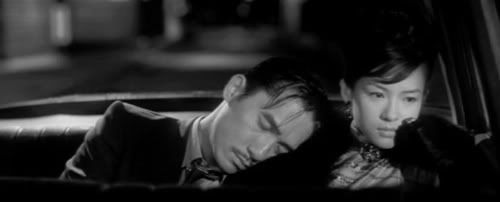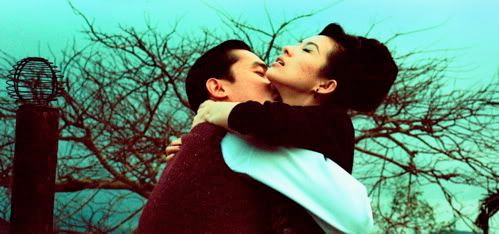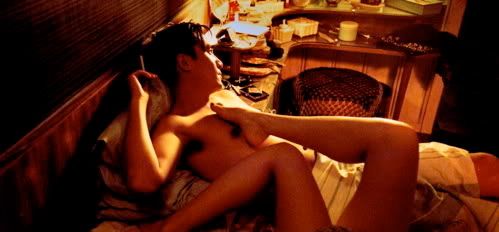 ..
Status:

Married

Hometown:

Shanghai, China

Zodiac Sign:

Cancer

Children:

Proud parent

Occupation:

film director