No recent updates in this category.
Why not...
Kathleen Marie hasn't earned any badges yet... have you?
General

playing classical piano, Paris Haute Couture, 18th century and Victorian clothing, floral arranging, ballet.

Music

Movies

Television

Books

The Fountainhead by Ayn Rand,
Portrait of a Lady by Henry James,
Les Dames Aux Camelias by Alexandre Dumas fils,
Valentine by George Sand,
Tale of Two Cities by Dickens,
Edgar Allen Poe
Anything on french history from Louis XIV
through XVI and Marie Antoinette.
I read voraciously......

Heroes

Bob Mackie (for his skill and colour),
Cher (for her strength, talent, attitude)
Marchesa Casati (for her total individuality)
Diamanda Galas (for her VOICE and artistic principle
and the intense emotion her performances convey.)
and BEETHOVEN.
Play

Play Next

Add to queue
About me:
..
..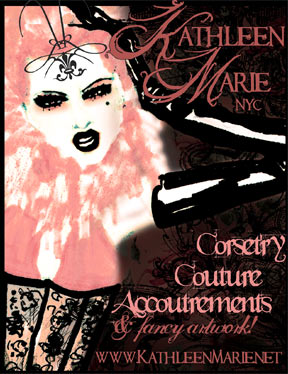 I make mostly FANCY dresses and corsets, all original
and completely one of a kind.
I also love drawing and painting..!
PLEASE VISIT MY NEW STORE!!
http://www.AntoinettesAtelier.com
and join my mailing list for new work and updates!
***
www.KathleenMarie.net
***
Questions about commissions and artwork
should be directed to:
kathleen.marie@gmail.com
Please be patient messaging me here, as I am not here too often.
Who I'd like to meet:
Talented, creative people who define THEIR OWN lines and lives;
and all who are REAL.

Status:

In a Relationship

Here for:

Networking, Friends

Hometown:

Planet Fancy!

Height:

5' 9"

Zodiac Sign:

Cancer

Education:

College graduate

Occupation:

Designer and Artist
Savannah College Of Art And Design

Savannah, GA

Graduated:

2001

Student status:

Alumni

Degree:

Bachelor's Degree

Major:

Fashion Design

Minor:

Baroque/ Rococo Art History

1999 to 2001
Kathleen Marie Corsetry and Couture

NYC, NYC US

Creative Director/Head Designer