No recent updates in this category.
Why not...
Jenny Barbee hasn't earned any badges yet... have you?
General

A good burrito (no lettuce in it for crying out loud, are you people crazy or what!?), Roller Derby, underbites, Easy Cheese, Warhol Superstars, making up life stories of wierdos on the street, hitchhiking, freckles, roller skating at skateparks, cutting a rug, making out in ladies' rooms, motel room beach parties with a clock radio iPod soundtrack, shooting the shit, Wau Wau Sisters, hanging out with other derby leagues, my ex-boyfriend Jim Beam, long solo drives on lonely two lane highways, good music, RBH06 (yo!), reading, sock hops, exploitation films and the lifestyle that they promote, silly tattoos, getting money for nothing, the smell of scotch tape, laziness, hotel bars, mountain dew, vocal harmony, green lights, pretending I can afford to buy art, blue skies, unsuccessfully trying to stay out of trouble, homemade honeymoon suites wherever you may find them and the girl I find them with.

Music

Movies

Unholy Rollers

,

Sensational Janine

,

Beyond the Valley of the Dolls

,

Royal Tennenbaums

,

Written on the Wind

,

Roman Holiday

,

Young Frankenstein

,

My Dream is Yours

,

Airplane!

,

Student Nurses

,

Clueless

,

Valley Girl

,

Ball of Fire

,

Death Race 2000

, Chelsea Girls

Claudia Jennings: Unholy Rollershttp://www.youtube.com/watch?v=FemqsoQ_xB0 Gene Krupa - Drum Boogie (from Ball of Fire, 1941)http://www.youtube.com/watch?v=qEdh2MmIIVs

Television

Books

Play it as it Lays, the Sheltering Sky, Fanny Hill, The Heart is a Lonely Hunter, Summer of Night, All the King's Men, Concrete Island, Mythology by Edith Hamilton, And I Don't Want to Live this Life, Swimming Underground, Gentlemen Prefer Blondes, The Art of Eating, The Executioners Song, any bios of silent film stars that time forgot and autobiographies of old Hollywood stars that don't culminate in two chapters describing how they found religion.

Heroes
About me:
Shiftless dilettante. Lover of scotch tape. Hater of foam fingers. Doodler. Chicken Scratcher. Oral historian. Moral minority. Customizable Utopian. Terrible liar. Collector of t-shirts. Not as mean as I look. Sometimes I dress like a sailor, just because. Make me laugh and I'll love you forever.
Even Judas Priest rocked the rollerskates! "Are you fucked up right now?" "Um...you know, about half and half."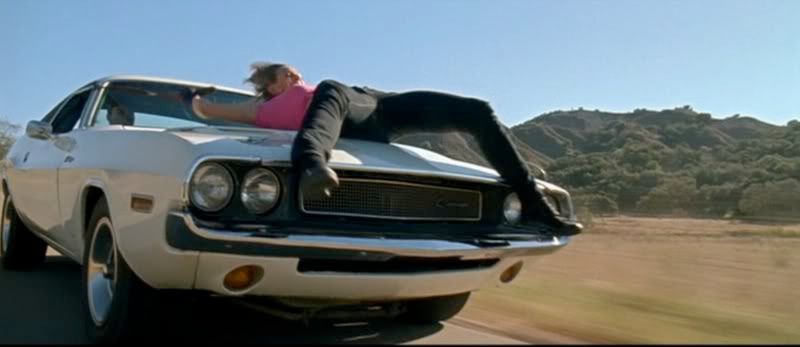 Stunt people get to have all the fun.
Who I'd like to meet:
Carnys, stunt men, synchronized swimmers, the person at Parker Bros. who is in charge of putting the spirits in all the Ouija Boards, Roller Derby Queens, Amy Sol, Mole People, puppeteers, PJ Soles, loose women, sleazy boys, anyone who would like to audition for the role of my mortal enemy, people with suspect morals, dirtbags, a man-sized corn dog, anyone who won't be afraid to tell me to shut the hell up when I deserve it, Tuesday Weld, someone who would eat a whole box of "Peeps" on a dare, and Rocky Casbah anytime anywhere, etc.
Status:

In a Relationship

Here for:

Networking, Dating, Friends

Hometown:

Garland, Texas

Orientation:

Lesbian

Body type:

5' 7" / Athletic

Ethnicity:

White / Caucasian

Religion:

Other

Zodiac Sign:

Pisces

Drink:

Yes

Education:

Grad / professional school

Occupation:

desk slave/roller derby badass
N Garland H S

Garland, TEXAS

Graduated:

1993

Student status:

Alumni

1989 to 1993