Kill Pet puppy hasn't earned any badges yet... have you?
General

Music

Books

Enjoyed: The Roxy London WC2 - Paul Marko, Bootleg! The Rise & Fall Of The Secret Recording Industry - Clinton Heylin, The Rough Guide To Rock, The Story of Crass - Gerard Berger, The Day The Country Died - Ian Glasper, An Oral History of Punk - John Robb, Bash The Rich - Ian Bone. K Foundation Burn A Million Quid - Chris Brook. Rip It Up And Start Again -Simon Reynolds. The Naked Lunch (restored text) - William Burroughs. Give The Anarchist A Cigarette - Mick Farren.

Heroes

Punk squatters.
About me:
First things first, an explanation of the phrase 'Kill Your Pet Puppy': The words 'Kill Your Pet Puppy' are not about harming animals, they are about stripping away false and externally imposed responsibilities to see through the illusion of society's conformist 'real life' that pins down, stifles and suffocates us. The 'Puppy' is symbolic of implements of the state forced upon young children, the puppy being often the first in a long line of instruments designed to teach dependence on worthless objects, enslaving the kid into a lifetime of obedience to an outside agent that demands sacrifice of independence to serve. The puppy's cute helplessness forces an emotional responsibility that subverts our natural nurturing instincts as the kid's parents use the puppy to force the kid's experiences of the world into a state-prescribed conformist view of the 'Family'. 'Kill' means moving beyond enslavement and experiencing life at first hand, experiencing the explosive euphoria which follows. That was our reasoning in 1979. This site and the
killyourpetpuppy.co.uk
website are now home to more than just the fanzine; home to words, music and memories of people who remember the time. This anarcho punk era was buried by the media for a long time, but now we are coming up from under the floorboards. We shall live again! But we lived beyond the reach of the media at the time and now we are pulling it together again, on our own terms... (The old piece about Andee Martin has been moved to a blog.)
Splitting The Atom gig Nov 2009
Some snaps of a puppy night out at the launch of Aaron Williamson's 'Splitting The Atom' essay published in Eel fanzine.
Who I'd like to meet:
We also have a photo bucket album:click on pic below or go to
http://photobucket.com/killyourpetpuppy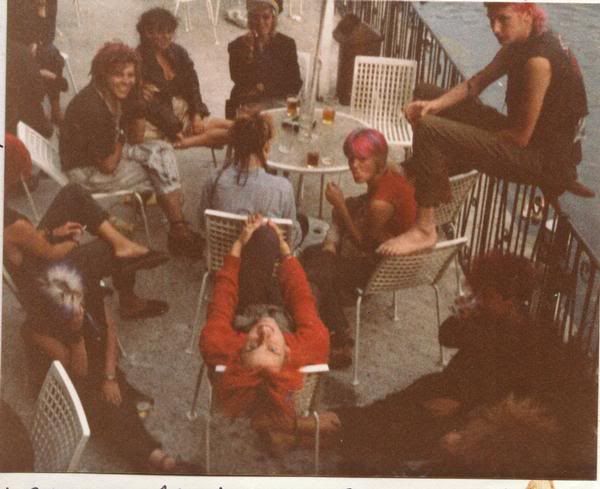 Status:

Single

Zodiac Sign:

Capricorn