Play

Play Next

Add to queue
Play

Play Next

Add to queue

14,885 plays

Play

Play Next

Add to queue

69,086 plays

Play

Play Next

Add to queue

103,517 plays

Play

Play Next

Add to queue

102,259 plays

Play

Play Next

Add to queue

7,590 plays
Genre: Metal / Rap / Rock

Location Fontana, California, US

Profile Views: 583984

Last Login: 4/25/2011

Member Since 2/15/2005

Website killbutterfly.com

Record Label GhettoRock Records

Type of Label Indie

Bio

....................real..editor....best profile tools................real..editor....best profile tools..............How I made my profile:....I used Dave & Jay's amazing ..myspace editor............................... ...... ...... ...... ...... ...... .. .. .. .. .. .. .. .. .. .. .. .. .. .. .. .. .. .. .. .. .. ...... ...... ...... ...... ...... ...... ...... ...... .. .. .. ...... ...... ...... ...... .. ..Kill Butterfly The Voice, The Movement, The Liberation Kill Butterfly is Musical Revolution Kill Butterfly is a MainStream GhettoRock band from Southern California that introduced it's style to the world on MTV's Battle For OZZFEST. The group has lead the invasion of the GhettoRock genre, delivering main stream hard rock mixed with rap and other personally influenced styles. Their recent single release of "California Life" has been set to destroy and has been predicted to stimulate this stagnant rock scene. By collaborating with top Hip Hop artist such as Onyx, YA BOY, 3rdStrike and producers Pete G., Blake Proctor, and Darian Rundall the band has proven its overwhelming acceptance into the Rock and Hip Hop communities. With powerful driving singles like "California Life" & "Killer on the Radio," the band's fan base continues to grow on a daily basis. The video release of "California Life" has also had a big part in the current buzz surrounding the band. Gibbz Gavin, lead vocalist, comments "My lyrics are really catchy, but I think it's the truth behind them that makes them so memorable." D2, witness and backup vocalist, agrees and seals key lines with his signature screams. The guitar playing of Albert and Erik continue to stun even the most intricate musicians by unleashing monster distortion that flows into melodic dream sequences driven by the heart or bass and drums. With G Rock on bass and Trust on the drums they strive to push each beat deeper and deeper into your chest. Finally DJ Panik tops it all off and hypes the crowd adding keys, samples and scratches. Kill Butterfly was established in 1999 under the name Missing Pieces by brothers Trust and Gibbz Gavin. They quickly made a name for themselves in their hometown of Fontana, CA, which at that time was known as the meth capital of the world, amongst other notorieties the city carried. After a few line-up changes in 2000 the band stole guitarist Erik, a childhood friend from another local band. The music grew stronger and faster. In 2001 the band decided it needed a second guitar after hearing the intense sound another band displayed. The brothers, Trust and Gibbz Gavin, called their cousin Albert who is the former guitarist for the bands Death, Evil Dead, and Rise. With Albert's experience in the metal scene the band quickly polished their sound. It was also at this time that the band with an already enormous sound called on D2, cousin to the brothers and of course one of the original roadies of the group, to add samples, keys and screams. By 2003 the band had made its way to the top of the local scene winning X103.9FM's battle of the bands and self released their debut album six 0'clock which sold just fewer than 10,000 copies. The band started performing with national acts such as Crazy Town, Otep, Digital Underground and more. The band did so well that they were able to sell out places like the Roxy and the House of Blues with little promotion. In 2004 one of the band's songs was featured in a Fleshwound Films Crusty Demon's Crusty X video which pushed them into the motocross scene. In the same year the band had also been featured on MTV's Battle for Ozzfest and was rated one of the top three California bands alongside friends Divide the Day, and Manntis, both of which are now signed and touring. In 2005 the band put out an EP titled America's Favorite Unsigned which quickly caught the attention of Attorney Todd Cooper who represents Incubus, Daft Punk and others. Cooper was able to send an A&R for Atlantic out to one of the gig's at the Roxy. Atlantic offered a production deal, but no marketing. Without marketing support the group knew that they needed to turn down the offer and press on. In late 2005 the band added G-Rock who, as an avid roadie and bassist, knew every song after the band lost their bass player. In 2006 Gibbz Gavin also partnered with actor T.J. Cunningham, who was a regular on Pamela Anderson's V.I.P., to produce a major concert in the Inland Empire. The bill was to feature Kill Butterfly along with Nonpoint, Otep, and Drowning Pool. Another road block was soon in view, the week of the event Gibbz Gavin received a call from booking agent Andrew Goodfriend (TKO) asking why the event is cancelled. Having no answer for him Gibbz Gavin calls T.J. to find out that he pulled the show due to lack of ticket sales. The band had beaten themselves up for months after this incident and decided to take some time away from the music scene to reevaluate themselves and their passion for music. After being apart for over a year the band had taken the time it needed to reset itself, regroup and come back stronger then ever. In February 2008 Kill Butterfly hosted its first show and invited local friends and artists, Divide the Day, 3RD STRIKE, and more. The Grove Theater welcomed them to a packed house. With this successful jump start the band knew they needed to start writing hits and added DJ Panik to allow D2 focus on vocals. February 2009 the band entered the studio tracking with Producer Engineer Darian Rundall who has produced for both Pennywise and Yellow Card. They had the project mastered by Bill Dooley, known for mastering music for Madonna and Motley Crew, at Paramount Studios, Hollywood. Kill Butterfly has released their singles with the video for "California Life" and is set to release the LP this march with a DVD and tour to follow. The band is already scheduled in major cities like Detroit and Charollete where they will co-Headline Ink Fest live with Three 6 Mafia www.inkfestlive.com .......... .. .. .. .. .. .. .. .................... ...... .. .. .. .. .. .. .. .. ........................View all ....Kill Butterfly tour dates........

Members

...... ...... ...... ...... ...... ...... ...... ...... ...... ...... ...... ...... ...... ...... ...... .. .. .. .. .. .. .. ....................

Influences

Sounds Like
No recent updates in this category.
Why not...
Bio:
..
real

editor

best profile tools
..
real

editor

best profile tools
How I made my profile:
I used Dave & Jay's amazing
myspace editor
.




..
..
..
..
..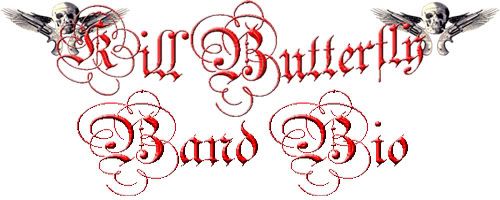 ..
Kill Butterfly The Voice, The Movement, The Liberation Kill Butterfly is Musical Revolution Kill Butterfly is a MainStream GhettoRock band from Southern California that introduced it's style to the world on MTV's Battle For OZZFEST. The group has lead the invasion of the GhettoRock genre, delivering main stream hard rock mixed with rap and other personally influenced styles. Their recent single release of "California Life" has been set to destroy and has been predicted to stimulate this stagnant rock scene. By collaborating with top Hip Hop artist such as Onyx, YA BOY, 3rdStrike and producers Pete G., Blake Proctor, and Darian Rundall the band has proven its overwhelming acceptance into the Rock and Hip Hop communities. With powerful driving singles like "California Life" & "Killer on the Radio," the band's fan base continues to grow on a daily basis. The video release of "California Life" has also had a big part in the current buzz surrounding the band. Gibbz Gavin, lead vocalist, comments "My lyrics are really catchy, but I think it's the truth behind them that makes them so memorable." D2, witness and backup vocalist, agrees and seals key lines with his signature screams. The guitar playing of Albert and Erik continue to stun even the most intricate musicians by unleashing monster distortion that flows into melodic dream sequences driven by the heart or bass and drums. With G Rock on bass and Trust on the drums they strive to push each beat deeper and deeper into your chest. Finally DJ Panik tops it all off and hypes the crowd adding keys, samples and scratches. Kill Butterfly was established in 1999 under the name Missing Pieces by brothers Trust and Gibbz Gavin. They quickly made a name for themselves in their hometown of Fontana, CA, which at that time was known as the meth capital of the world, amongst other notorieties the city carried. After a few line-up changes in 2000 the band stole guitarist Erik, a childhood friend from another local band. The music grew stronger and faster. In 2001 the band decided it needed a second guitar after hearing the intense sound another band displayed. The brothers, Trust and Gibbz Gavin, called their cousin Albert who is the former guitarist for the bands Death, Evil Dead, and Rise. With Albert's experience in the metal scene the band quickly polished their sound. It was also at this time that the band with an already enormous sound called on D2, cousin to the brothers and of course one of the original roadies of the group, to add samples, keys and screams. By 2003 the band had made its way to the top of the local scene winning X103.9FM's battle of the bands and self released their debut album six 0'clock which sold just fewer than 10,000 copies. The band started performing with national acts such as Crazy Town, Otep, Digital Underground and more. The band did so well that they were able to sell out places like the Roxy and the House of Blues with little promotion. In 2004 one of the band's songs was featured in a Fleshwound Films Crusty Demon's Crusty X video which pushed them into the motocross scene. In the same year the band had also been featured on MTV's Battle for Ozzfest and was rated one of the top three California bands alongside friends Divide the Day, and Manntis, both of which are now signed and touring. In 2005 the band put out an EP titled America's Favorite Unsigned which quickly caught the attention of Attorney Todd Cooper who represents Incubus, Daft Punk and others. Cooper was able to send an A&R for Atlantic out to one of the gig's at the Roxy. Atlantic offered a production deal, but no marketing. Without marketing support the group knew that they needed to turn down the offer and press on. In late 2005 the band added G-Rock who, as an avid roadie and bassist, knew every song after the band lost their bass player. In 2006 Gibbz Gavin also partnered with actor T.J. Cunningham, who was a regular on Pamela Anderson's V.I.P., to produce a major concert in the Inland Empire. The bill was to feature Kill Butterfly along with Nonpoint, Otep, and Drowning Pool. Another road block was soon in view, the week of the event Gibbz Gavin received a call from booking agent Andrew Goodfriend (TKO) asking why the event is cancelled. Having no answer for him Gibbz Gavin calls T.J. to find out that he pulled the show due to lack of ticket sales. The band had beaten themselves up for months after this incident and decided to take some time away from the music scene to reevaluate themselves and their passion for music. After being apart for over a year the band had taken the time it needed to reset itself, regroup and come back stronger then ever. In February 2008 Kill Butterfly hosted its first show and invited local friends and artists, Divide the Day, 3RD STRIKE, and more. The Grove Theater welcomed them to a packed house. With this successful jump start the band knew they needed to start writing hits and added DJ Panik to allow D2 focus on vocals. February 2009 the band entered the studio tracking with Producer Engineer Darian Rundall who has produced for both Pennywise and Yellow Card. They had the project mastered by Bill Dooley, known for mastering music for Madonna and Motley Crew, at Paramount Studios, Hollywood. Kill Butterfly has released their singles with the video for "California Life" and is set to release the LP this march with a DVD and tour to follow. The band is already scheduled in major cities like Detroit and Charollete where they will co-Headline Ink Fest live with Three 6 Mafia
www.inkfestlive.com
View all

Kill Butterfly tour dates
Member Since:
February 15, 2005
Record Label:
GhettoRock Records
Label Type:
Indie
Kill Butterfly has 29943 friends.