Play

Play Next

Add to queue
Play

Play Next

Add to queue

2,046 plays

Play

Play Next

Add to queue

791 plays

Play

Play Next

Add to queue

517 plays

Play

Play Next

Add to queue

134 plays

Play

Play Next

Add to queue

146 plays
Genre: Indie / Melodramatic Popular Song / Psychedelic

Location Brooklyn, New York, US

Profile Views: 52843

Last Login: 11/27/2012

Member Since 2/25/2005

Website blogkinetic.blogspot.com

Record Label Paribus Records

Type of Label Indie

Bio

..k i n e t i c played their last show on Oct 11, 2008. Brendan is living in Denmark with his wife and newborn son, Colombo is living in upstate NY, and Lupo is still keeping it real in Brooklyn. thanks for everything over the years... .... ..We did a live set/interview for Break Thru Radio. ..Listen!.. ..We are the 33rd best NYC Artist in the new Deli Magazine. ..The first 3 songs for ..An Army of Lovers Can Be Beaten.. have been mixed and mastered. Please enjoy them above. Soon we will figure out a way to make you pay for them, and then we shall grow fat on our largesse and retire to the French Riviera. ....* * * * * * *.. ....No More Wasted Days.. ....BOOKING/COMMUNICATION/ENTROPY:.. kinetic@thebandkinetic.com .... * * * * * * *.. ..We're psychedlic because we like noise and atmosphere. We're punk rock because we do whatever the fuck we want. ....Some Reviews:.. ....1......, ..2...., ..3..... ....* * * * * * *.. ....We are making a record. It's taking a while but it will be worth the wait. Thank you for still paying attention to us... ..You may purchase our 1st album, ..Sun & Glacier.., by clicking below. ........ .... .. .. .. .. ..Video for ..Saboteur.. by Hallway Films.

Members

..Brendan.... - guitar and singing ....Colombo.... - bass and singing ....Mike.... - drums

Influences

sex, violence, anxiety, and love.

Sounds Like

psychedelic punk rock
Bio:
k i n e t i c played their last show on Oct 11, 2008. Brendan is living in Denmark with his wife and son, Colombo is living in the SF Bay Area working for MAKE Magazine, and Lupo is pursuing a Phd in Musicology at Brooklyn College. thanks for everything over the years.
We did a live set/interview for Break Thru Radio. Listen!
We are the 33rd best NYC Artist in the new Deli Magazine.
The first 3 songs for An Army of Lovers Can Be Beaten have been mixed and mastered. Please enjoy them above. Soon we will figure out a way to make you pay for them, and then we shall grow fat on our largesse and retire to the French Riviera.
* * * * * * *
No More Wasted Days
BOOKING/COMMUNICATION/ENTROPY: kinetic@thebandkinetic.com
* * * * * * *
We're psychedlic because we like noise and atmosphere. We're punk rock because we do whatever the fuck we want.
* * * * * * *
We are making a record. It's taking a while but it will be worth the wait. Thank you for still paying attention to us.
You may purchase our 1st album, Sun & Glacier, by clicking below.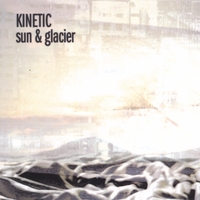 Video for Saboteur by Hallway Films.
Member Since:
February 25, 2005
Influences:
sex, violence, anxiety, and love.
Sounds Like:
psychedelic punk rock
Record Label:
Paribus Records