No recent updates in this category.
Why not...
Quirky hasn't earned any badges yet... have you?
General

Slightly kitsch-a-holic, sassy and ironic, my radar's supersonic, demeanour's hyberbolic,....... don't sleep so I take a vitamin tonic.....................

glitter-graphics.com

I'm into tiki bars, 50's cars, groovy guitars, watching the stars. Flamingos, gringos, cheese and onion ringos, I'm feeling which way the wind blows and looking at life through stained-glass windows.

glitter-graphics.com

.....................I'm kinda hippy but I'm metro, I'm forward thinking but I'm retro, I'm unplugged yet I'm on eleven, my lucky number's seven. I'd like to do some more road trips, take a van and go Gaudi in Spain, I want to eat fishes and not do the dishes,

I want to support a worthy campaign.

..................Unravel me, bedazzle me, lay me bare, take me there but always show me that you care. Let me paint your nails blood red, let me tie you up instead, I will climb into your head and see the words you've never said.Image flashes, lightening crashes, black eyelashes, teardrop splashes, leather lashes. Desire, inspire, explore, adore......

glitter-graphics.com glitter-graphics.com

.............. WHO CUTS YOUR HAIR, WHAT JEANS YOU WEAR OR IF YOU'VE GOT A PERFECT PAIR! ..IF YOUR MAKE-UP'S EXPENSIVE OR YOUR WARDROBE'S EXTENSIVE THAT MEANS NOTHING HERE..SO YOU'VE GOT A V.I.P PASS? WE DON'T GIVE A RAT'S ARSE....COS YOU'RE PROBABLY AS SHALLOW AS YOU APPEAR!................

glitter-graphics.com

Wanna tell me your stories straight from the heart? Wanna lend me a book or talk about art? Modigliani is a good place to start...Right...so you think your girlfriend might be gay? You think your best friend's lost her way? You want him but you don't know what to say? OK!! See now we're talking!

I'VE GOT QUESTIONS!!.............. Why do peas float? Where have I left my coat? Did you read my note? If everyone's gone overboard who the hell is left sailing the boat? You can share your theory with me, trip out on Leary with me, be political, be analytical but don't come at me with hypocrytical.....Laugh with me, follow a path with me, take a virtual bath with me, let's run naked through the flowers, show me all your super-powers, we could talk for hours and hours. Tell me what you can create, tell me things you love to hate, Talk to me -I stay up late!!!

glitter-graphics.com

Music

glitter-graphics.com

................."YOU KNOW YOU GOTTA GO DANCIN'!".............. I like my beats like I like my friends...big,

dirty and with a lot of soul!! .....Basement Jaxx

,

Underworld

,

Chemical Bros

, Oakenfold and those kinda twiddlers.....Got my platforms on and big sparkly hair to do the 70's Carwash thang - Dan Hartman's 'Relight my fire'...You just gotta groove!! Missy Elliot..'Bring the pain'....yep I'm gettin' my freak on...!!

glitter-graphics.com

..................DIRTY,

DANGEROUS

, GUITAR WIELDING BOYS????.... YES PLEASE!!!!...............I still wanna get 'Teenage Kicks' all through the night - alright?!......................... - LE CHAT NOIR - Primal Scream,

White Stripes

,

The Killers

,

Jet

,

Dinosaur Junior

,

Klaxons

,

Echo & the Bunnymen

,

Buzzcocks

,

Psychedelic Furs

,

Death in Vegas

,

Jesus & Mary Chain.All the glam dudes....David Bowie

,

Velvet Underground

,

Roxy Music

,

T-Rex

,

Scissor Sisters.The American giants...Neil Young

,

The Pixies

, The Foo Fighters.........It still smells like Teen Spirit....

glitter-graphics.com

VENUS AS A BOY - BJORK

glitter-graphics.com

.............Turn the lights down low,

let me put on a slinky dress

,

mix me a chocolate martini - I wanna luxuriate in the lounge!! Here come the crooners and swooners

, the hepcats and the sultry gals...Current Lounge Lizards of choice...the divine Veldt - Brighton's very own rat pack!!

glitter-graphics.com glitter-graphics.com

.............The soundtrack to taxi rides through neon cities at 2.00am....Massive Attack,

Air

,

Boards of Canada

,

Royksopp

,

Portishead

,

The Thievery Corporation

,

Lamb

,

Tricky

,

Kraftwerk....and some new ones ...Victims of a Broken Stereo

,

The Shadow Project

,

Alone

,

Reverse E

, The Ink Project.

glitter-graphics.com glitter-graphics.com glitter-graphics.com

Second that emotion....The fabulous Ed Harcourt 'Til tomorrow then' 'Metaphorically yours'...truly turns you inside out. The delightful Melanie Horsnell 'Deep Blue Sea'...gasp. Beth Orton 'Wish I'd never seen the sunshine'. Her Space Holiday 'Japanese Gum'. All songs for the broken hearted optimist!

glitter-graphics.com

ME TOO!!!........I like to shake my maracas to....Fountains of Wayne,

The Temptations

,

Ben Kweller

,

The Thrills

,

The Magic Numbers

,

The Jackson 5

,

Ben Folds

,

The B52s

, The Beastie Boys and a whole bunch more...

glitter-graphics.com

Movies

Television

Books

Heroes
About me:
Day-dreamin' eyes-gleamin', jump-startin', centre-partin', wise-crackin', lip-smackin', multi-taskin', always-askin', very wordy, sorta nerdy, cool but flirty, pretty dirty, kinda kinky, kinda quirky. Thought provokin'? Jokin'!






..
..

..
Myspace Contact Tables
Who I'd like to meet:











Digging those kinky boys, those slinky boys, those know how to eat a twinkie boys, boys in high heels, boys in fur, those boys sure know how to purr. Boys in leather with straps they use to bind, they're the sorta boys that completely blow my mind. A straight-up boy? Nah! I think I'm gonna pass – I like a boy who wants some stripes across his ass!















They read 'Fear & Loathing', they're giraffes in sheep's clothing, maybe got a nose ring, they like to do the stoned thing. They're lovers not fighters, musicians and writers, specky and tecky, they like to slurp spaghetti. Scribbles and draws, quotes from Star Wars, sings dreamy choons, watches cartoons, always likes to sleep on Tuesday afternoons. Can make you laugh at 100 paces, got his chuckies on but he doesn't tie the laces, always turns up in the strangest places, doesn't use the phone but he knows where myspace is.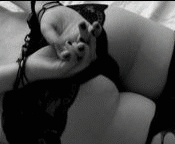 She loves the smell of latex, she'll tie your wrists real tight, she'll kiss the way she wants to, she'll keep you up all night. She'll have you on your knees, she loves it when you tease, put a collar round her neck, she only wants to please. She's salacious, pierced, she's scarlet red, she's an expert in temptation, with sultry eyes and shiny shoes, she's yours for the duration.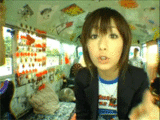 Queen of the thrift shop, her eye's on the prize, she's retro, electro, she doesn't tell lies. She's got a wish list, a shit list, a boys she has kissed list - a list of books she hasn't read, a list of things she should have said – some days she likes to stay in bed. Movies move her, music grooves her, words fly straight to her heart, she looks at the world through 3D glasses, she's got a collection of books about graphic art. She buys a new bag every week, she's funny and she's sweet, she's a girl who's quite unique.

Status:

Swinger

Here for:

Networking, Friends

Zodiac Sign:

Scorpio

Occupation:

Daydreamer