No recent updates in this category.
Why not...
Freaky McRunner hasn't earned any badges yet... have you?
General

coffee with cinnamon, hiking, running (5k to marathons), yoga, skiing/snowboarding (although I haven't been for a few years), kayaking, just about anything outdoors, live music, good food, dark chocolate, port, traveling to foreign lands, speaking in foreign tongues, family time, solitude, good friends

Music

Tristan Prettyman

,

Stephen Kellogg & the Sixers

,

Pat McGee Band

,

Jeffrey Foucault

,

Lyle Lovett

,

Carbon Leaf

,

Lifehouse

,

Lauren Hill

,

Norah Jones

,

Youssou N'Dour

,

Kanye

,

Duke Ellington

,

Ella

,

Marvin Gaye

,

Keb Mo

,

James Blunt

,

Aerosmith

,

AC/DC

,

Bon Jovi

,

DMB

,

U2

,

Al Green

,

Gypsy Kings

,

Peter Gabriel

,

Ben Harper

,

Ali Farke Toure

,

Akon

,

Baaba Maal

,

Lenny Kravitz

,

India Arie

,

Tina Turner

,

Bruce Springsteen

,

Sarah McLachlan

,

Otis Redding

,

Bob Marley

,

Francis Cabrel

,

MC Solar

,

Ofra Haza

,

Khaled

,

Free to Be You and Me

,

It's Not Easy Being Green

Movies

Television

I can only commit to one show at a time. Right now it's The Big Bang Theory. Makes me laugh every time and sometimes the characters kind of remind me of people I know...

Books

L'Amour, la fantasia, Pluie et Vent sur Télumée Miracle, Just So Stories, Balzac and the Little Chinese Seamstress, Old Man and the Sea, Kite Runner, The Alchemist, The Profit, West with the Night, Mrs. Polifax, The Bluest Eye and pretty much anything by Toni Morrison, The Arm of the Starfish, A Wrinkle in Time, Chronicles of Narnia, LOTR, Where the Sidewalk Ends, the Melendy books, The Giving Tree, The Wind in the Willows. Currently reading Kafka on the Shore by Haruki Murakami Very interesting. How could it not be with leeches raining from the sky? So why is it taking me so long to finish those last 30 pages??? Just started and Collapse by Jared Diamond (really should go back and finish Guns, Germs and Steel.

Heroes

my mom, my grandmother, Olive Hoover, Satchel Pooch and...

Eloise who lives at the Plaza and braids her turtle's ears.
Play

Play Next

Add to queue

Play

Play Next

Add to queue

Play

Play Next

Add to queue

Play

Play Next

Add to queue

Play

Play Next

Add to queue
About me:
Your results:
You are

Supergirl
| | | |
| --- | --- | --- |
| Supergirl | --- | 100% |
| Superman | --- | 100% |
| Wonder Woman | --- | 100% |
| Spider-Man | --- | 90% |
| Green Lantern | --- | 90% |
| Robin | --- | 80% |
| The Flash | --- | 80% |
| Hulk | --- | 70% |
| Catwoman | --- | 60% |
| Batman | --- | 55% |
| Iron Man | --- | 55% |

Lean, muscular and feminine.
Honest and a defender of the innocent.

Click here to take the Superhero Personality Test
A few words to describe me: goofy, dorky, sincere, smart, terrible with directions but frequently get asked for them, famous for telling stories that lead nowhere but occasionally I tell good ones that really do have a point! Analytical, semi-reformed leadfoot, adventurous, playful, messy but mostly in my own space (my space - get it? ha!). Ok, like I said, I'm a bit of a dork. Where was I? Vegetarian but not really since I eat seafood. Can you blame me? I get lobsters delivered straight to my door (or kayak) at my summer house on the coast of Maine. Honest, loyal, flawed, human. Ummm... I'm sure there's more, but that's a start.
Your Hillbilly Name Is...
Norma Jean Tractor
And for those wondering about my panties...
Your Lucky Underwear is Yellow
You're an extremely happy, laid back, fun soul. And your lucky yellow underwear can help you get even more out of life.

In life, you rather play than work. You're apt to quit any task that doesn't nourish your creativity and inner child.

Sometimes your drive for freedom hinders your quality of life. You find it impossible to do anything unpleasant.
If you want to have responsibilities and still have fun, put on your yellow underpants. They'll help you make a party out of the most mundane tasks.
..
Who I'd like to meet:
NOTE: IF YOU WANT ME TO ADD YOU, SEND ME A MESSAGE FIRST.
Hiking, running and kayaking partners. Smart, interesting, funny, good people. People who can keep up or force me to keep up.
I'm not interested in becoming part of a MySpace menagerie, ménage à trois or anything of the sort so if that's what you're here for, keep on truckin'.
And...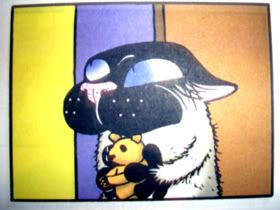 Status:

Single

Here for:

Friends

Hometown:

Portland, ME

Orientation:

Straight

Body type:

5' 5" / Athletic

Zodiac Sign:

Aries

Children:

Someday

Education:

College graduate
Oberlin College

Oberlin, OHIO

Graduated:

1998

Student status:

Alumni

Degree:

Bachelor's Degree

Major:

French

1992 to 1998

Deering High School

Portland,Maine

Graduated:

1992

Student status:

Alumni

1988 to 1992