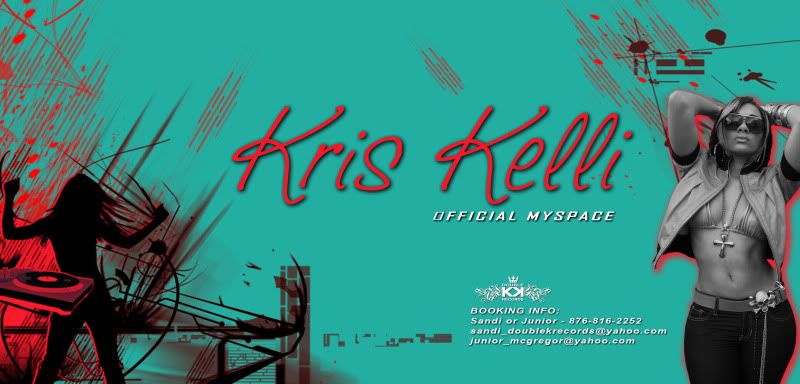 Genre: Pop / R&B / Reggae

Location Kingston, Georgia, Ja

Profile Views: 1111996

Last Login: 7/8/2012

Member Since 4/16/2006

Website www.kriskelli.com

Record Label BLOCK Entertainment

Type of Label Indie

Bio

Entering the music business in January 2003, filming a music video and going on an eleven-city tour of the U.S.A as well as performing in Canada and a number of major stage shows and charity events locally through-out 2004 was enough to convince her that she had made the right decision to pursue a career in music. Much of the next 18 months had her in Studios working with a number of Top Producers in Jamaica to realize her debut album titled 'MY WORLD'. This album boasted 15 tracks including two collaborations, one each with Beenie Man and Vybz Kartel; it represented various genres of Reggae music and captured the essence, journey and versatility of the artiste. "MY WORLD" was released in Japan by Pony Canyon Int., on September 20th, 2006. 2006-2007 was taken up with several visits to Japan doing the 'My World' album promotional tours, radio interviews, performances and photo shoots for magazines in the cities of Tokyo, Osaka and Okinawa while filming three (3) music videos in Jamaica. Two videos were shot in the first quarter of 2007 for "STEP UP" which is the lead single on the album and "We're Missing You" (The Tribute) was recorded after the album was released, the third and final video "Secret Admirer" was shot in the last quarter of 2007. Her video "We're missing you" was on the MTV's Tempo Cross Caribbean Countdown Top 10 Video chart for 13 weeks and peaked at the # 2 position for 5 weeks, it was also nominated by The Reggae Academy Awards with 3 other videos for the Best Video for 2007 in the Reggae category. 2008 started out as planned with a lot of studio work and the release of 12 new singles during the course of that year. 2009 was a year of Performances, recording more Singles, breaking into new areas (video and record production), filming two music videos and working with Producers that she has not worked with before. Two photo shoots were done during the course of the year, the first one was for new photos to update her 'MySpace', Website and EPK (electronic press kit) and the second was for the BUZZ Magazine 'SUMMER SWIM SUIT' issue. Kris Kelli's new video for the Hit Single 'Kotch Aroun' was conceptualized and Directed by her, it was shot in five (5) locations in and around Kingston. The song Kotch Aroun was nominated by the MP3 Awards in the Reggae category and the video was nominated by Carivibez TV in the category of BEST FEMALE VIDEO for 2009. This video was No. 1 on RE TV for five (5) weeks and No. 1 on Carivibez TV for seven (7) weeks; it can be viewed on all the local channels in Jamaica as well as Tempo and BETJ and more. A motivational single "Never Give In" on Don Corleonie's Feminine Riddim was recorded in the last quarter of 2009 and has received a lot of love from the radio DJ's. For 2010, Kris Kelli continues to record singles, collaborates and has her sights set on exploring other areas of the business and working with Producers both local and overseas.

Members

Influences

Sounds Like

.................. .. .. E-mail address is: doublek@kriskelli.com....
Kris Kelli has 45841 friends.