About me:
Background art by ED UNITSKY
THIRD EYE READINGS: Free TAROT CARD READINGS, by KIM
Now you can have a FREE TAROT CARD READING, from her, just by loging onto
www.thirdeyereadings.n.nu
She also was the BACKBONE for the charity album " STRENGTH, " under the CEO of MELODIC REVOLUTION RECORDS, NICK KANTONA, who organized this project, to help the TSUNAMI VICTIMS of JAPAN return to their peaceful and prolific lives.
The album sales, for this charity were so successful, that a LIMITED EDITION BOX SET, was created as a COLLECTORS ITEM, of the music, that derived from the GREATEST INDE MUSICIANS, who ever walked the earth.
You can still purchase this masterpiece for only $9.99 for the original version and $24.99 for the LIMITED EDITION BOX SET, by clicking onto this link:
http://thereishoperecords.com/album/strength
All proceeds will go to the RED CROSS RELIEF OF JAPAN.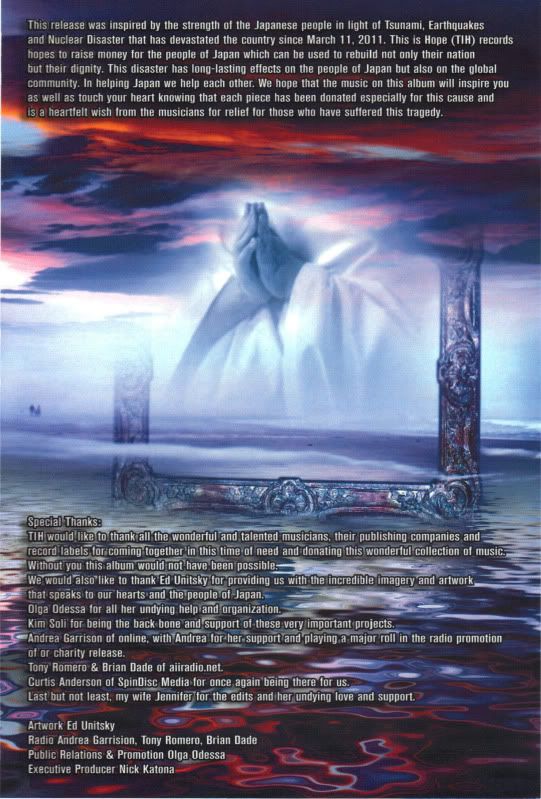 Courtesy of COS PRODUCTIONS
Thoughts From an Arcane Mind: Kim Soli book video
..
Add to My Profile
|
More Videos
ISBN#: 1-4241-6791-4
Purchase this HARDCOVER, for only $24.95, by clicking onto
PUBLISH AMERICA.NET
and type in the SEARCH BOX " THOUGHTS FROM AN ARCANE MIND! "
You can also PLACE AN ORDER, by contacting THE AUTHOR SUPPORT TEAM, at " PUBLISH AMERICA, " at 1-301-695-1707!!!
For those who don't have a Credit Card, if this book is not available, CALL YOUR BOOKSTORE & DEMAND IT!!!
INTRODUCTION
Have you ever explored the mind of a DEEP THINKER? Well, NOW YOU WILL!
" THOUGHTS FROM AN ARCANE MIND, " is a collection of poetry, which is based on the DARK HUMOR, SPIRITUALITY, and the INNER THOUGHTS, from KIM SOLI' S perspective, about the VARIOUS SUBJECTS & EVENTS, exemplified in the world today.
This book is a MUST HAVE, for those, who are seeking guidance on HOW TO AVOID THIS EVIL SOCIETY & BECOME A DECENT HUMAN BEING, with SELF CONFIDENCE, & A CHANGE OF HEART, to ACCEPT ALL MAN KIND, who is willing to REFURBISH HIS WAYS, without the complication of SELF-DENIAL or BORING SELF-HELP SEMINARS, therefore, only the power of TOUGH LOVE will penetrate into the reader's SUBCONSCIOUS to OPEN THEIR MINDS, with the AWARENESS we should of been born with.
ONCE YOU'LL READ IT, YOU'LL BECOME HIGHLY ADDICTED, FOR LIFE!
You' ll also, understand the purpose of WHY GOD WANTS YOU, TO UNDERSTAND HIS WAYS, THROUGH THIS BOOK. ALL RELIGIONS ARE WELCOMED!
IF YOU WANT TO CHANGE, THIS BOOK IS FOR YOU...DEPEND ON IT!!
BIOGRAPHY
Born on July 26, 1973, in Philadelphia, PA, Kimberly Ann Soli had a normal childhood, with her middle class family, who provided her with unconditional love, support, and encouragement.
Her father, Samuel Soli, a competent, strong-minded, individual, who gained knowledge, from his life experiences, supported his family, as an Industrial Painter and Construction Worker. Every time he started on a project, his dexterity drove his ambition to perfection, no matter how complex the task or situation was, physically or mentality.
Her mother, Carmela Soli, worked in a tailor shop for a few years, then after marriage, became a Homemaker, who always sought and absorbed knowledge, from various sources, combined with her intuition, creativity, and straightforward decisions. This couple always fought for their rights, until situations resolved, however, those intrinsic qualities were passed on to Kim, for a lifetime.
During her grammar school years, at Kirkbride Elementary she tried everything, from Music to Art, only to find that her coordination was off. Until the age of 13, she discovered the joy of, " Creative Writing, " especially Poetry. Her first composition, " The Sun, " combined imaginary writing, and scientific knowledge, which impressed her teachers, with multiple prospects for her, at that time.
Although the 11th 1991 Graduate of South Philadelphia High, who was a member of, " The National Honors Society, " with, " The Presidential Award, " under her belt, seemed like the normal student body on the outside, but inside, during those high school years, she was afflicted with OCD, all for the addiction of homework, and achievement, which left her no time for significant preparations for the real world.
Years before her high school graduation, she strived with the reality that, this facility never offered CREATIVE WRITING COURSES, but on her spare time, she practiced her imaginary writing through essays, book reports, and mocked interviews. Once the school paper turned her article down, which exploited the lewd behavior of some students, who never abided to the rules of the system. For that reason, she was only the head of the Editorial Department, with no room left for creativity.
As a result, her OCD impeded her goals, in her early adult life. She was unable to find work, in order to pay for her College Education, for the reason that she had no backer, and was constantly turned down for loans and grants, which forced her to collect Welfare for four years, than later SSI for eight, after she discovered her symptoms from the local news, in 1995.
In the same year, she finally rediscovered her creativity, in the form of Poetry, which was self-taught, through the use of dictionaries and encyclopedias. With practice, she developed a unique signature style of her own, which gave her the opportunity to LET HER POETRY GROW!
She recited at various, " Open Mike, " places in small nightclubs, which resulted in, " Standing Ovations, " from the spectators, who enjoyed her, Dark Humor, Suspense, Spirituality, and Inner Thoughts, although this wasn't consistent, throughout the years, for the reason that she had to care for her mother, who had nine major surgeries, over a 10 year period, and her grandmother, who was also ailing, until she answered God's call.
Kim's life sacrifice for her family was worth it, after she was awarded 3 Congressional Awards, ( issued by, " The Library Of Congress, " ) and 3 Editor's Choice Awards, ( issued by, " The International Library Of Poetry, " ) who published four of her poems, in four Anthologies, including, " A Thank You Condolence to Mother Teresa, " and, " A Message to Sonny Bono, " from 1997 - 1998.
By the year 2005, after she casually conversed with the legendary Metal Icon Dee Snider, ( who worked at Philadelphia's radio station 93.3 WMMR, for a brief nine months,) about various subjects, which applied to his intellect, his then producer Markus Goldman recognized her empathic charm, humor, wit, and personality towards Dee, which made her one of the show's favorite call-in listener.
By July, after she attended the final, " Twisted Sister Reunion Concert, " on the same night, out of curiosity, she checked out Jesse Blaze Snider's band, " Baptized x Fire, ( note: Jesse is Dee Snider's first born son. ) When they've casually met, they've conversed about each other's occupation, and how it affected their lives, however, when she told him about her Poetry, he wanted to examine them.
At that time, she had no access to a PC, which lead to this initiative move. Markus requested that she should submit her material to him, for scrutiny. In no time, after she abided to his request, he forwarded her work to Jesse, all from THE KINDNESS OF HIS HEART!
Three months later, when she attended Dee's, " Van Helsing's Curse, " CD Signing, unexpectedly he COMPLEMENTED HER WORK & ENCOURAGED HER TO GO ON! Since then, she composed new material for 2006, financed a PC and printer, stored her poems, on her files and data CD, and decided to PROSPER WITH GOD'S STRENGTH!
HER TIME HAS COME!!!
Who I'd like to meet:

FRIENDS ONLY!

Anyone, who will accept me, for my intellect, spirit, and personality, which consist of A SENSE OF HUMOR, DEEP CONVERSATIONS, ( on any subject matter ), EMPATHIC TOWARDS OTHERS, GIVING, MODEST, STRONG-MINDED, SINCERE, HONEST, and UNDERSTANDING. I'll even deliver some USEFUL ADVICE, to your request.



General

Portrait by ED UNITSKY

" Life is funny at times. In some ways, I like that " YES, " music will continue without me, then without Chris, Steve, Alan, ( etc. ). "

" It will be performed forever, I'm thinking, and people will ' GET IT, ' in time. " YES, " music is very special. "

All is good......Jon...

FOR MORE UPDATES, LOG ONTO

FACEBOOK

OR

JON ANDERSON.COM

INTRODUCING THE MAN, WHO'S ARTWORK EXCEED ROGER DEAN'S!

THE INCREDIBLE ED UNITSKY

FOR UPDATES & TO LEARN MORE ABOUT THIS ARTIST, PLEASE LOG ON TO

ED UNITSKY.NET

INTRODUCING THE NEXT GREATEST BAND OF ALL TIME!

For updates on this TREMENDOUS PROG-ROCK band, please, click onto their initials:

HFMC

INTRODUCING

FOR UPDATES, PLEASE CLICK ONTO HER NAME:

LAURA CASALE

FOR UPDATES & TOUR UPDATES, PLEASE, LOG ONTO

www.agentsofmercy.com

Music

Movies

Television

Books

ONLY WHEN I HAVE TO READ.

Heroes
Status:

Single

Here for:

Networking, Friends

Hometown:

PHILADELPHIA, PA

Orientation:

Straight

Height:

5' 3"

Ethnicity:

White / Caucasian

Zodiac Sign:

Leo

Children:

Love kids, but not for me

Education:

High school

Occupation:

TAROT CARD READER ON A FIXED INCOME