Play

Play Next

Add to queue
Play

Play Next

Add to queue

51,730 plays

Play

Play Next

Add to queue

40,460 plays

Play

Play Next

Add to queue

36,421 plays

Play

Play Next

Add to queue

32,315 plays

Play

Play Next

Add to queue

586 plays
Genre: Electronica / Experimental / Live Electronics

Location DENVER, Un

Profile Views: 597776

Last Login: 4/3/2013

Member Since 12/7/2004

Website http://www.msplinks.com/MDFodHRwOi8vd3d3Lmt1eGFhbi1zdW0uY29t

Record Label Unknown Indie

Type of Label Indie

Bio

The road to the sky leading to the umbilical cord of the universe...

Members

....XIBALBA PRODUKXIONZ.... ..::kuxaan-sum utilizes::.... Access Virus TI Polar, Acidlab Bassline 2, Casio CZ-1000 Phase Distortion Synth, Chamber of Sounds Blip ii TheraSynth, Elektron Machindrum SPS-1 UW MKII, Elektron Monomachine SFX60 MKII, EMU Morpheus, Future-Retro Revolution, Korg Electribe ER-1, Korg KP3 KAOSS Pad Dynamic Effect/Sampler, Ladyada x0xb0x w/ various modifications, Novation BassStation rack, Novation Nova, Ovation Celebrity GC057, Quasimidi Sirius, Roland JD-800, Roland JSQ-60 DCB sequencer, Roland Juno-6, Roland Juno-60, Roland Juno-106, Roland JX3P w/ PG200, Roland MC-202, Roland MKS 30 w/ PG200, Roland P-505, Roland R8MKII, Roland SC-155, Roland SH-101 gray, Roland SH-101 red, Roland SH-09, Roland SPD-S, Roland SP-303, Roland TB-303 Devilfish w/ custom Alucase, Diabolical Devices Circuit Bent Roland TR-505, Roland TR-606 modified w/ multi audio outs and AnalogueSolutions tone box, Roland TR-606 modified w/ multi trigger outs, Roland TR-626, Diabolical Devices Circuit Bent Roland TR-707, Waldorf Blofeld, Yamaha DD-55 Digital Percussion Kit, Yamaha FS1R Formant Synthesizer, Yamaha Tenori-On 16 x 16 LED button matrix performance sequencer, Yamaha TG-33 FM Synth, Yamaha RM1X...<br /><br /> Modular: 4ms Pedals Rotating Clock Divider, 4ms Pedals RCD Breakout, 4ms Pedals Shuffling Clock Multiplier, 4ms Pedals SCM Breakout, Analogue Solutions SH-NZ Sample & Hold with Noise, Analogue Systems RS-120 CombFilter, Analogue Systems RS-180 Logarithmic and Linear VCA, Analogue Systems RS-380 Modulation Controller, Blacet Dark Star Chaos Noise Generator, Blacet EG1 VC Envelope Generator, Blacet I/O Ext Dev Amp/Processor, Blacet Klang Werk Ring Modulator, Blacet Time Machine II Dual Voltage Controlled DSP, BubbleSound uLFO Voltage Controlled LFO, Bryan Benton Bitchin' Sync Din Multiple Sync Box, Doepfer A-106-5 SEM Filter, Doepfer A-113 Subharmonic Generator, Doepfer A-117 Digital Noise / Random Clock / 808 Sound Source, Doepfer A-130 Voltage Controlled Amplifier, Doepfer A-131 Voltage Controlled Amplifier, Doepfer A-132-3 Dual VCA, Doepfer A-136 Distortion/Waveshaper, Doepfer A-137-1 Wave Multiplier, Doepfer A-137-2 Wave Mult II, Doepfer A-138C Polarizing Mixer x2, Doepfer A-143-2 Quad ADSR, Doepfer A-145 LFO, Doepfer A-148 Dual Sample & Hold, Doepfer A-149-1 Quantized/Stored Random Voltages, Doepfer A-149-2 Digital Random Voltages, Doepfer A-156 Dual Quantizer, Doepfer A-160 Clock/Trigger Divider, Doepfer A-165 Dual Trigger Inverter/Modifier, Doepfer A-166 Dual Logic, Doepfer A-170 Dual Slew Limiter, Doepfer A-186 Gate/Trigger Combiner, Doepfer A-190-1 MIDI-to-CV/Gate/Sync Interface, FOH PlagueBearer Quad Voltage-Controlled Resonant Bandpass filter (VCRBPF) / Waveshaper / Distortion, Fonitronik MH01 Attenuverting Mixer, Harvestman Malgorithm - voltage-controlled bit depth and sample-rate reducer or bit crusher, Harvestman Piston Honda Wavetable Oscillator, Harvestman Polivoks VCF, Harvestman Qotile Ultimatum, Harvestman Zorlon Cannon VC Pseudorandom Gate & Pitched Noise Generator, Intellijel Unity Mixer, Intellijel µStep, Intellijel FlipFlop, Intellijel Spock, Intellijel Buffered Multiple x2, Intellijel MindMeldLivewire Audio Frequency Generator, LiveWire Frequensteiner MultiMode Filter, LiveWire Vulcan Modulator 2 linear Cross-Modulating VCLFOs, MakeNoise Maths, MakeNoise Wiard Wogglebug random voltage generator, Malekko Wiard Anti-Oscillator Analog Oscillator w/ Wave Shaping, Malekko 8NU8R, Malekko Wiard Borg 2 Filter, Malekko Wiard Envelator 300 Series Envelope, Malekko Wiard Noisering, MFB 24dB VCF, MonoRocket 12u Portable Case, MonoRocket Mission9 3 Row 88HP Portable Case, Pittsburgh Modular VILFO, PlanB Model 24 Heisenberg Generator, PlanB Model 25 Multi-tasking Audio Processor, STG .BAM Buffered Attenuating Multiple, Synthesis Technology/MOTM e350 Morphing Terrarium wavetable vco with 2 independent waveform outputs with voltage-controlled morphing, Wiard 1211b Joystick Axis Generator, Wiard 1209b Joystick<br /><br /> ADA D1280, Alesis Microverb4, Alesis Midiverb3, Alesis NanoCompressor, Alesis Quadraverb, Alesis QuadraVerb + x2, Aphex Aural Exciter Type C, Aphex Aural Exciter Type C w/ Big Bottom. Art FXR Elite II – Dual Effects Processor, Art MultiVerb 2, ART ProVLA II Vactrol-Based Compressor, BBE 482i Sonic Maximizer, BBE MaxCom, Behringer Bass Vamp, Behringer Vamp-2, Boss HM-2, Boss RC-20XL Phrase REcorder, Boss RDD-10 Digital Delay, Brother PDC-100, Crate GT1200H Full Stack, DigiTech MidiVocalist, DigiTech PDS-1550 Programmable Distortion, DigiTech RDS8000 Time Machine, DigiTech Studio Quad V2, DigiTech Vocalist Live Pro, Electrix FilterFactory Analog High-Order Filter, Electrix MoFX time synchronized FX, Electrix WarpFactory Vocoder, EHX Cathedral, EHX Stereo MemoryMan w/ Hazarai, Electro-Harmonix Q-Tron Envelope Controlled Filter, Ensoniq DP4, Eventide H3000 D/SE, Focusrite ISA One, Kenton Pro2000 midi to cv/gate convertor w/ DCB & dinsync24, Korg DL8000R MultiTap Delay, Lexicon MPX1, Lexicon MPX100, Lexicon MPX200, Lexicon MPX550, Lexicon PCM91, Lexicon Vortex, Marshall G100RCD Full Stack, MXR M-104 Distortion +, Peavy Kosmos Sub-Harmonic Generator, Rocktron Black Cat Moan, Rocktron HUSH Super C, Roland SDE-1000, Seymour Duncan DejaVu Tap Delay, T.C. Electronic C300, Symetrix 606 Dual Channel Delay, T.C. Electronic M300, T.C. Electronic M350, Universal Audio LA-610, Yamaha CH-100 Chorus, Yamaha E1010 Analog Delay...<br /> ..

Influences

Life

Sounds Like

Death
added 5 photos to the Xibalba album

74 photos · 198 views
06:03 | 0 plays | Feb 28 2013
::Isolated Permutated Multiplistic Universe::
::IPMU::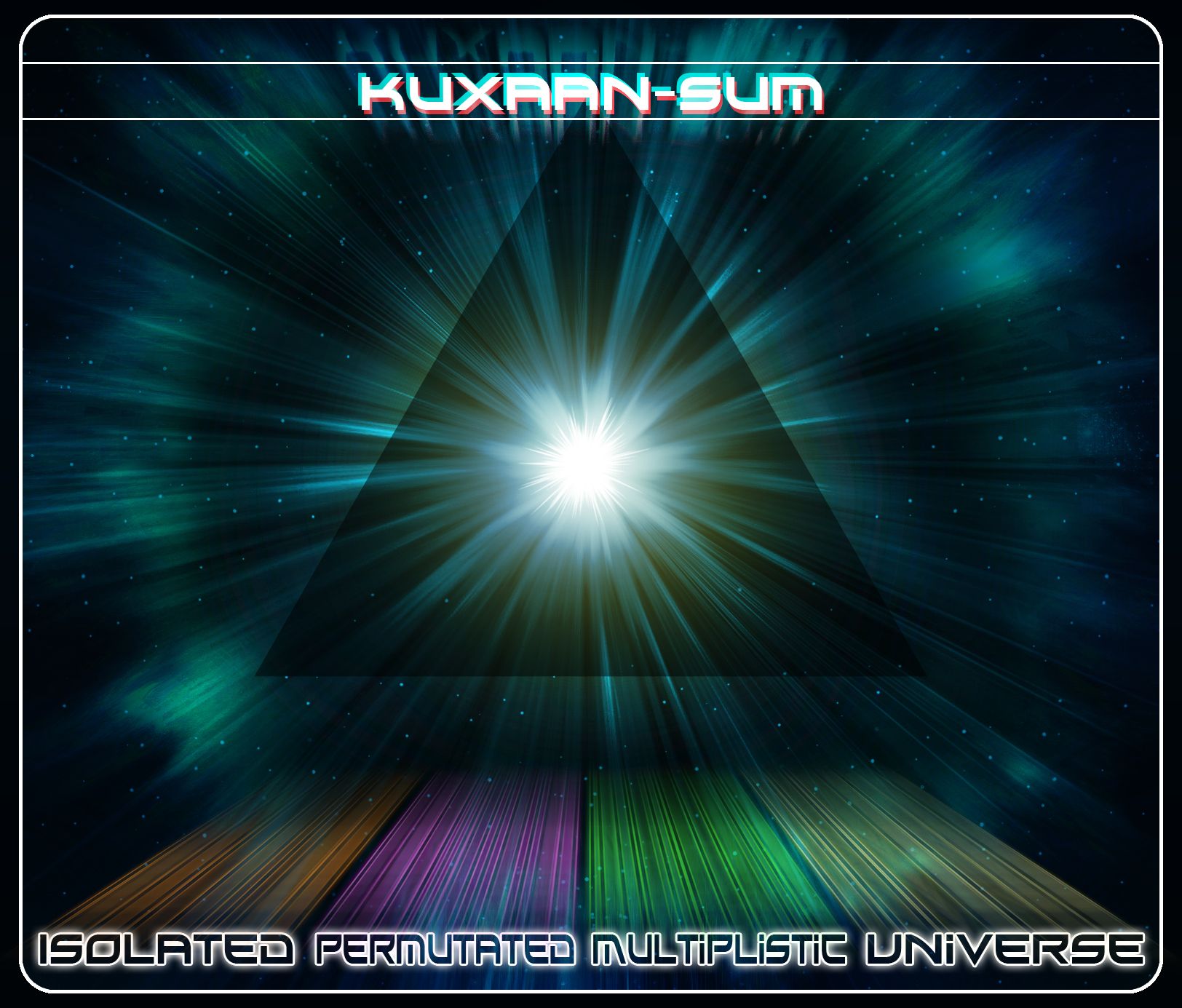 Introducing kuxaan-sum's hardware synthesizer created Isolated Permutated Multiplistic Universe,
the debut EP on Chimera Central. One of the Denver electronic music scene's stalwarts, kuxaan-sum has put on some of the best performances using some of the most cutting edge hardware devices and vintage electronics to create intricate IDM style electronica. He showcases his talents on this 4 track EP as each piece grows more and more ominous. FAIZ minimal bass pulses bounces with ring modulated saw waves while kept in time with a minimalistic beat. IPMU slows things down just a bit with more distorted percussion and ambient tones layered with radio signals from beyond. Stricken is even more stripped down to just feature bubbling synth noise and 808 like kicks. Finishing is Yum Cimi, which has more melodic structure carried along with Click and Cut percussion. This EP is for fans of IDM in the key of Aphex Twin's Selected Ambient Works 85-92.
kuxaan-sum has 216058 friends.