Play

Play Next

Add to queue
Play

Play Next

Add to queue

156 plays

Play

Play Next

Add to queue

1,285 plays

Play

Play Next

Add to queue

9,278 plays

Play

Play Next

Add to queue

4,031 plays

Play

Play Next

Add to queue

20,363 plays
Lady Moscow "Obsessed" live @ Kaffee Burger, Berlin 2012
Lady Moscow`s new single and music video "YOU"
Edited version of Lady Moscow`s first official music video "Rumbleseat"
DISCOGRAPHY
All Lady Moscow albums is avaliable at Platekompaniet

They are also avaliable on itunes.

"Things to do in Lehre" (2011)


available at CDbaby


"Barrel Dance" (2008)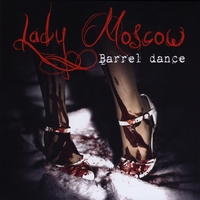 available at CDbaby


BIOGRAPHY
Lady Moscow is an ostentatious sextet born in the capital of Norway. Although playing acoustic instruments, Lady Moscow is known for her wild and enchanting universe of sound and rhythm.

MUSIC
Lady Moscow combines the bold tonalities of Balkan music with energetic folk rock. With her unorthodox instrumentation and her invigorating live shows, she has given name to a musical genre of her own, - folk..n..roll. The musicians..different musical background and references contribute to the unique expression that is Lady Moscow, and gives the band a broad musical profile that appeals to a large and diverse audience.

EXPERIENCE
Lady Moscow has played over 100 concerts both nationally and internationally since the debut in June 2007. In addition to appearances on national TV, the band has visited a range of Norwegian venues such as Rockefeller (support for Katzenjammer), John Dee and Blaa, as well as international festivals such as the German Fusion festival and the Danish festival Suset.


selskabsreiser@gmail.com

Line Grenheim: 470 53 826

Jan-Roger Antonsen: 938 38 882

Truls Agnar Skjørholm: 477 53 118