Play

Play Next

Add to queue
Play

Play Next

Add to queue

1,627 plays

Play

Play Next

Add to queue

589 plays

Play

Play Next

Add to queue

2,727 plays
Genre: Electronica / Hip Hop / IDM

Location US

Profile Views: 23337

Last Login: 1/21/2009

Member Since 7/22/2005

Website http://www.laptopdeathmatch.com/

Type of Label Major

Bio

.. ...... .. Up to eight laptop artists compete in a friendly single-elimination tournament. Contestants are randomly paired up in the first round and advancement to the next round is based on the scoring from judges and/or crowd reaction measured by a laptop (of course). Contestants are judge in three categories: Creativity, Technique, and Stage Presence. Contestants can use a laptop and one external device (midi- controller, etc). Matches are three minutes long and contestants can choose whether they want a 30 second warning issued by the MC. At three minutes, the MC will fade out the contestant's output. There are no restrictions on how sound is created but typical software includes: Ableton Live, Reason, MAX, Traktor, etc. Any genre is welcome. electro, Hip Hop, noise, Drum n Bass, Dirty Dirty, remix, mashup, metal, punk, Jazz....It has all been done at the Deathmatch. .. ...... .. .. ...... .. ........ ....Myspace Layouts.. at Pimp-My-Profile.com / ..Purple fun....

Members

Alex Ander, Lady Malice, Sean Anderson, Stephen of Zygote, Cygnus, Plutonium Jukebox, Frogboy and The Deathtop, The Wild Bull, dE-CiDe, Psylux, DJ Sexcidillionaire, Sir Rawly, Wolfman, Herladybuggness, Karl Erwin, Bexametric, Phillip Walker, Joe Butcher, ATOP

Influences

Sounds Like
just earned the In The Spotlight badge

Because your photos are earning quite a bit of attention.
Bio: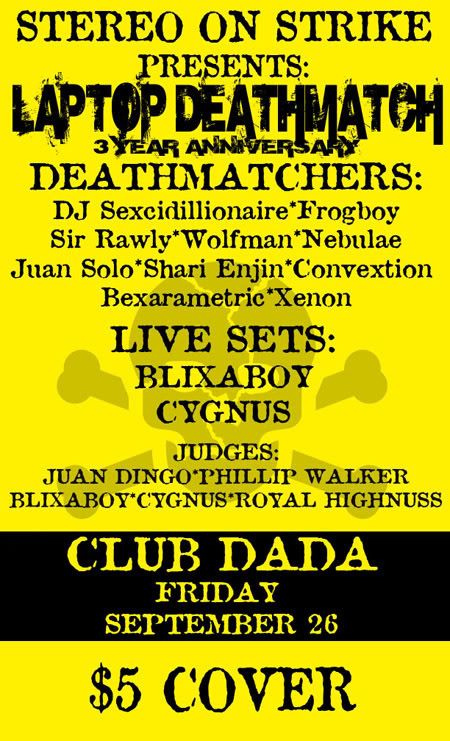 Up to eight laptop artists compete in a friendly single-elimination tournament. Contestants are randomly paired up in the first round and advancement to the next round is based on the scoring from judges and/or crowd reaction measured by a laptop (of course). Contestants are judge in three categories: Creativity, Technique, and Stage Presence. Contestants can use a laptop and one external device (midi- controller, etc). Matches are three minutes long and contestants can choose whether they want a 30 second warning issued by the MC. At three minutes, the MC will fade out the contestant's output. There are no restrictions on how sound is created but typical software includes: Ableton Live, Reason, MAX, Traktor, etc. Any genre is welcome. electro, Hip Hop, noise, Drum n Bass, Dirty Dirty, remix, mashup, metal, punk, Jazz....It has all been done at the Deathmatch.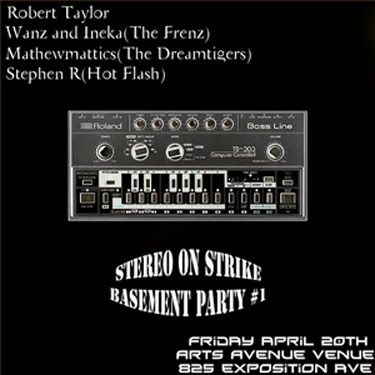 ..
Member Since:
July 22, 2005
Members:
Alex Ander, Lady Malice, Sean Anderson, Stephen of Zygote, Cygnus, Plutonium Jukebox, Frogboy and The Deathtop, The Wild Bull, dE-CiDe, Psylux, DJ Sexcidillionaire, Sir Rawly, Wolfman, Herladybuggness, Karl Erwin, Bexametric, Phillip Walker, Joe Butcher, ATOP