No recent updates in this category.
Why not...
Latin Lady Dj Margarita! hasn't earned any badges yet... have you?
General

MUSIC ranks as ..1 on my list of things that interest me. Whether it's listening to it, dancing to it, sharing it with one special friend or dj'ing! Music, especially "SALSA" is like the blood that runs through my veins and the oxygen that allows me to breathe and live each day!

Salsa, Salsa, Salsa, "and then some"... SALSA! I do love Latin Jazz, and especially enjoy the "VIBrant sounds of Cal Tjader and "Agua Dulce". Also, I absolutely love Poncho Sanchez. While my music library is quite extensive and includes music dating as far back as the "Roaring 20's", my music of preference would definitely have to be something with great "clave y tumbao". I was listening to some rhythmic beats recently that literally had every pulse location in my body pulsating!! That's what I'm talking about!

I'm partial to sharing cherished & quality time with my family and selected friends. Cooking, eating & laughing to the point of tears, sharing all that I am with others. Wrap all the above and surround with Love and Salsa and life is pretty darn good! These are a few of "MY" favorite things!





Music

Con Guiro, Clave y Bongo-Havana NRG!

Jorge Gomez / Tiempo Libre


"El Negro" Y su Swing Latino Tigo - Cali Colombia

NSS-"BACK ON THE STREETS"
FINALLY MAKES IT TO THE STREET!


Just in time for the summer heatwave, arrives the long awaited "come-back" for a great group of "2nd-Timers" New Swing Sextet, with an actual release date (from Emusica themselves) of Tuesday July 1, 2008!

Having had the honor and privilege of helping to promote the advance copy of "Back To The Streets" for over a year now, I can hardly believe that this moment is finally becoming a reality for New Swing Sextet, who should probably already be getting ready to release their subsequent projects!

It has been a long ride in getting this album into the public hands, and may I state that for those of you who have not had the opportunity of listening to this great group of musicians, you'll definitely want to get your hands on this CD. If you love good music, then this is it and then some!

It was nearly 30 years ago when the members of New Swing Sextet, hung up their musical careers (after delighting crowds for years in NY and the surrounding areas) to start their families, businesses and simply move on with life. They had no idea of what the future held in store for them.

After not being in the music business for about 28 years, Director of the group George Rodriguez was approached by a former member of the group (Angel, was that you?), to get the band together as a favor to another friend for a gig. To hear George tell it, he was very reluctant to agree to this and pretty much said "no".

Thanks to the persistance of the band member, (who simply approached all of the other band members, who did agree) the group did in fact perform at this particular gig/event and much to their suprise were contacted shortly thereafter for additional events, and performances!

Now

, 29 years later (give or take a couple of months here and there), New Swing Sextet is one of the most popular and most loved group around. Their music has been resurrected and can be heard at clubs and around the world through the concentrated and collective efforts of internet radio hosts & dj's.

As I sit and listen to all of the wonderful experiences that these guys are currently experiencing, I think, "this couldn't have happened to a nicer group of individuals", and they truly deserve the accolades their receiving.

Each of them

, with personal lives, businesses to run, families to care for, have committed to make a "2nd" go of it and I'm happy to say that there is some truth in that old saying that "It's better the 2nd time around!"

On this, their "2nd time around" New Swing Sextet has had the prestigious honor of backing Mr Romance himself "Cheo Feliciano" to a collection of Joe Cuba's very best this past May 30th 2008, at the West Coast Salsa Congress in Los Angeles, CA.

The group is under the management of none other than Dj Extraordinaire

, Henry Knowles. Together they are literally spanning the globe, exciting audiences and dancers of all ages! New Swing Sextet has even played on the Great Wall of China at the Beijing Salsa Congress in China!

They are traveling extensively, and the last time I spoke with George he was sharing that they were scheduled to play in Poland and Greece!

Take a moment to listen to them on their page on MySpace:
newswingsextet

Be sure to mark your calendar for the CD release date of Tuesday July 1, 2008 and be sure to get back to me if you can't locate it. I'll try to get a list of who the distributors will be. You'll most likely find it at Borders, or online at Amazon or CD Baby.
Please feel free to email me if you need help.


New Swing Sextet, congratulations on finally getting "Back On The Streets" on the "Streets".

..
Find more videos like this on Underground Mambo


SALSAMANIA SUMMER SALSA SERIES / NORTH BAY, CA

Movies

SALSA IN PETALUMA 2


SALSA IN PETALUMA


SPANISH HARLEM ORCHESTRA - PUEBLO LATINO
RAY SEPULVEDA, RAY DE LA PAZ & WILLY TORRES


NEW SWING SEXTET - MY FAVORITE THINGS

Heroes

People who speak the truth, have integrity, do not believe their own press and realize the futility of living a negative life! My Heroes include, my Dad, my Son, "Jesus" and the fireman who saved my life when I was 14. I also have quite a number of "Angels" in my life who are always watching my back! Thank God for Angels on Earth!

---

"Alma Caribeña" is currently airing 7 days a week, 24 hours per day and 365 days per year on

LIVE365.com WWW.LIVE365.COM/STATIONS/LATINLADYDJ

Please stop by and enjoy some great salsa selections from my personal music library!

---

Also... log on and tune in to "Alma Caribeña" - "Live" each Friday 6-9pm PST (California)

WWW.TOMARADIO.COM

---

.. .. .. .. .. ....
Play

Play Next

Add to queue
About me:
www.latinladydj.com
My main web page! Be sure to drop a line to let me know you stopped by.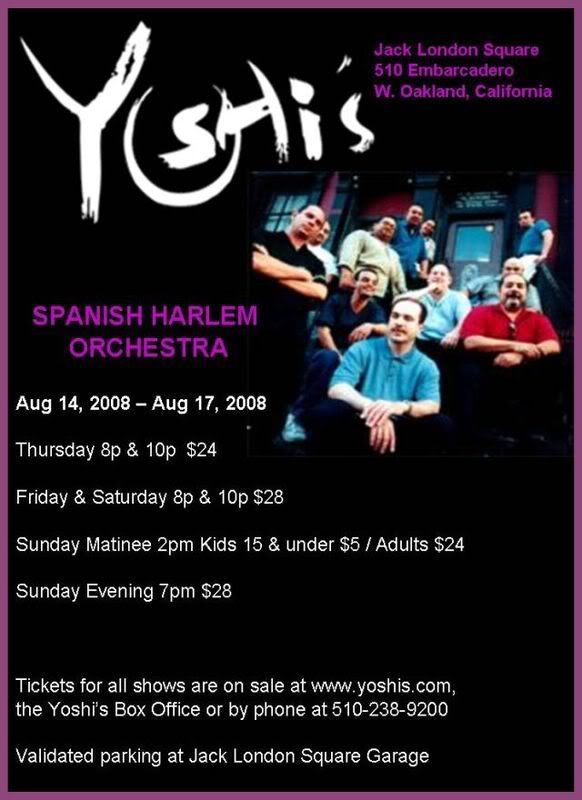 www.live365.com/latinladydj
My radio program "Alma Caribeña" on my own radio station on LIVE365 - 24 hrs a day, 7 days a week, 365 days per year!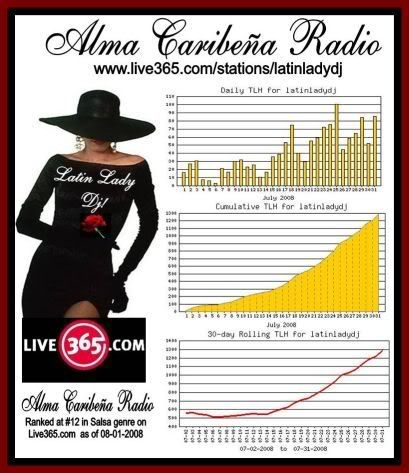 Interested artists, may submit promotional materials for airplay consideration, to the following:

LATIN LADY DJ MARGARITA!
ALMA CARIBEÑA RADIO
68 Walnut Circle
Rohnert Park, CA 94928

Reviews are done upon request:
Email: latinladydjmv@aol.com
My "LIVE" broadcasts of "Alma Caribeña" air each Friday night from 6-9pm PST. Listen to the podcast here!
If you're experiencing problems with the player above, use this link below to take you directly to my PODCAST page:
HTTP://LATINLADYDJ.PODOMATIC.COM

Hermanas de La Salsa present Leyendas de La FANIA
Emusica.com Remastered & Re-released FANIA Favorites
Live Broadcast aired Monday July 28, 2008 / Toma Radio.com
6:00 PM – 9:00 PM (PST)
Hosted by Latin Lady Dj Margarita! of "ALMA CARIBEÑA" Radio

Playlist for Monday July 28, 2008
Title / Artist / Album
6:00 pm First Hour

1. Donde Estan Los Rumberos / Ismael Quintana / La Herencia 2. Son Son Chararí / Bobby Valentin / La Herencia
3. Arrecotín, Arrecotán / Cortijo y Su Combo con Ismael Rivera / La Quiniela del Dia
4. Buenavista Guaguanco / Orchestra Harlo & Jr. Gonzalez / Golden Drops
5. Trucutú / Tommy Olivencia con Chamaco Ramirez / Plante Bandera
6. The Click / Fania All Stars / Guasasa
7. Vengo Virao / Ismael Miranda & Orchestra Harlow / Abran Paso
8. Ban Ban Quere / Ray Barretto / Barretto
9. Café con Leche / Ray Barretto / Soy Dichoso
10. Joldo / Sonora Ponceña / Determination

7:00 pm Second Hour

11. Que Suene La Orquesta / Eddie Palmieri / Mambo con Conga es Mozambique
12. El Cantante / Hector Lavoe / Comedia
13. Juan Pachanga / Ruben Blades / Latin Lounge Jazz – San Juan
14. Amalia Batista / Tipica 73 / Tipica 73
15. Ojos / Willie Colon & Ruben Blades / Siembra
16. Ecue Baroni / Sonora Ponceña / Sabor Sureño
17. Jicamo y Salsa / Pacheco y Melón / Llegó Melón.. 18. Para Puerto Rico Voy / Joe Bataan / St. Latin's Day Massacre
19. Piraña / Willie Colón / El Juicio
20. The Hustler / Willie Colón / The Hustler

8:00 PM Third Hour

21. Medley Recordando a Tito / Willie Rosario / Otra Vez
22. Tipicamente Azuquita / Azuquita / Tipicamente Azuquita
23. El Ratón (Live) / Fania All Stars / Latin-Soul-Rock
24. Besáme / Mongo Santamaria / Latin Lounge Jazz - Havana
25. Asi Se Compone Un Son / Ismael Miranda / ¡Que Viva La Salsa!
26. Para Los Rumberos / Tito Puente / ¡Que Viva La Salsa!
27. Sácale Punta / Adalberto Santiago / Calidad
28. Tumba Tumbadora / Celia Cruz & Tito Puente / Homenaje a Beny Moré
29. Todo Tiene Su Final / Sonora Ponceña con Ralphy Santana

LATIN LADY DJ MARGARITA!
HTTP://WWW.LATINLADYDJ.COM
ONGOING BROADCASTS:

Alma Caribeña Radio - Currently Ranks at # 12 in Salsa Genre on LIVE365.com at! Broadcasting 24 hrs a day, 365 days per year
www.live365.com/stations/latinladydj

Alma Caribeña "LIVE" - Airs Fridays 6:00 pm - 9:00 pm (PST) www.tomaradio.com

Hermanas de La Salsa present Leyendas de La FANIA! "LIVE" Mondays 6:00 pm - 9:00 pm (PST) Hosted by Latin Lady Dj Margarita! & Co-hosted by Dj La Coqui
www.tomaradio.com

Please consider joining My Group @ Google Groups:
http://groups.google.com/group/LatinLadyDj

http://latinladydj.podOmatic.com
Enjoy and thanks again for listening!

Latin Lady Dj Margarita!

Salsaludos!

Welcome and thank you for visiting. Always nice to meet and make new friends and acquaintances. On my page here on MYSPACE It is my sincere desire that you enjoy your visit and hopefully connect with some of my very good friends and family. Free free to message me if you have any questions, or merely to say hello.

If you're a musician or orquesta that would like to send promotional materials for radio airplay consideration, please contact me via the messaging system here on MySpace or my personal email address: latinladydjmv@aol.com and I will send you the mailing address. Currently, the genres featured on my radio program are Salsa, Latin Jazz & Afro-Cuban. However, I invite you to share other genres as well. If I don't play it, perhaps I can share it with some of my colleagues who do. The bottom line is that I'm here to support you.
Gracias for dropping by. Enjoy your stay! Latin Lady Dj Margarita!
---
D.U.I. - "DANCING UNDER THE INFLUENCE.... OF SALSA"
Latin Lady Dj Margarita! First & Foremost "GOOD-WILL SALSA AMBASSADOR", Salsa Dj & Radio Host. Dedicated to the promotion of the many sounds and styles of Salsa, Latin Jazz, Afro-Cuban rhythms & their artists (especially the indie's & newcomers) wherever, and whenever possible.
My journey with SALSA began in 1972 were I was exposed to and influenced by SALSA while vacationing in Puerto Rico and just happened to be at a club one night with mami. Yes, I was "17", in a bar with my mom, and as I recall, there was an entire bottle of "Don Q" at our table, along with a bottle of coke and a plate of fresh Tostones while the sounds of Willie Colon and Hector Lavoe flowed from somewhere in the background with "Pirana" and "Ah ah, Oh no".

That along with some very romantic stlylings from the impeccable voice of "Cheo Feliciano" and I was pretty much hooked. I remember making it to record store to purchase as many albums as I could carry. Little did I know that beautiful summer on La Isla del Encanto at that very moment, my life would change and the direction my life would take forever with regards to music. It was the moment that lead me to where I am today, Living, Loving, Laughing, and Playing my Salsa Music!

I sometimes ponder the question... would I be who I am today had I not visited Puerto Rico that summer so long ago in 1972? ¿Quien Sabe? What is important though, is that I'm here today!
One of the things I've learned along my journey to "Today" is this; If we are to live in this world, we must do so passionately! Experience it to it's fullest. That includes the not so comfortable experiences as well. In the end, it's everything that we've experienced in our lives that help make up who we ultimately become.
At some point we must stop to realize that we have a "choice" in all things in life. We can choose to remain forever stuck in the past, complaining about what we don't have, the "if only I had done this or that", who did what to us, holding on to resentments, blaming others, etc., you know the scenarios.
Or, we can take the sum of all those experiences and use them to "choose" to grow and be a thriving, happy, loving, positive and accountable individual. The "choice" is ultimately our own and no one elses.
I am extremely passionate about many things and many people in my life. I'm genuinely thankful for those blessings, and equally as thankful for each and every day that I'm given to share a part of myself with others and to receive from them as well. After all, it is a balance. Sometimes, it's difficult to sit back and receive, that in itself is an act of giving, because we allow others to give as well.
I'm blessed to still have my parents alive today. This is a most special gift. Mom and dad, still together after "53" years, and going strong. My mom is from Barranquitas, Puerto Rico, and dad from Mexico City, Mexico. I myself, am mom to a beautiful young man who recently made a grandmother. "La Abuelita de La Salsa" oh yeah, I can hear my friends now!
My Grandson "VANCE SHELTON VALDES" was born on July 17th, 2006, weighed in at 7.lbs, 5.oz. and was 20 inches in length.
Pictured below @ 5 months - Dec/2006. What a cutie!

Here he is at year "1" celebrating his first birthday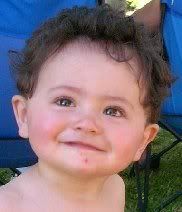 Beautiful just like his "Papi", who I may add beams radiantly with pride of his 1st born. I'm happy to be "Abuelita" and even happier to have moved back to California to be able to watch him unfold.

---
ACCOMPLISHMENTS & PROJECTS:
July 27, 2007 was the debut / kick-off broadcast of our brand new radio program completely devoted to FANIA!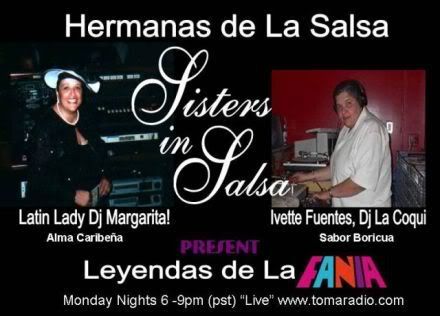 January 26, 2007 marked the Official Launch of: Alma Caribeña "LIVE", on Toma Radio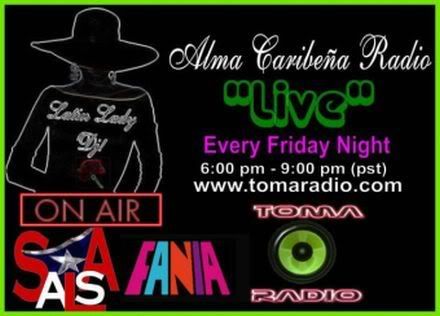 November 7, 2006 "Alma Caribeña" started to air on it's own station at Live365.com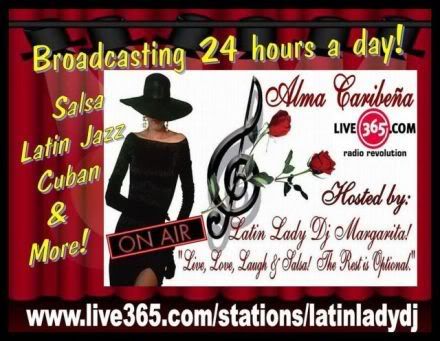 ---
CLICK HERE TO LISTEN TO THE PODCAST OF ALMA CARIBEÑA
http://latinladydj.podOmatic.com
---
Recently honored & recognized at the 10th Annual Salsa Congress in Puerto Rico. Unfortunately, I was not able to attend in person.

JAN 12-14 - 2007 - 1st Annual Salsa Congress, Salt Lake City, Utah

DEC 31st, 2006 - New Year's Eve "Oye Mi Salsa" - Avondale, AZ

..h, 2006 - INKAVANA - Dj Performance - Las Vegas, NV

1st, 2nd, 3rd, & 4th SF Salsa Congress November 2002 through 2005. Slated to perform at the 5th SF Salsa Congress November 2006. (Unable to attend due to injury)

5th & 6th West Coast Salsa Congress May 2003 - 2004 Award Recipient at the 2004 WCSC in Los Angeles / ATP Events.
Promoter / Founder: SALSATHON, 2001-2006, Honolulu, Hawaii
Guest Radio Host: Alma Latina Radio Show / Honolulu, HI, Nancy Ortiz, Host

Voice Over / Spots" Sabor Tropical" Honolulu, HI / HPR / Ray Cruz, Host

Producer, Programer & Host: Alma Caribena Salsa Radio Show / KBBF Radio / Santa Rosa, CA

Guest Dj, Dallas, TX: Havana NRG's 2nd Anniversary Bash, Hard Rock Cafe

Promoter: Thursday "Salsa Spice" Night / Flamingo Hotel, Santa Rosa, CA

Guest Dj: Fiesta Alegre's Dia de San Juan Celebration, 2004, Long Beach, CA

Additional information upon request.
You See..? I truly am, "Under the Influence of Salsa".
Who I'd like to meet:
I'd like to meet as many Salsa Orquestras and talented artists as I possibly can.
I have already been so fortunate in having been given the opportunity to meet virtuosos and legends such as; "La Reina de La Salsa" Celia Cruz, Cachao, Jimmy Sabater, Jose Mangual, Jr., Oscar Hernandez & Spanish Harlem Orquestra, Willie Torres, Ray Barretto, Eddie Torres, Roberto Roena, Johnny Pacheco, Ray De La Paz, Chino Nuñez, Jimmy Bosch, George Delgado, Chino Espinoza, Havana NRG, Tiempo Libre, Jorge Laureano, Rigo Rodriguez, Johnny Polanco, Luisito Rosario, Maelo, Sonora Carruseles, George Rodriguez of New Swing Sextet, Wilson Acevedo... and the list goes on and on.

I hope to have the opportunity to eventually thank some of the musical directors and promoters who have helped me become a better Dj and have kept me up to date with the new music that continues to be introduced. Salsa is here to Stay! I'm proud to be able to share it with my dancers and listeners.

There are many people in the industry that I've had the privilege of meeting and each one has been completely "down to earth". I'm fortunate indeed. Looking forward to meeting many new artists, making new friends and visiting new places and exciting places! God Willing!
Interested artists, may submit promotional materials for airplay consideration, to the following:

LATIN LADY DJ MARGARITA!
ALMA CARIBEÑA RADIO
68 Walnut Circle
Rohnert Park, CA 94928
Reviews are done upon request: Email: latinladydjmv@aol.com
Status:

Single

Here for:

Networking, Friends

Hometown:

http://www.latinladydj.com

Orientation:

Straight

Body type:

5' 2" / More to love!

Ethnicity:

Latino / Hispanic

Zodiac Sign:

Aries

Children:

Proud parent

Smoke / Drink:

No / No

Occupation:

Salsa Dj, Radio Host & Event Promoter
Balboa High

San Francisco,California

Graduated:

1972

Student status:

Alumni

Degree:

High School Diploma

1969 to 1972