Play

Play Next

Add to queue
Play

Play Next

Add to queue

502 plays
Genre: 2-step

Location Le MANS TEL: 02 43 72 96 86, Pays de la Loire, FR

Profile Views: 96310

Last Login: 2/24/2011

Member Since 10/16/2006

Record Label Unknown Indie

Type of Label Indie

Bio

..COMMENT VENIR AU SILO QUI SE TROUVE AU : au 27 rue François Monier 72000 le Mans ..LIGNE DE BUS NUMERO 5...HORAIRES ICI.. Vous pouvez retrouvez toutes les "vid..os visite du lieux" dans la rubrique "vid..os" BONNE VISITE !!! .. .. .. .. .. .. .. .. .. .. ...... .. .. .. .. .. .. .. .. .... ........ ..You should create your own ..MySpace Layouts.. like me by using ..nUCLEArcENTURy...COM's ..MySpace Profile Editor..!.. ........ .... ...... .. ...... .... ............Generate your own contact table!....

Members

...... ..construction du silo...... .. .. .. .. .. .. .. ........Add to My Profile.. | .. More Videos.. ..Episode 1...... .. .. .. .. .. .. .. ........Add to My Profile.. | .. More Videos.. ...... ......

Influences

E mail: assolesilo@wanadoo.fr ....Le Silo est un lieu de répétition, nous ne faisons pas de programmation, une scène est mise à disposition, pour les groupes adhérents de l'association qui veulent organiser leur concert en fonction : ..d'une première scène, une sortie de CD, ou pour faire un échange de dates avec un groupe extérieur... ..Les concerts sont limités au premier samedi de chaque mois, sous forme "d'apéro concert"(19h-21h), et en faisant une demande au Silo pour que l'on puisse, libérer des bénévoles pour assurer la soirée.....

Sounds Like
Bio:
COMMENT VENIR AU SILO QUI SE TROUVE AU : au 27 rue François Monier 72000 le Mans
LIGNE DE BUS NUMERO 5.HORAIRES ICI Vous pouvez retrouvez toutes les "vid..os visite du lieux" dans la rubrique "vid..os" BONNE VISITE !!!

.. ..You should create your own MySpace Layouts like me by using nUCLEArcENTURy.COM's MySpace Profile Editor!..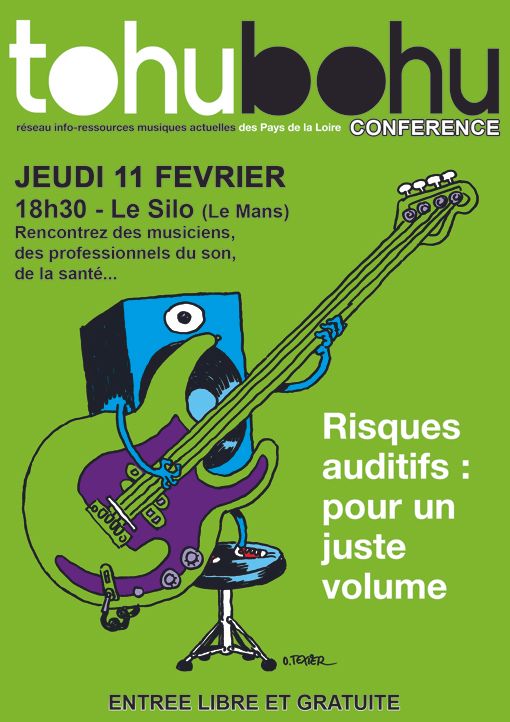 ..
Member Since:
October 16, 2006
Members:
construction du silo
..
Add to My Profile
|
More Videos
Episode 1
..
Add to My Profile
|
More Videos
Influences:
E mail: assolesilo@wanadoo.fr
Le Silo est un lieu de répétition, nous ne faisons pas de programmation, une scène est mise à disposition, pour les groupes adhérents de l'association qui veulent organiser leur concert en fonction :
d'une première scène, une sortie de CD, ou pour faire un échange de dates avec un groupe extérieur.
Les concerts sont limités au premier samedi de chaque mois, sous forme "d'apéro concert"(19h-21h), et en faisant une demande au Silo pour que l'on puisse, libérer des bénévoles pour assurer la soirée.
Record Label:
Unknown Indie
01:43 | 796 plays | Jan 21 2007
No recent updates in this category.
Why not...