About me:
Bestselling author of Historical Romance with heat.
FIND LILA ON:
HER WEBSITE:
http://www.liladipasqua.com/
FACEBOOK:
http://www.facebook.com/pages/Lila-DiPasqua-Author/138300309541247
TWITTER: @LilaDiPasqua
FIERY TALES SERIES
AWAKENED BY A KISS ~ (Anthology)
Berkley Sensation - Fiery Tales Series
ISBN: 978-0425235560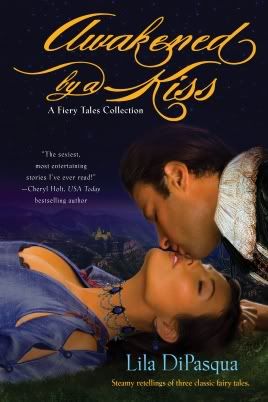 Three classic fairytales—"Sleeping Beauty," "Puss in Boots," and "Little Red Riding Hood"—cleverly retold with enough sensual twists to prove wickedly ever after does exist…
Sleeping Beau: Five years ago, the notorious rake, Adrien d'Aspe, Marquis de Beaulain, was awakened by a sensuous kiss—and experienced a night of raw ecstasy that was branded into his memory. Years later, he spots his mysterious seductress—and this time, he has no intention of letting her go…
Little Red Writing: Nicolas de Savignac, Comte de Lambelle, has been assigned by the King to uncover the secret identity of the author writing scandalous stories about powerful courtiers. He never expected his investigation would lead to his grandmother's house, or to a ravishing woman who would stir his deepest hunger…
Bewitching in Boots: Elisabeth de Roussel, daughter of the King, is accustomed to getting what she wants—and she wants Tristan de Tiersonnier, Comte de Saint-Marcel, an ex-commander of the King's private Guard. A recent injury has forced Tristan to leave his distinguished position, but Elisabeth is determined to make him see he's every bit the man he once was—and more than man enough for her…
THE PRINCESS IN HIS BED ~ (Anthology)
Berkley Sensation - Fiery Tales Series
ISBN: 978-0425237007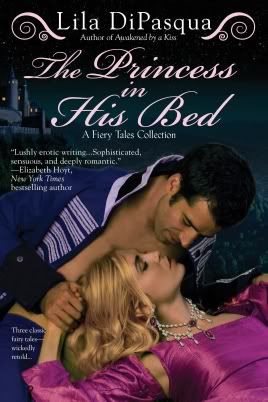 Inspired by "The Emperor's New Clothes," "The Ugly Duckling, and "The Princess and the Pea," Lila DiPasqua spins three sexy tales that give new meaning to the term bedtime story…
The Marquis' New Clothes: To save her cousin, Aimee de Miran must retrieve a jeweled ring from the most sinfully seductive man at court, the Marquis de Nattes. But to search his considerable wardrobe she'll have to get very close to the notorious rake…and soon she finds herself very close to him indeed, with his clothes—and hers—utterly forgotten…
The Lovely Duckling: Reputed for his carnal skills, Joseph d'Alumbert prefers amorous encounters without emotional entanglement—until a quick-witted lady stirs tender feelings and hot desire. Emilie de Sarron suffered burns to her body as an infant, and keeps her scars—and her heart—well hidden. But Joseph is determined to peel away her inhibitions, one slow steamy kiss at a time, to reveal the beautiful swan inside…
The Princess and the Diamonds: Princess Gabrielle can't sleep at night. There is something hard in her bed. No, not just the stolen diamonds tucked under her mattress, but the handsome Marquis on it….whose carnal talents she can't resist. But he threatens her secret mission, and worse, she stands to lose far more than the diamonds---her heart is at stake….
A MIDNIGHT DANCE – (Full length novel)
Berkley Sensation - Fiery Tales Series
ISBN: 978-0425241981
Inspired by the tale of Cinderella, Lila DiPasqua weaves a steamy historical romance that offers a glass slipper, a dangerous deception, and an impoverished beauty determined to find her handsome prince…and make him pay.
Born into wealth, Sabine Laurent and her twin sister lived a life of luxury, their father's prestigious theater frequented by royalty and aristocracy alike. And Sabine dreamed of her own prince charming—the devastatingly handsome Jules de Moutier.
That was before the loss of her sister and her family's fall from grace—a disaster Sabine blames on the Moutier family. Now, with her father's death, she's inherited his sizable debt and the responsibility of caring for his spoiled long-time mistress and her two wastrel daughters. But with the help of Sabine's eccentric friends—the balance of her father's acting troupe—she plans to get very close to her old infatuation, seduce the rake—and make away with a fortune.
Resisting Jules's skillful mouth and tantalizing touch is not as easy as Sabine supposed. And soon she must decide whether her desire for vengeance is greater than her desire for her one and only prince…
UNDONE ~ (Full length novel)
Fiery Tales Series
ISBN: 978-0988035003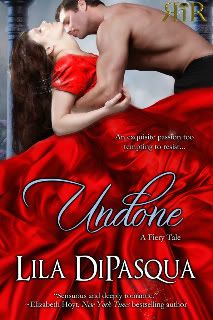 Inspired by the tale of Rapunzel, Lila DiPasqua offers a new steamy, emotionally charged historical romance in the acclaimed Fiery Tales Series . . . Rescuing this beauty from the 'tower' is only the beginning . . .

Maintaining her ruse as a commoner, and trusting no one has kept Angelica safe. But a chance encounter with a handsome stranger lands her right where danger lies. Now, this sinfully handsome man with arresting blue eyes and a polished manner thinks he's saved her life, when in fact he's placed her in great peril. She's intent on keeping him and everyone else at arm's length. Yet, the smoldering attraction between them is difficult to deny. And impossible to ignore . . .

As commander of a number of privateer ships, Simon Boulenger dresses and speaks like an aristocrat, and has obtained wealth. But he is still not a noble. Or an officer in the King's Navy. His lifelong dream to elevate himself from his station of birth and attain a respectable place in society is dead. Worse, he's ensnared in a deadly scheme, and must get out. But how is he to stay focused on his dangerous mission when the mysterious beauty has him utterly intrigued? He can't afford the distraction any more than he can resist the carnal hunger she stirs. Simon soon discovers that she's not only a passionate soul mate, but a woman born into privilege. A woman he can never have. But they're in too deep. Their hearts are at risk . . . as well as their lives.
..