About me:
My name is Brian Lindley. I am a self-taught photographer based out of Hollister, MO, and have been doing what I love for 6 years. I work in a variety of settings, doing portraits, band promo/live shots, and landscape. I love meeting new people and seeing new places, and look forward to working with new clients. You also may know me from ICE Clothing.
Prices are as follows:
Live shots:

-$25-30
-(2 guest list spots required)

Portraits:
Senior Pictures:
Flyers:
Other: Message me
IMPORTANT: To work something out, just message me and we can negotiate the price. Make sure that you give me a week or two of notice though. I'd appreciate it if you left two spots for me on the guest list at a show. If not one is fine.
---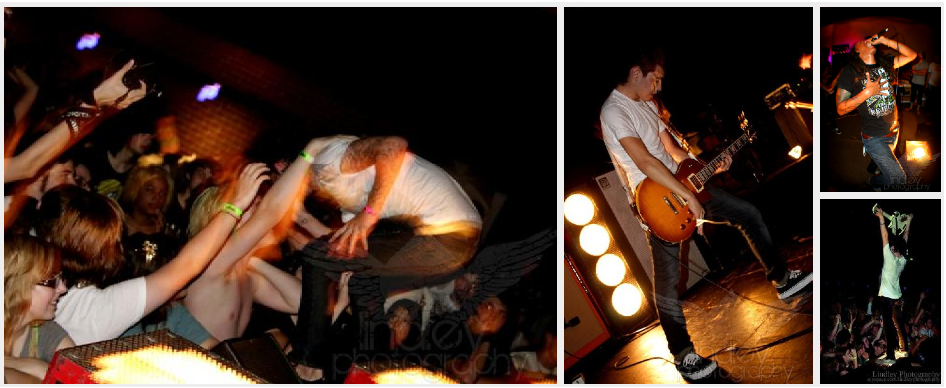 ©2009 Copyright all items are copywritten by Brian Lindley
Play

Play Next

Add to queue

Play

Play Next

Add to queue

Play

Play Next

Add to queue

Play

Play Next

Add to queue

Play

Play Next

Add to queue
General

Reviews:

"Brian Lindley's work is professional, inexpensive, and top of the line. He's fun and easy to work with, and is always open to new ideas. By far one of the best photographer's in Missouri. If you're in need of high quality photography and professionalism, you need Lindley Photography!"

-Beneath The Empire


"This stuff is legit! We love you, we love your work. The world just wouldn't be the same without the great Lindley. :)"

-Here I Come Falling


"Lindley is heat! He cares about YOUR pictures. He puts tons of effort into them and can guarantee you'll be happy working with him! And he's good looking :)"

-The Thirty


"Lindley is extremely easy to work with, very VERY friendly, knows what he is doing and does it right,very cheap prices, and is amazing with a camera in hand"

-Awaiting Our Fate


Lindley Lindley a lot to say so lil time... he's Amazing at what he does. He is high Quality at little price. VERY VERY GOOD at what he does. Easy to work with and cheap (we all like cheap) He's a blessing to us all thanks Lindley!!

-Before The Uknown




---

My Endorsements:

Miracle Eye Apparel I.C.E Clothing With Open Eyes Scary Scary Clothing Hero Clothing

Signed:

Pillar - (Provident aka flicker records)

Spoken - (Tooth & Nail)

For Today - (Facedown)

Chiodos - (Equal Vision)

Emery - (Tooth & Nail)

Vanna - (Epitaph)

Agraceful - (sumerian)

Gwen Stacy - (ferret)

Here I Come Falling - (rise)

The Devil Wears Prada - (rise)

Emarosa - (rise)

Oceana - (rise)

Motionless In White - (masquerade)

Too Pure to Die - (trustkill)

School Boy Humor - (Vagrant)

Abandon Kansas (gotee records)

Unsigned:

Seladora

Harp & Lyre

Suikoden

In Fair Verona

Inlow

The Thirty

Beneath The Empire

Lies Another

It Ends Today

Awaiting Our Fate

I am The Myth

The Willow

Awake The Day

Season of the Witch

One Night In Paris

Blood on the ground

A Sleepless Legacy