Play

Play Next

Add to queue
Play

Play Next

Add to queue

996 plays

Play

Play Next

Add to queue

731 plays

Play

Play Next

Add to queue

594 plays

Play

Play Next

Add to queue

3,942 plays

Play

Play Next

Add to queue

16,724 plays
Genre: Shoegaze / Soul / Tropical

Location Melbourne, Victoria, AU

Profile Views: 97197

Last Login: 4/12/2013

Member Since 7/5/2006

Website www.lisamiller.com.au

Record Label Raoul

Type of Label Indie

Bio

.. .. .... .... .. ..Hello myspace geeks. Lisa Miller is a highly acclaimed singer and songwriter based in Melbourne Australia. She is about to release her 6th solo album "Car Tape 2". ..A selection of Lisa Miller albums can be securely purchased below by clicking on the iTunes links (for digital downloads) or PayPal links (for real CDs). .... ....MORNING IN THE BOWL OF NIGHT ....AU$25.00 (including postage anywhere in the world).... .. ........Signed copy?........- Select Type -..Yes please!..No thanks.. ........ .. .. .. .. .. .. .. .. .. .. .. .. .. .. .... .."A musical masterpiece." ..(5 stars) Mike Daly, THE AGE GREEN GUIDE .."It's all done with such grace and simplicity, with such intimacy and honesty - lyrical and musical - that it insinuates itself into your life completely. This record is the finest thing Lisa Miller has done. It will keep speaking to you, moving you, long beyond this year. It's why it is unquestionably a great album." ..Bernard Zuel, SYDNEY MORNING HERALD .."A songwriter par excellence…. her strongest collection yet, 11 shimmering, unblemished songs that reveal themselves over repeated listens…. should act as an example to others, proving that the concept of adult-oriented music doesn't preclude richness, depth or texture." ..(4.5 stars) Guy Blackman, THE SUNDAY AGE .."There might be albums as good that come out this year, but I've played it over and over and it's hard to imagine that there is going to be a better one. ..Morning in the Bowl of Night.. is a treasure, a thing of breathtaking, honest beauty." ..(5 stars) Noel Mengel, BRISBANE COURIER-MAIL .."This is a poignant, beautiful album, almost unbearably lovely in places, but underpinned with a steady resolve, revealing the sure hand of a songwriter who has something to say and the finely tuned tools with which to express it in a gently poetic, moving fashion." ..Lauren Zoric, MESS+NOISE .."Sublime vocal skills... Miller is a first-class songwriter, and she takes her craft to new heights on album No. 5... a more earthy organic sound than (Version Originale)... her rich acoustic pop brims with hope, hitting a high point on the crunchy, seven-minute Love Will Carry You. In a word: stellar." .. (4 stars) Shane O'Donohue HERALD SUN .."Certainly worth the wait… this is a striking album that will hit a chord with listeners – the way good music should." ..THE ADVOCATE (TAS) .."Australia's biggest secret waiting to be discovered globally. Distinctive, powerful, poetic, passionate, her original songs are the equal of anything heard on the world stage." ..ABC MUSIC .."Morning In The Bowl Of Night is the best record released this year (yes, it's only May)... songs of sublime substance... it's real, raw and richly rewarding - from the heart and the heavens... no amount of money could improve it." .. (4 stars) Stevie Nix, mX CD Of The Week .... ..The recording of "If You Need Me" done for the RACV TV ad is available now from iTunes. ..If you'd like to get it, click this thing>>> .. .... ..It's also available on CD exclusively from RACV shops. (It's not available on any of Lisa's other releases.) .... .... ....VERSION ORIGINALE ....AU$20.00 (including postage anywhere in the world).... .. ........Signed copy?........- Select Type -..Yes please!..No thanks.. ........ .. .. .. .. .. .. .. .. .. .. .. .. .. .. .... ..Version Originale is, simply, natural. It is pop music with finesse and heart and wonderful soul. It is as sensitive as it is beautifully executed. Space to breathe but not to drown. That Lisa Miller has succeeded admirably in making a record to treasure is undeniable. Version Originale is as good as, if not better, than any other Australian record released this year. THE BRAG ..Version Originale has the same addictive quality of everything touched by her gossamer throat strings; the same understated, apparently effortless senses of melody and craft, with, if possible, an even more affecting emotional directness. ..ROLLING STONE 4 stars ..An episodic and miniature world of feelings and heartfelt experiences. Version Originale truly captures the heart of the country, the soul of suburbia and an individual persona of a singer-songwriter at the height of her craft. ..RHYTHMS ..Some people come and go without leaving a noticeable trace. You can hear plenty of them on the radio every day. Not Lisa Miller. She is a reminder that it's not always the first moment of a song and a singer that matters but what mark is left with you afterwards. It's then that you can fall in love with a song or a voice again and again. ..SYDNEY MORNING HERALD ..Lisa Miller is proof that a great album by a great artist can still find an audience in Australia. Her distinctive, late-night voice and heartfelt, beautifully crafted songs have already had the reviewers struggling to do justice to its sublime power. ..DAILY TELEGRAPH ..Lisa Miller has the kind of talent that, every now and then, stuns you to a wide-eyed gasp. ..INPRESS ..If there's any justice, this album will scoop the pool. It's a class act all round with Miller's plaintive vocals weaving sensuous delight on a collection of fine original tunes.... this is prickles-up-the-spine territory. ..QANTAS MAGAZINE ..With Version Originale Miller's magical ability to elevate a song above its existing parts is no less disarming. It goes beyond the quality of her voice, which sounds more pleasant than really remarkable - until you realise your pulse is slowing and there is a thread of dribble hanging off your lip. Like all the greatest singers, it is less about pitch and timbre than her ability to make you believe she's breathing and bleeding in there... ..THE AGE EG FEATURE ALBUM 4.5 stars ..If you are looking for a distinctive songstress who pens tunes which will stay with you for a lifetime of rainy Sunday afternoons, then here is your woman. Miller has been a critics' darling for many years and it remains a recurring frustration that the commercial airwaves haven't embraced such a superlative talent. ..DAILY TELEGRAPH ..A sublime tapestry of harp, bass, drums and guitars. From there Miller, whose voice is part-sugar, part-grit, serves up a heartfelt, understated folk, rock, pop, jazz and country collection. 4 stars. ..SUNDAY TELEGRAPH ..Version Originale shows Miller off at her most charming and lyrically astute. From cutting breakup songs to sad-eyed laments and boldly stated stands of strength, this album has it all, and again marks Lisa Miller as a truly supreme talent. ..FILMINK ..Version Originale, all songs by Lisa Miller, a hell of a stocking filler this Christmas and a genius pop record. Umpteen stars. ..BEAT - ALBUM OF THE WEEK ..Sometimes you can listen to an album and just tell that everything has fallen together in the right way; right time; right place; right people. Her vocal style is pure and ingenuous - a rare treat in this era of modern day histrionics. ..INPRESS ..A beautiful local release from Lisa Miller that effortlessly flits between jazzy originals and introspective pop, and showcases both a distinct voice and a solid compositional touch. Miller is a classic songwriter. ..THE BRAG - CD OF THE WEEK ..Version Originale, although all from Lisa's own pen, sounds every bit the twin to Car Tape. Buy several copies now - present them to friends and loved ones - and help Version Originale onto this year's Top Ten lists. ..FORTE ..Firstly, Lisa Miller's new album is without doubt the best female record of the year! Secondly, a declaration like that isn't made lightly. So what makes Version Originale stand out? Easy. It's her beautifully crafted alt-pop songs that are so heartfelt, honest and raw, it's a credit to her for allowing us to get this close. This album comes highly recommended. ..THE BUZZ 4.5 stars ..These songs tell of love and breakups, of trying to help others in despair and the joy of life. Miller makes it seem that a song is the best way to explain it. Version Originale is another important and confident step for Lisa Miller and establishes her as one of Australia's best singers and a fine songwriter. You do need this album. ..DIG RADIO ..She's good, Lisa Miller. Very, very good. ..SYDNEY MORNING HERALD ..Version Originale is a fitting title for a one-of-a-kind performer and songwriter of immeasurable talent. Let's lift Lisa to the status she deserves: star. ..WHAMMO ..You guys are great! ..NEIL YOUNG .... ....PUSHOVER EP ....AU$12.00 (including postage anywhere in the world).... ..The title track is from Version Originale. Also on here is a trippy 9 minute remix of that song, a stark version of Gram Parsons' "Hickory Wind" (which was a Car Tape outtake), and 5 songs recorded live by Zeke Young on his dad Neil's Australian tour. 40+ minutes of listening value! .. ........Signed copy?........- Select Type -..Yes please!..No thanks.. ........ .. .. .. .. .. .. .. .. .. .. .. .. .. .. .... .... ....CAR TAPE ....AU$20.00 (including postage anywhere in the world).... .. ........Signed copy?........- Select Type -..Yes please!..No thanks.. ........ .. .. .. .. .. .. .. .. .. .. .. .. .. .. .... .."Like a thunderbolt out of the sky, bright, bold, beautiful, and awe-inspiring." ..Beat Magazine, Album Of The Week .."Gloriously delicate." ..Daily Telegraph .."Not a weak track on it" ..Courier Mail .."A collection of tracks ideal for road reflection...but this CD is so good just listening at home is a great experience" ..Sunday Herald-Sun .."It's triumph is in making compositions from neglected or forgotten figures sound like standards." ..Herald-Sun HIT .."...a wonderful album, stacked with obscure songs and seductive melodies." ..Scene .."Lisa Miller has got a new album. It's a concept album at the same time as it's a covers album, and it's very, very good." ..Beat Magazine .."Somewhere warm. That's just where Car Tape will take you." in-Press .."A collection of beautifully reworked rare tunes that whisper around the edges of your conscience" Revolver .."Car Tape is for the long drive. It will outlast a summer holiday up the coast and still be in the dashboard next Easter." ..HQ .."This stunningly beautiful CD is the kind of dream record everybody wishes they had pumping out of their car stereo on a long road trip." ..The West Australian .."The emphasis is on the essentials of mood and melody: Car Tape is arranged with a sparsity that aches." 4 stars ..Rolling Stone .."Pure midnight cabaret, conjuring up a musical mood that sticks to the lonely side of blue." ..The Bulletin .."Car Tape is already in my car CD rack." 4 stars ..The Age Green Guide .."An absolutely beautiful female vocal with just the right amount of twang, gorgeous lilting guitars that rub the back of your neck so lightly they feel like the breeze, and outstanding renditions of songs.... Sublime." ..Revolver .."No affectations, just pure and and clear and dedicated to presenting the song in the best way possible." ..in-Press Magazine .."So potent are her visions, you'll be inspired to take a road trip." ..Time Off .."When night falls on a road trip and your back-seat drivers are lolling and dreaming, this is the music you need." ..Sunday Age .."Lisa's voice becomes better with each album and is absolutely sublime here." ..Daily Telegraph .."Thirteen stunning interpretations, all with minimal instrumentation, subtly pushing Miller's wonderful voice to the fore." ..Forte Magazine .."Songs sung with love, played with respect, and produced with originality. This album is set to become one of your future favourites." ..www.cow-punk-quarterly.com .."What a fascinating covers album. Nothing here is obvious." ..Undercover .."Miller's fetching country lilt and keening voice, and the considered and sympathetic accompaniment around her, renders each song with an almost reverential care. This is a lovely album for anyone who cares about quality." 8/10 ..Financial Review .."Thirteen beautifully rendered heartfelt songs, many of them rather obscure, and mainly laidback and sombre. The emotional performances and the song choices are what makes this album work. A lot of the songs deal with love and devotion to it. Miller's voice aches and yearns.... this is a great album, a late night album, thoughtful and reflective, not speeding down the highway. Maybe driving alone at night after a confused fight with a lover, or meeting someone new." ..Strum ..Hey, look - videos! .... .. .. .. .. .. .. ......The Boy That Radiates That Charm.... ..From my covers album of 2002 "Car Tape". Here I float Barbarella-like through a virtual gallery of supersized graphics and video images. We shot this during a heatwave on the day the war broke out in Iraq (again). Directed by our good friend Toby Reed. .... .. .. .. .. .. .. ......Pushover.... ..From my 2003 album 'Version Originale'. In this film I get to drive an enormous black Cadillac and go on a murderous rampage, killing various music industry types. Also conceived and directed by Mr. Toby Reed. .... .. .. .. .. .. .. ......Reason To Believe.... ..I went on the telly and sang this Tim Hardin song with Billy Bragg. .... .. .. .. .. .. .. ......Have A Little Mercy.... ..A song from the Car Tape album that still gets a regular spot in our live sets. Don't know who filmed this, whoever you are: thanks! From last year's Queenscliff Music Festival (Dec 2007).

Members

Lisa Miller: sings, plays guitar. ..Shane O'Mara: plays many guitars and stringed things. ..Ashley Davies: on the drumset. .....and on special occasions: ..Garrett Costigan: has played pedal steel with me since about 1994 ..Ken Gormley, Howard Cairns, Bill McDonald: all been known to play bass .... .. .. Send us your e-mail address and we'll send you news about Lisa Miller Happenings. ..(You don't ..have.. to tell us where you live, but we do find it rather interesting.) .. .. .. ..email: .. ...... .. .. ..location: .. ...... .. .. ...... .. .. ..

Influences

..!!! Start Code To Apply Top Banner !!!!.. .. Custom top banner code by Eileen.. .. ..!!! End Code To Apply Top Banner !!!..

Sounds Like
Dear friends, it seems the PayPal link to buy Lisa's new album in last weeks bulletin was dodgy ( thanks PayPal). Sorry if that caused any frustrations out there. We've fixed it now so it takes you straight to the SHOP page on the Lisa Miller website.

Just posted some upcoming gigheads to my mailing list (http://lnk.ms/cjz2J to get on it btw). This Sunday arvo at Bella Union will be how do you say: interesting.... just me and Kevin from Jebediah (aka Bob Evans), some odd songs, and chatting with Jacinta Parsons (RRR) and 'magosopher' Sunny Leunig.
04:20 | 238 plays | Jul 6 2006
Bio:
..
..
Hello myspace geeks. Lisa Miller is a highly acclaimed singer and songwriter based in Melbourne Australia. She is about to release her 6th solo album "Car Tape 2".
A selection of Lisa Miller albums can be securely purchased below by clicking on the iTunes links (for digital downloads) or PayPal links (for real CDs).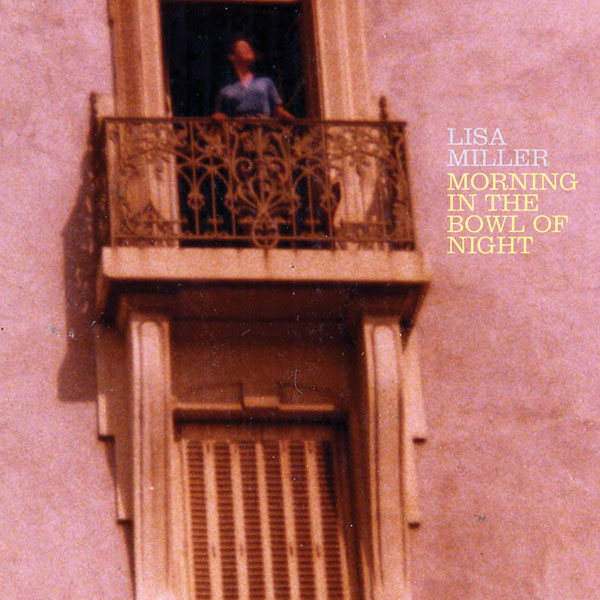 MORNING IN THE BOWL OF NIGHT
AU$25.00 (including postage anywhere in the world) ..
..
.. .. .. .. .. .. .. .. .. .. .. ..
"A musical masterpiece."
(5 stars) Mike Daly, THE AGE GREEN GUIDE
"It's all done with such grace and simplicity, with such intimacy and honesty - lyrical and musical - that it insinuates itself into your life completely. This record is the finest thing Lisa Miller has done. It will keep speaking to you, moving you, long beyond this year. It's why it is unquestionably a great album."
Bernard Zuel, SYDNEY MORNING HERALD
"A songwriter par excellence…. her strongest collection yet, 11 shimmering, unblemished songs that reveal themselves over repeated listens…. should act as an example to others, proving that the concept of adult-oriented music doesn't preclude richness, depth or texture."
(4.5 stars) Guy Blackman, THE SUNDAY AGE
"There might be albums as good that come out this year, but I've played it over and over and it's hard to imagine that there is going to be a better one. Morning in the Bowl of Night is a treasure, a thing of breathtaking, honest beauty."
(5 stars) Noel Mengel, BRISBANE COURIER-MAIL
"This is a poignant, beautiful album, almost unbearably lovely in places, but underpinned with a steady resolve, revealing the sure hand of a songwriter who has something to say and the finely tuned tools with which to express it in a gently poetic, moving fashion."
Lauren Zoric, MESS+NOISE
"Sublime vocal skills... Miller is a first-class songwriter, and she takes her craft to new heights on album No. 5... a more earthy organic sound than (Version Originale)... her rich acoustic pop brims with hope, hitting a high point on the crunchy, seven-minute Love Will Carry You. In a word: stellar."
(4 stars) Shane O'Donohue HERALD SUN
"Certainly worth the wait… this is a striking album that will hit a chord with listeners – the way good music should."
THE ADVOCATE (TAS)
"Australia's biggest secret waiting to be discovered globally. Distinctive, powerful, poetic, passionate, her original songs are the equal of anything heard on the world stage."
ABC MUSIC
"Morning In The Bowl Of Night is the best record released this year (yes, it's only May)... songs of sublime substance... it's real, raw and richly rewarding - from the heart and the heavens... no amount of money could improve it."
(4 stars) Stevie Nix, mX CD Of The Week
The recording of "If You Need Me" done for the RACV TV ad is available now from iTunes.
If you'd like to get it, click this thing>>>
It's also available on CD exclusively from RACV shops. (It's not available on any of Lisa's other releases.)

VERSION ORIGINALE
AU$20.00 (including postage anywhere in the world) ..
..
.. .. .. .. .. .. .. .. .. .. .. ..
Version Originale is, simply, natural. It is pop music with finesse and heart and wonderful soul. It is as sensitive as it is beautifully executed. Space to breathe but not to drown. That Lisa Miller has succeeded admirably in making a record to treasure is undeniable. Version Originale is as good as, if not better, than any other Australian record released this year. THE BRAG
Version Originale has the same addictive quality of everything touched by her gossamer throat strings; the same understated, apparently effortless senses of melody and craft, with, if possible, an even more affecting emotional directness.
ROLLING STONE 4 stars
An episodic and miniature world of feelings and heartfelt experiences. Version Originale truly captures the heart of the country, the soul of suburbia and an individual persona of a singer-songwriter at the height of her craft.
RHYTHMS
Some people come and go without leaving a noticeable trace. You can hear plenty of them on the radio every day. Not Lisa Miller. She is a reminder that it's not always the first moment of a song and a singer that matters but what mark is left with you afterwards. It's then that you can fall in love with a song or a voice again and again.
SYDNEY MORNING HERALD
Lisa Miller is proof that a great album by a great artist can still find an audience in Australia. Her distinctive, late-night voice and heartfelt, beautifully crafted songs have already had the reviewers struggling to do justice to its sublime power.
DAILY TELEGRAPH
Lisa Miller has the kind of talent that, every now and then, stuns you to a wide-eyed gasp.
INPRESS
If there's any justice, this album will scoop the pool. It's a class act all round with Miller's plaintive vocals weaving sensuous delight on a collection of fine original tunes.... this is prickles-up-the-spine territory.
QANTAS MAGAZINE
With Version Originale Miller's magical ability to elevate a song above its existing parts is no less disarming. It goes beyond the quality of her voice, which sounds more pleasant than really remarkable - until you realise your pulse is slowing and there is a thread of dribble hanging off your lip. Like all the greatest singers, it is less about pitch and timbre than her ability to make you believe she's breathing and bleeding in there...
THE AGE EG FEATURE ALBUM 4.5 stars
If you are looking for a distinctive songstress who pens tunes which will stay with you for a lifetime of rainy Sunday afternoons, then here is your woman. Miller has been a critics' darling for many years and it remains a recurring frustration that the commercial airwaves haven't embraced such a superlative talent.
DAILY TELEGRAPH
A sublime tapestry of harp, bass, drums and guitars. From there Miller, whose voice is part-sugar, part-grit, serves up a heartfelt, understated folk, rock, pop, jazz and country collection. 4 stars.
SUNDAY TELEGRAPH
Version Originale shows Miller off at her most charming and lyrically astute. From cutting breakup songs to sad-eyed laments and boldly stated stands of strength, this album has it all, and again marks Lisa Miller as a truly supreme talent.
FILMINK
Version Originale, all songs by Lisa Miller, a hell of a stocking filler this Christmas and a genius pop record. Umpteen stars.
BEAT - ALBUM OF THE WEEK
Sometimes you can listen to an album and just tell that everything has fallen together in the right way; right time; right place; right people. Her vocal style is pure and ingenuous - a rare treat in this era of modern day histrionics.
INPRESS
A beautiful local release from Lisa Miller that effortlessly flits between jazzy originals and introspective pop, and showcases both a distinct voice and a solid compositional touch. Miller is a classic songwriter.
THE BRAG - CD OF THE WEEK
Version Originale, although all from Lisa's own pen, sounds every bit the twin to Car Tape. Buy several copies now - present them to friends and loved ones - and help Version Originale onto this year's Top Ten lists.
FORTE
Firstly, Lisa Miller's new album is without doubt the best female record of the year! Secondly, a declaration like that isn't made lightly. So what makes Version Originale stand out? Easy. It's her beautifully crafted alt-pop songs that are so heartfelt, honest and raw, it's a credit to her for allowing us to get this close. This album comes highly recommended.
THE BUZZ 4.5 stars
These songs tell of love and breakups, of trying to help others in despair and the joy of life. Miller makes it seem that a song is the best way to explain it. Version Originale is another important and confident step for Lisa Miller and establishes her as one of Australia's best singers and a fine songwriter. You do need this album.
DIG RADIO
She's good, Lisa Miller. Very, very good.
SYDNEY MORNING HERALD
Version Originale is a fitting title for a one-of-a-kind performer and songwriter of immeasurable talent. Let's lift Lisa to the status she deserves: star.
WHAMMO
You guys are great!
NEIL YOUNG

PUSHOVER EP
AU$12.00 (including postage anywhere in the world)
The title track is from Version Originale. Also on here is a trippy 9 minute remix of that song, a stark version of Gram Parsons' "Hickory Wind" (which was a Car Tape outtake), and 5 songs recorded live by Zeke Young on his dad Neil's Australian tour. 40+ minutes of listening value! ..
..
.. .. .. .. .. .. .. .. .. .. .. ..

CAR TAPE
AU$20.00 (including postage anywhere in the world) ..
..
.. .. .. .. .. .. .. .. .. .. .. ..
"Like a thunderbolt out of the sky, bright, bold, beautiful, and awe-inspiring."
Beat Magazine, Album Of The Week
"Gloriously delicate."
Daily Telegraph
"Not a weak track on it"
Courier Mail
"A collection of tracks ideal for road reflection...but this CD is so good just listening at home is a great experience"
Sunday Herald-Sun
"It's triumph is in making compositions from neglected or forgotten figures sound like standards."
Herald-Sun HIT
"...a wonderful album, stacked with obscure songs and seductive melodies."
Scene
"Lisa Miller has got a new album. It's a concept album at the same time as it's a covers album, and it's very, very good."
Beat Magazine
"Somewhere warm. That's just where Car Tape will take you." in-Press
"A collection of beautifully reworked rare tunes that whisper around the edges of your conscience" Revolver
"Car Tape is for the long drive. It will outlast a summer holiday up the coast and still be in the dashboard next Easter."
HQ
"This stunningly beautiful CD is the kind of dream record everybody wishes they had pumping out of their car stereo on a long road trip."
The West Australian
"The emphasis is on the essentials of mood and melody: Car Tape is arranged with a sparsity that aches." 4 stars
Rolling Stone
"Pure midnight cabaret, conjuring up a musical mood that sticks to the lonely side of blue."
The Bulletin
"Car Tape is already in my car CD rack." 4 stars
The Age Green Guide
"An absolutely beautiful female vocal with just the right amount of twang, gorgeous lilting guitars that rub the back of your neck so lightly they feel like the breeze, and outstanding renditions of songs.... Sublime."
Revolver
"No affectations, just pure and and clear and dedicated to presenting the song in the best way possible."
in-Press Magazine
"So potent are her visions, you'll be inspired to take a road trip."
Time Off
"When night falls on a road trip and your back-seat drivers are lolling and dreaming, this is the music you need."
Sunday Age
"Lisa's voice becomes better with each album and is absolutely sublime here."
Daily Telegraph
"Thirteen stunning interpretations, all with minimal instrumentation, subtly pushing Miller's wonderful voice to the fore."
Forte Magazine
"Songs sung with love, played with respect, and produced with originality. This album is set to become one of your future favourites."
www.cow-punk-quarterly.com
"What a fascinating covers album. Nothing here is obvious."
Undercover
"Miller's fetching country lilt and keening voice, and the considered and sympathetic accompaniment around her, renders each song with an almost reverential care. This is a lovely album for anyone who cares about quality." 8/10
Financial Review
"Thirteen beautifully rendered heartfelt songs, many of them rather obscure, and mainly laidback and sombre. The emotional performances and the song choices are what makes this album work. A lot of the songs deal with love and devotion to it. Miller's voice aches and yearns.... this is a great album, a late night album, thoughtful and reflective, not speeding down the highway. Maybe driving alone at night after a confused fight with a lover, or meeting someone new."
Strum
Hey, look - videos!
The Boy That Radiates That Charm
From my covers album of 2002 "Car Tape". Here I float Barbarella-like through a virtual gallery of supersized graphics and video images. We shot this during a heatwave on the day the war broke out in Iraq (again). Directed by our good friend Toby Reed.
Pushover
From my 2003 album 'Version Originale'. In this film I get to drive an enormous black Cadillac and go on a murderous rampage, killing various music industry types. Also conceived and directed by Mr. Toby Reed.
Reason To Believe
I went on the telly and sang this Tim Hardin song with Billy Bragg.
Have A Little Mercy
A song from the Car Tape album that still gets a regular spot in our live sets. Don't know who filmed this, whoever you are: thanks! From last year's Queenscliff Music Festival (Dec 2007).
Member Since:
July 05, 2006
Members:
Lisa Miller: sings, plays guitar.
Shane O'Mara: plays many guitars and stringed things.
Ashley Davies: on the drumset.
...and on special occasions:
Garrett Costigan: has played pedal steel with me since about 1994
Ken Gormley, Howard Cairns, Bill McDonald: all been known to play bass
..
Send us your e-mail address and we'll send you news about Lisa Miller Happenings.
(You don't have to tell us where you live, but we do find it rather interesting.) ..
email:
..
location:
..
..
..
Record Label:
Raoul