TV Shows

Chelsea Lately on E!, The Chelsea Handler Show on E!, Tracey Takes On on HBO, The Test on FX, Hudson Street with Tony Danza on ABC, Shasta McNasty, Jerry Lewis Telethon, Nashville Now on TNN, Robot Chicken on Cartoon Network (various voices) & over 20 National Commercials.

Albums

Website

This is it.

Bio

Lisa is the creator/producer of Pretty, Funny Women..the longest running all female comedy show in the country. She is a successful voiceover actress, singer and writer. She is currently narrating "The 101 Gultiest Guilty Pleasures" & "50 Most Shocking Celebrity Confessions" on E! and her current vo commercials running are Blue Bunny Ice Cream, Safeway, Krylon Spray Paint, Verizon Wireless, Blackberry , Beringer Wines and Mattel Gamefinder, just to name a few.

Members

Influences

Pretty Funny Women all over the world throughout history.
About me:
I produce Pretty, Funny Women every month @ The Improv, I do voiceovers (
Click here for my demo!
), stand up comedy and I teach. I'm pretty good at all of em but not great at any. I get bored very easily and need constant stimulation. I am an excellent driver. The longest, committed relationship I've ever had is with my dog. Strictly platonic, though. Check out my website at...oh wait, this is it.
ARE YOU A PRETTY, FUNNY WOMAN?
Class Info:
Lisa Sundstedt's
Beginners stand up comedy workshop for women start soon! The class will run for 6 weeks (possibly 8 if its full) and there will be a showcase to follow at The Comedy Union. This class is primarily for beginners but there will be a couple of girls who are repeating my previous beginners class. You dont have to know anything about comedy to take this class..you just have to be willing to have fun! I give discounts for referring another student. The class is limited to 10 girls and a non refundable deposit is required to secure your spot... and they go fast!
The Advanced Punch Up Class!! The advanced "take your career to the next level" class is starting soon in Sherman Oaks! Designed to help established comics punch up their acts, identify their blocks and step up their game. This class includes two professional joke writers/teachers and guest speakers who work in the industry. This very popular class fills up fast! It is for women who have been doing comedy at least two years and want to focus primarily on the business aspect of comedy. Qualified students will showcase at the Hollywood Improv and be considered for paying PFW gigs.The PFW Alumni workshop is for students who have completed the beginners workshop and want to polish their acts, work on new material and showcase for industry. This is a six week intermediate level class followed by an industry showcase.
Just an FYI...As always, I will have an assitant helping me punch up the jokes as well as all brand new guest speakers.
Check out
www.prettyfunnywomen.com
for testimonials and other info!
..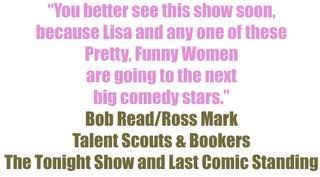 .. .. .. .. .. ..
plain layout
powered by
HOT

FreeLayouts.com
/
MyHotComments
Who I'd like to meet:
Funny people. And by funny, I mean...other people have told you you're funny. MANY other people.
Upcoming Events

by Eventful
Check Out Wire Image Pic's of the September Show @ The Improv
Status:

Single

Here for:

Networking, Friends

Hometown:

Oceanside, CA

Orientation:

Straight

Body type:

5' 3" / Average

Ethnicity:

White / Caucasian

Zodiac Sign:

Aries

Children:

Someday

Smoke / Drink:

No / No

Occupation:

writer & voiceovers
General

Playing blackjack in Vegas with other people who know how to play. My family. Klonopin. Stand up comedy. Horror films. Ghost stories. My friends. Rollercoasters. Basically, things that make my heart race. Teaching stand up. Producing shows. Voiceovers. Pool. (playing, NOT swimming) Making dinner for my friends. Alcoholics. Alcoholics in recovery. (this does not include pot heads) Hanging out with my 3 year old neice and my 5 year old nephew. Psychics. Court TV. Any shows about cold case files or serial killers. A good riddle. Dancing. Real estate. Working on my house.

Music

Movies

Television

Lifetime movies based on a true stories where someone kills someone. Nancy Grace. Larry king. Greys Anatomy. House. Wife Swap. The Girls Next Door. Golden Girls Re-runs. Does anyone really care about this?

Books

Self help books.

Heroes

Arturo, my handyman.
El Camino High

Oceanside,California

Graduated:

1985

Student status:

Alumni

Degree:

High School Diploma

1982 to 1985