About me:



..
..
Lisa Young In. *1988. Gemini. Currently living in Mannheim (GER). Music business student at Popakademie Baden-Württemberg. South Korean roots. Grown up near Mainz (GER). Passionate and aspiring artist promoter for two brilliant bands. Addicted to music, concerts, great people, new media, inspiring words and moments, coffee, big cities and exploring the world in her own eyes. Always on the run. But yet always ready to cast the anchor for wonderful moments.
Favorite People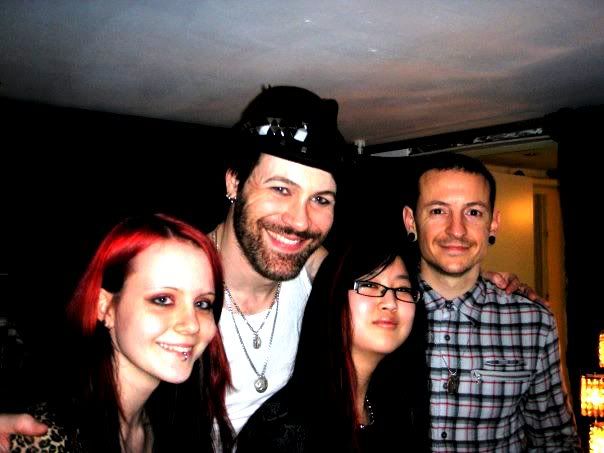 ....
Who I'd like to meet:
In general I'd like to meet interesting people who share some interests with me and who can also tell me some new and exciting things and broaden my horizon. And of course I'd love to meet all my internet friends face to face who live kinda far away from me and whom I haven't met in person yet due to the ever-present distance. I guess I don't need to put names in here, you all know who you are! Never forget that you mean a lot to me, even if we can't chat all the time! Thanks for everything!
>>Even if you're not with me, I'm with you...<<


General

Music, Friends, Concerts, Festivals, Artist Promotion, Journalism, Web 2.0, New Media, Web Design, Reading, Traveling, Creative Writing, Live Photography, Digital Arts, Pop Culture, Challenges, Piano, Nightlife, Clubbing, Fitness, Swimming.

Music

In Legend
Julien-K
Van Canto

3 Doors Down 30 Seconds To Mars 36 Crazyfists Adele Adema Alice In Chains Alter Bridge Amorphis Amplifier Anathema Andrew Bird Angels & Airwaves The Anix Anthrax A Perfect Circle Aphex Twin Arcade Fire As I Lay Dying Atari Teenage Riot Augustana AWOLNATION Backyard Babies Bag Raiders Ben Folds Ben Howard The Black Keys Black Stone Cherry Blaqk Audio Blink 182 Bloc Party Bohren & der Club of Gore Bon Iver Breaking Benjamin Bright Eyes Casper Celldweller Chimaira Chuck Ragan Circuit Freq Coal Chamber Coheed And Cambria Coldplay Counting Crows The Cure Cypress Hill Damien Rice Dashboard Confessional David Lemaitre Dax Johnson Death Cab For Cutie Decode Radio Deep Sea Diver Deftones Deichkind Depeche Mode DevilDriver The Dirty Heads Disturbed Dream Theater Drowning Pool Ed Sheeran Einar Stray Ellie Goulding Emergency Gate Exodus Fall Out Boy Fear Factory Five Finger Death Punch Foo Fighters The Fray The Gaslight Anthem Gavin DeGraw Get Well Soon Gluecifer Goose Gotye Graveyard Guns N' Roses Hatebreed Heaven Below HIM Hurricane Dean Hurts Hypocrisy IAMX Iggy Pop Imagine Dragons In Flames Interpol Jeff Buckley Jester's Funeral Jettblack Jimi Hendrix Jimmy Eat World Jonathan Kluth Joshua Radin Joy Division Justice Kataklysm Katatonia Keane The Killers Killswitch Engage King Charles Kings Of Leon KoRn Lamb Of God Lana del Rey Leonard Cohen Linkin Park Lostprophets The Lumineers M83 Machine Head Marilyn Manson Mark Lanegan Massive Attack Megadeth Mesh Meshuggah Metallica MGMT Michael Bublé Miike Snow Mike Patton (everything) Ministry Modestep Morphine Morrissey Mötley Crüe MS MR Mumford & Sons Muse My Baby Wants To Eat Your Pussy My Chemical Romance The Naked And Famous The National Newton Faulkner Nils Frahm Nine Inch Nails Nirvana Oasis The Offspring Of Monsters And Men Opeth Orden Ogan Orgy Pain Paradise Lost Passion Pit Patrick Turner Patrick Wolf Paul Kalkbrenner Pearl Jam Pendulum Pink Floyd PJ Harvey Placebo Poets Of The Fall Porcupine Tree Portishead The Postal Service The Prodigy Puddle Of Mudd Puscifer Queens Of The Stone Age Radiohead Rage Against The Machine Rammstein Red Hot Chili Peppers Rival Sons Riverside The Roots Serj Tankian Sixx:A.M. Sizarr Skrillex Slash Slayer Slipknot The Smiths Soilwork Sonic Youth Soulfly Soundgarden Spineshank Staind Stone Sour Stone Temple Pilots Sufjan Stevens System Of A Down The Temper Trap Tenacious D Thrice Testament Tom Waits Tool Tori Amos Trentemoller Trivium The Used Vandal Velvet Revolver The Velvet Underground The Verve Volbeat We Invented Paris White Lies William Fitzsimmons Woodkid The xx Yann Tiersen Zeromancer Zoot Woman

Upcoming Shows

Movies

300

,

American History X

,

Australia

,

The Big Lebowski

,

Chocolat

,

Coffee and Cigarettes

,

Crank

,

The Crow

,

Cruel Intentions

,

Dogma

,

Donnie Darko

,

Fear and Loathing in Las Vegas

,

Fight Club

,

From Hell

,

The Island

,

Jay and Silent Bob Strike Back

,

The Lord of the Rings

,

Lords of Dogtown

,

Lost Highway

,

Lost In Translation

,

The Matrix

,

Meet Joe Black

,

Monty Python

,

Phone Booth

,

Pirates of the Caribbean

,

Psycho

,

The Queen of the Damned

,

Requiem for a Dream

,

Rock Star

,

School of Rock

,

The Shining

,

The Sixth Sense

,

Spinal Tap

,

Spun

,

Trainspotting

,

Troy

,

Wayne's World

,

X-Men.

Television

Books

Music Biographies, Books about the Music Business, Pop Literature, Social Criticism, funny stuff, Poetry, Essays, some Thriller, Fantasy, and Horror.
University of Popular Music und Business Mannheim

Mannheim,Baden-Württemberg

Graduated:

N/A

Major:

Music Business - Digital Innovation Management

2010 to Present

Universität Mainz

Mainz, Germany

Graduated:

N/A

Student status:

Alumni

Degree:

none

Major:

American Studies

Minor:

Economics, German Studies, Musicology

2007 to 2010

Integrierte Gesamtschule

Ingelheim am Rhein, Germany

Graduated:

2007

Student status:

Alumni

Major:

German, English, History

Minor:

Maths, Biology, French, Art, Music, Ethics, Physical Education

Clubs:

School Magazine

1998 to 2007
Van Canto

Bingen, RLP DE

Artist Promoter | Street Team Leader

May 2009 - Present

Nuclear Blast Records

Donzdorf, BW DE

Street Teamer | E-Teamer

June 2008 - June 2010

Metal Hammer Germany

Berlin, Berlin DE

Street Teamer

June 2008 - Present

JULIEN-K GERMANY

Mannheim, BW DE

Conceptual Leader | Artist Promoter

Dec 2008 - Present

In Legend

Berlin, Berlin DE

Artist Promoter | Content Manager | PR

Feb 2010 - Present

AUPEO! GmbH

Berlin, Berlin DE

Online Marketing Intern

Aug 2011 - Nov 2011

Future Music Camp (powered by SMIX.LAB)

Mannheim, BW DE

Student Assistant

Feb 2011 - May 2011

Future Music Camp (powered by SMIX.LAB)

Mannheim, BW DE

Student Assistant

Feb 2012 - May 2012

Universal Music Group

Berlin, Berlin DE

Digital Sales & Marketing Intern

July 2012 - Oct 2012

Future Music Camp (powered by SMIX.LAB)

Mannheim, BW DE

Student Assistant

Nov 2012 - Present
Right now I'm working as a freelance artist promoter in the rock/metal/electro field and I'm always happy to expand my network and knowledge. I also have work experience in online marketing, offline marketing, PR, journalism, web administrati

Music
Marketing
New Media

I

Music
Marketing
Publicity
Lisa Young In has 8027 friends.