Play

Play Next

Add to queue
Play

Play Next

Add to queue

1,437 plays

Play

Play Next

Add to queue

352 plays

Play

Play Next

Add to queue

4,185 plays

Play

Play Next

Add to queue

1,997 plays

Play

Play Next

Add to queue

1,211 plays
Genre: Blues / Pop / R&B

Location Roma, It

Profile Views: 64025

Last Login: 3/4/2013

Member Since 7/9/2007

Type of Label Unsigned

Bio

Members

Influences

Sounds Like
No recent updates in this category.
Why not...
03:39 | 52 plays | Feb 9 2010
Bio:
..
....
Myspace Layout Generator
by
LayoutGeneratorMyspace.com
..
..
Livia Palone
Promote your Page too
.. ABOUT THE SONGS ON THE PLAYER
at the moment on the player there are 10 songs,
5 from my original ones, 3 in English (TRACK OVER TRACK, HIDING THE WORLD, THE PEACE PAINTER), 2 in Italian (TRACCIA SU TRACCIA and NASCONDO IL MONDO, on the player I tryed to specify with an abbreviation that TRACK OVER TRACK is the English rendition I wrote of TRACCIA SU TRACCIA and that HIDING THE WORLD is the English rendition I wrote of NASCONDO IL MONDO).
The other 5 songs on the player are COVERS (and I wrote it in the titles before the titles themselves),
all 5 are acoustic,
2 (Fight for your mind - orig. Ben Harper and Give me one reason - orig. Tracy Chapman) from a radio broadcast (Radio Imago on the web),
1 from a live show (Why don't you do right),
2 from reharsals (Sweet Home Chicago and Don't know why),
all other details and more I will write later in the BIO section on the profile, thanks for waiting!!!
PS: All songs are written by me, Livia Palone, always in the Melodic Lines and in the Lyrics, in Italian, English, Spanish, French and Portogues, at the moment are present only the english and italian ones :)
I also write the arrangments for the instruments with the mainly cooperation of Francesco Cecconi, who is also my cousin :)
all the exceptions and other specifics will be written later in the BIO, thanks :)
PPS: VERY SOON my new original tracks to present my whole project,
still in search of a label,
but copyrighted from the SIAE (Italian Authors and Publishers Company for Copyright - "Società Italiana degli Autori ed Editori") as the first 5 songs on the player :)
hope you'll enjoy my music,
thank you every comment and listening or sharing or blog about my work will be appreciated, in the hope of keeping on receiving "good vibrations" and appreciations as I did in these latest 2 years
thank you,
all the best and....
....MUSIC is LIFE, LET'S LIVE in PEACE and enjoy MUSIC!!!! :)
OFFICIAL VIDEO OF MY SONG "TRACCIA SU TRACCIA"
this video is a prize for have won the 7itv music contest :)
special thanks to 7itv music contest and to my friend, model and actor, Claudio Vitale Morales :)


SOME PHOTO of ME taken by friends and photographers

to know the author of each photo check the captions in the albums - :)



HELLO EVERYBODY!!!



Since I was 3 or 4 years old I used to draw saying that I would have becomed a Painter and, contemporary, I USED TO SING SINCE MY MOTHER WAS PREGNANT OF ME!!!....

my parents met eachother in a choir and music is a family passion - but nobody of us studied music, neither I

I am an architect, but I left this profession trying to realize my greatest dream, get my first CD with my original songs published!! :) I worked since 2002 until 2007 as an architect, graphic and web designer, I do gaphics and photography but it's not my work (YOU CAN SEE SOME OF MY WORKS also on the myspace profile: www.myspace.com/liviarte (multi-ART)



"Livia Palone "so-called" OFFICIAL BIOGRAPHY": (soon I will edit it and translate it in Italian, Spanish and French)

Livia Palone was born in Rome on February, 9th, 1977 and she started showing her artistic skills since her childhood. She achieved an Architectural Degree, cum laude, on 2002, at the "Università degli Studi di Roma Tre", after graduated at the "Liceo Classico Orazio" High School in Rome, on 1995.
Among 2002 and 2006, besides keeping on doing her manifold artistic activities, from Photography to Music, passing through both manual and digital graphics and design, the handmade bijoux realization, the painting on glass and participating literary contests, she collaborated with many Architecture Studios in Rome and, on 2007, with a computer & web-design company with the role of graphic designer, starting to bring to a professional level her passion for digital graphics

From 1997 to 2006 Livia Palone has been part of the Aid (laic) Gospel Choir ( Onlus Association) "Soul Singers – jazz gospel & spiritual in Rome", directed by Maestro Franco Riva, in which she had a 10 years soloist experience, too, important for her dawning songwriter and singer career. Livia had the chance to perform in 2 soloist songs, rearranged for her by the director M° Riva ("Free" by Stevie Wonder and "Amen" by Jester Hairston), in many concerts, 2 of them held in the Renzo Piano Auditorium in Rome.

IN THE "SOUL SINGERS" CHOIR - JAZZ GOSPEL AND SPIRITUAL - dir. M° Franco Riva - website: www.soulsingers.it - (I sung in the choir since 1997 until 2006)


IN THIS PIC, ME ENJOYING THE AUDIENCE APPRECIATION AFTER MY SOLOIST COVER SONG "FREE" from STEVIE WONDER, during a concert in the Soul Singers Choir, dir. M° Franco Riva, at the AUDITORIUM in Rome, 2003 :)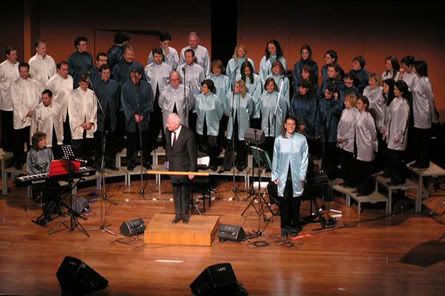 IN THIS PIC, ME ENJOYING WHILE SINGIN' "AMEN"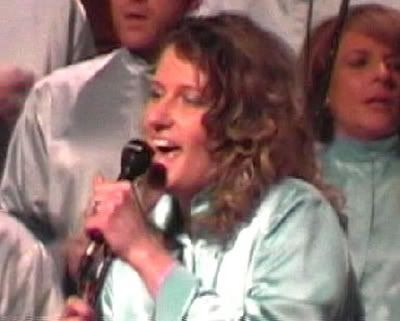 On the occasion of the first of the 2 concerts, organized for celebrating 10 years of activity and solidarity of the "Soul Singers", Livia realized the graphic concept and design of the "Book-Tribute" titled "10 Years of Music and Solidarity" which is a journey trough those 10 years (1993-2003) marked by the posters of the 100 concerts held until that date (May 2003), 10 of those posters were realized by Livia, she wrote the text on the back of the book, which resume the 10 years activity of the choir and the spirit with which the choir worked during those 10 years and realized the coordinated image and graphic concept of the latest CD of the Soul Singers (June 2006). Livia, then, realized the poster for the 9th June 2007 Concert of the Soul Singers Choir, held in the Cloister of the historical ancient building adjacent to the Church of San Pietro in Vincoli in Rome, this time not for free, but on commission of the Faculty of Engeenering of the "La Sapienza" Univesity in Rome.

On 2007 , Livia Palone enrolled in the SIAE, (Italian Society for Authors and Publishers). Recording with copyright her first songwriter song "Traccia su Traccia", with which Livia was selected for participating to the final "round" of "Velester Festival" 2002, after a precedent experience in the "Accademia di Sanremo Giovani" selections for Sanremo Music Festival on 1999, where Livia performed in singing, as a cover, her rendition of "Come il Sole all'Improvviso" (song by Zucchero Sugar Fornaciari).





ME AND MY COUSIN Fancesco Cecconi - REHARSALS for a SONG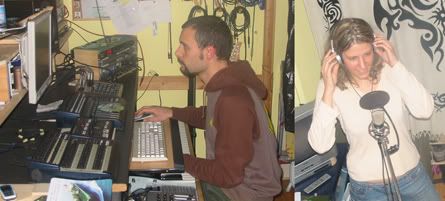 On 2006 Livia is for the first time on the web with her songs and covers in her, still actually, official singer and songwriter website, www.livsinger.com (realized by friend Francesca Orsi)

(this site will be offline very soon, replaced by
www.liviapalone.com). Livia Palone is also a writer, on 2007, April, Livia was rewarded with the 2nd prize in the Poetry Section and with the 3rd place in the Music Lyric Section, in the International Literary Contest "Il Gabbiano felice", promoted by the homonym no-profit association.

On 2006, April, the Aletti Publishing Company published one of her poems in the poems collection "Parole in fuga – vol. II", distributed by Feltrinelli, following her participation to the homonym contest promoted by the Poetry Magazine "Orizzonti".

SO, HERE I AM
I earn less than a stone, left the work in the architecture studios and trying to do my best with my skills - and - I have to say - I am also interested in social and psychological disease, so I would like to realize my dream to realize my first CD, but at the same time, I won't never forget the daily hard life
I used to sing for almost 10 years in a beneficence (LAIC) Gospel Choir - the "Soul Singers - jazz gospel & spiritual in Rome" - directed by Maestro Franco Riva - www.soulsingers.it

My heart "headlines": ART and MUSIC are LIFE - LIVE IN PEACE AND ENJOY ART and MUSIC... :)



SOME OF MY FAVOURITE WORDS THAT I'LL NEVER STOP TO LOVE, WHEN I SPEECH THEM, WHEN I HEAR THEM,
ON WHICHEVER MOUTH, WHEN I READ THEM WHEN I DREAM THEM: "...I HAVE A DREAM..." AND DREAM IS ALWAYS SOMETHING MORE THAN A DREAM...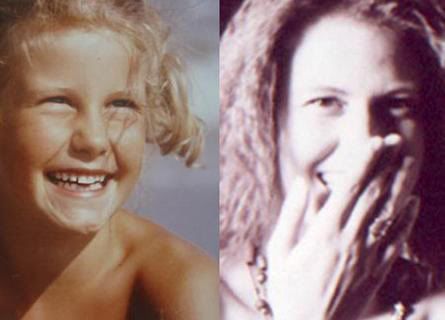 CAN WE SMILE AGAIN AFTER SO MUCH SUFFERING AND PAIN?????
IT'S NOT EASY, BUT I SAY..... YES, WE CAN....
NEVER GIVE IT UP
THAT'S WHAT I LEARNED FROM MY EXPERIENCE
AND I'M NOT SAYING THAT NOW EV'RYTHING IS OK FOR ME
I'M JUST SAYING, I LOVE MUSIC
I LOVE LIFE
I LOVE TO FIGHT FOR BEING MYSELF AND LET THE OTHERS BEING THEIRSELVES.......
"PEACE & LOVE"
IT'S TRUE!!!!!



THESE ARE SOME PHOTOS OF ME WITH SOME OF MY MYSPACE FRIENDS


Create your own visitor map!
You've been marked on my visitor map! Click to zoom in.

Get your own map at
hit2map.com
Member Since:
July 09, 2007
Members:


Livia Palone,
singer and songwriter,
back guitar,
some percussions :)



...ACOUSTIC FEELINGS......


FONCLEA ACOUSTIC FESTIVAL .. Livia Palone and Giuliano Bastianelli@Rock Castle-Umbria Jazz 08


COVER OF "IF THE MOON" written by Dave Kilminster and Chip Jenkins Livia Palone and Rowland Jones improvising during "Livia Palone TRIO @ Lettere Caffè", special guest Rowland Jones, Nov, 23rd, 2008 IMPROVISATION 1

...JAMMIN' - ONE OF THE MOST WONDERFUL THING IN MUSIC!!!!!


Livia Palone in the BLUE SUNSET FESTIVAL 2008 jam in Perugia

Livia Palone and Chiara Cortez improvised duet -

...BLUESY AND SOULFUL!!!! YEAH........


Livia Palone and Cjmbaljna Blues Band - It Hurts Me Too - rehars


FEEL GOOD Livia Palone with ONDEVITARE band - 13 June 2008




...HAVE SOMETHING TO SAY!!!!!! (IN MY CASE TOO MUCH!!! I LOVE TO TALK!!!!!!! ) LOL!!!!!!!





AND THEN....
A LOT OF OTHER THINGS!!!!!!!!!!!!!
...BUT THE BASICS REMAIN THE SAME:
LOVE, DEEPNESS, EMOTIONS, SINCERITY,
'COS MUSIC IS ONE OF THE MOST BEAUTIFUL WAY TO EXPRESS OURSELVES AND TO LOVE OTHERS... :)

Influences:


Ray Charles - Tracy Chapman - Stevie Wonder - Otis Redding - Ella Fitzgerald - Aretha Franklin - Lenny Kravitz - Ben Harper - Beatles - Des'ree - Tuck and Patty - Tanita Tikaram - Anastacia - Christina Aguilera - Rod Stewart - Mahalia Jackson - Black Eyed Peas - Micheal Jackson - Jimi Hendrix - Joss Stone - Alicia Keys - Elisa - Take 6 - Neri Per Caso - Extreme - Red Hot Chili Peppers - Queen and MANYMORE...

SOUNDTRACKS: The Commitments - Sister Act 1 e 2 - The Blues Brothers - Duets - Jesus Christ Superstar (the one from the film of 1973)...


I love from 30's Jazz to 2007 hip-pop and rap...
black music and all music worth of this name "music"
with a SOUL and something sincere and interesting to express and communicate
SOUL and TALENT...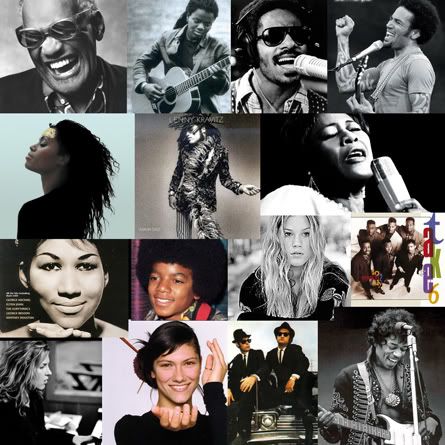 Sounds Like:

...from the lyrics of a wonderful Tracy Chapman song...
"...ALL THAT YOU HAVE IS YOUR SOUL..."
I SING WITH MY SOUL...

THAT'S ALL FOR NOW...
:)
Liv
Record Label:
unsigned