No recent updates in this category.
Why not...
sarah-lou hasn't earned any badges yet... have you?
General




what am i interested in? hmmmmmmm? (shock, horror she thinks!!!!) ok im interested in contemporary/modern art with a serial twist, as well as doing my own art work,politics as in scream at the telly when blair or brown come on the screen, books, music, business and economics, jewelry making, going out with friends, fitness.you know the usual!!!

You Are 52% Evil

You are evil, but you haven't yet mastered the dark side.
Fear not though - you are on your way to world domination.

30 Things You Might Not Know!! by ktwalter73
What are you listening to right now?:
starlight-muse
What was the last thing you ate?:
cheese string
If you were a crayon what color would you be?:
RED!
How is the weather right now?:
good old british weather...rainy
What color is your underwear right now?:
pink and black
Who was the last person you talked to on the phone?:
my daddy
The first thing you notice about the opposite sex?:
chest and shoulders
Favorite type of food?:
chinese
Do you drink?:
hell yes
Ever got so drunk you dont remember?:
uuummmmm yes
What color are your eyes?:
bluey/greeny/grey'y its weird
Single?:
unfortunatly yes
Favorite month?:
september
Last movie you watched?:
dracula:dead and loving it!
Favorite day of the week?:
friday
Are you too shy to ask someone out?:
no
Hugs or Kissess?:
kissess
Chocolate or Vanilla?:
vanilla
What books are you reading?:
love rules by freya north
Piercings?:
yes my ears
Favorite movie?:
memoirs of a geisha
Any pets?:
no
..
to surprise as many people as possible
Dogs or Cats?:
dogs
Favorite flower?:
lily
Have you ever fired a gun?:
paintball gun
Do you like to travel by plane as opposed to car?:
planes rule!!!!
Right handed or left handed?:
right handed
How many pillows do you sleep with?:
2
Are you missing someone?:
yes
Take this survey | Find surveys
Pimp My Profile

Music

Movies

films films films. i love films like horror and gory

,

chick flicks (im a total romantic)

,

comedy like 'date movie' and 'team america'

, but my fav at the moment would have to be memoirs of a geisha. it looks so painful!!!!!




Television

Books

i love girly novells like freya north and stuff, but i read alot of art books and txt books so i guess i dont read widely, however i do read the economist when i have any free time.

Heroes
Play

Play Next

Add to queue
About me:
ok so i say i am kinky, its just a nickname. ish. lol. flattering. blonde, intellegent even with blonde hair, warm hearted. kuwait citizen, looking for visa. (not really, im british......yes?) im a good cook. brill cleaner.
sick minded. bendable. starred in many films, type shall remain nameless. (dvd or video on sale now) anything tickles me (wink wink nudge nudge hint hint)
ok ok ok im kidding lol. no really i guess im a nice person, i dont like to upset other people i like to have fun and i like to work hard. i aim high and take whatever life has to throw at me or in some cases beat me with. im a happy person.
..
Who I'd like to meet:
now recruiting MEGALOMANIAC'S!!!! (nock, nock, its a joke) ok i would like to meet, random people who make me laugh. if they are human it is seen as a plus, pulses would be nice. anyone who has the same interests as me as well as anyone who doesnt, i like to see different peoples opinions. i mean why would you only want to meet people who are exactly like you. live a little.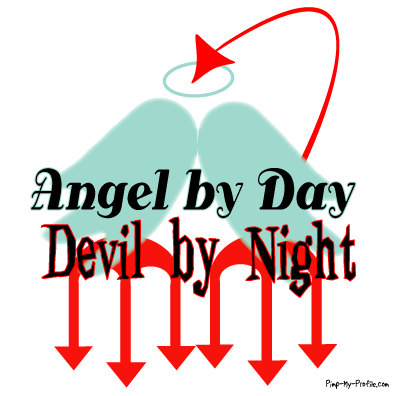 Pimp-My-Profile.com
Status:

Single

Here for:

Networking, Friends

Hometown:

Huddersfield

Orientation:

Straight

Ethnicity:

White / Caucasian

Religion:

Christian - other

Zodiac Sign:

Virgo

Children:

Someday

Smoke / Drink:

No / Yes

Education:

Grad / professional school

Occupation:

Student

Income:

Less than $30,000
Huddersfield New College

Huddersfield, United Kingdom

Graduated:

N/A

Student status:

Alumni

Degree:

Other

2005 to 2007