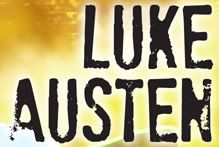 Play

Play Next

Add to queue
Play

Play Next

Add to queue

281 plays

Play

Play Next

Add to queue

132 plays

Play

Play Next

Add to queue

95 plays

Play

Play Next

Add to queue

85 plays

Play

Play Next

Add to queue

65 plays
Genre: Country

Location Brisbane, Queensland, AU

Profile Views: 25864

Last Login: 2/4/2011

Member Since 10/6/2008

Website www.lukeausten.com

Record Label Compass Bros

Type of Label Major

Bio

2010 Toyota Star Maker LUKE AUSTEN has paid his dues in Australian country music, and now he reaps the rewards on an extraordinary journey that in the past has launched the careers of fellow travellers such as LEE KERNAGHAN, KEITH URBAN and JAMES BLUNDELL.<p>The emphatic winner of this year's highly competitive Star Maker quest, Luke had already spent the past ten years honing his craft – touring the most remote areas of Australia for four years with the legendary BRIAN YOUNG Show, and working for the past six years as a member of Troy Cassar-Daley's band.<p> At the age of six Luke was given his first guitar and was inspired to play by his dad who played guitar in a country music band in Grafton, NSW. It was at the age of 13 when Luke had his first paying gig at the Mackay Markets that he knew that music should be his chosen career path. He was a graduate of the 1999 CMAA Australian College of Country Music. This Brisbane based emerging star is really the full package – a fine musician, compelling vocalist and strong songwriter - who brings a real warmth and authentic Australian image to his music. His 2009 five-track EP release, has now been followed up by his debut Album 'Light Of Day" , on Compass Bros Records, available here ...... A collection of 12 original songs, of which Luke has cowritten 9 with various writers such as Troy Cassar-Daley , Adam Harvey and Vaughan Jones.<p>Luke also has a cowrite on Troy Cassar-Daley's multi-award winning album - I Love This Place, released in 2009. "This Town Is Me" written with Vaughan Jones and Troy was one of the three songs that Luke impressed the judges with during his Grand Final performance winning him the title of 2010 Toyota Star Maker Winner.<p>The first hit single from his debut album , "She's So You", is a warm and honest track about his Fiancee' and daughter, and is currently climbing the Australian Country charts and his amazing video is on high rotation across Australasia on CMC , country music channel.<p>For more information on Toyota's commitment to the Tamworth Country Music Festival and other events please visit www.toyotacountryclub.com.au

Members

Influences

Merle Haggard, Keith Whitley, Troy Cassar-Daley, Stevie Ray Vaughan , The Eagles, Robben Ford, The Flood, Brad Paisley, Ricky Skaggs, Otis Redding, Stevie Wonder, The Beatles, Lefty Frizzell, Diesel, Kieth Urban, John Mayer.

Sounds Like
Bio:
2010 Toyota Star Maker LUKE AUSTEN has paid his dues in Australian country music, and now he reaps the rewards on an extraordinary journey that in the past has launched the careers of fellow travellers such as LEE KERNAGHAN, KEITH URBAN and JAMES BLUNDELL. The emphatic winner of this year's highly competitive Star Maker quest, Luke had already spent the past ten years honing his craft – touring the most remote areas of Australia for four years with the legendary BRIAN YOUNG Show, and working for the past six years as a member of Troy Cassar-Daley's band. At the age of six Luke was given his first guitar and was inspired to play by his dad who played guitar in a country music band in Grafton, NSW. It was at the age of 13 when Luke had his first paying gig at the Mackay Markets that he knew that music should be his chosen career path. He was a graduate of the 1999 CMAA Australian College of Country Music. This Brisbane based emerging star is really the full package – a fine musician, compelling vocalist and strong songwriter - who brings a real warmth and authentic Australian image to his music. His 2009 five-track EP release, has now been followed up by his debut Album 'Light Of Day" , on Compass Bros Records, available here
A collection of 12 original songs, of which Luke has cowritten 9 with various writers such as Troy Cassar-Daley , Adam Harvey and Vaughan Jones. Luke also has a cowrite on Troy Cassar-Daley's multi-award winning album I Love This Place, released in 2009. "This Town Is Me" written with Vaughan Jones and Troy was one of the three songs that Luke impressed the judges with during his Grand Final performance winning him the title of 2010 Toyota Star Maker Winner. The first hit single from his debut album , "She's So You", is a warm and honest track about his Fiancee' and daughter, and is currently climbing the Australian Country charts and his amazing video is on high rotation across Australasia on CMC , country music channel. For more information on Toyota's commitment to the Tamworth Country Music Festival and other events please visit
www.toyotacountryclub.com.au
Audio files from the 2010 Toyota Star Maker Grand Final available for download from
www.countrymusicradio.com.au
For further media information or to interview 2010 Toyota Star Maker contact Cheryl Byrnes at Rural Press Events M: 0407 10 69 66 E: starmaker@ruralpress.com 380
www.capitalnews.com.au
www.tamworthcountrymusic.com.au
www.toyota.com.au
Member Since:
October 06, 2008
Influences:
Merle Haggard, Keith Whitley, Troy Cassar-Daley, Stevie Ray Vaughan , The Eagles, Robben Ford, The Flood, Brad Paisley, Ricky Skaggs, Otis Redding, Stevie Wonder, The Beatles, Lefty Frizzell, Diesel, Kieth Urban, John Mayer.
Record Label:
Compass Bros