No recent updates in this category.
Why not...
Lulu Bat hasn't earned any badges yet... have you?
General


Photography...
Writing...
Drumming...
Drawing...
Painting...
Music...
Web Design...
Band Promoting...
Sewing...
Comic Books...
Forensics...
Baking Sweet Things...
Science...
Root Beer Floats...
Cutting Up Magazines...
Tea...
Leather Jackets...
Passionate Sex...
Daffodils...
Corn Dogs...
Constellations...
Couches Outside...
Fast Food...
Cigarette Smoke...
Loud Gigs...
Spring Rolls...
Classic Cars...
Snow...
Road Trips...
Laugh Lines...


Music

..name something and i'll tell you if i like it or not...
but here's a hint:
..

Movies

.. i love movies...

here's a couple hints:

one of the best...

Hitchcock, what else can i say...

A Classic...

Television

CSI...
Mythbusters...
How its Made...
Simpsons...
Futerama...
Family Guy...
Friends...
Sex and the City...
Weird Science...
Duckman...
Beavis and Butthead...
Without a Trace...
The Munsters...
Young Ones...
Black Books...
Mystery Science Theater...
Rugrats...
Loony Toons...
i'm a sucker for cartoons...





Books

....

Francesca Lia Block

..

she is amazing...

..

Calvin & Hobbes

..

hee hee hee...

.. Making the Run

1984

..

and many more... ..

Heroes

My momma


oh and this is mathematically awesome !!

Play

Play Next

Add to queue
About me:
"All photographs are accurate. None of them is the truth." -Richard Avedon
I'm a Freelance Photographer, Model and Graphic Designer. I spent three years in Australia getting my first degree and now I'm back in Portland shooting for an awesome studio and being near my momma while she's sick. Anything else about me is not too hard to figure out if you know me. Excepting that I'm a bit insane, but thats a prerequisite for being an artist.
come see my photos via the banner below but for those with short attention spans here is a preview:
---
"Life is meaningless if your not obsessed..." -Pecker
"I always prefer to work in the studio. It isolates people from their environment. They become in a sense... symbolic of themselves. I often feel that people come to me to be photographed as they would go to a doctor or a fortune teller - to find out how they are." -Richard Avedon
"I think all art is about control - the encounter between control and the uncontrollable." - Richard Avedon
Who I'd like to meet:
..Myself in the Future..
Richard Avedon R.I.P
Bill Henson
Jim Goldberg
Einstein
Other Photographers
Boys with Rockin Pomps
People with Weird Names
Girls who want to model for me
People with beautiful eyes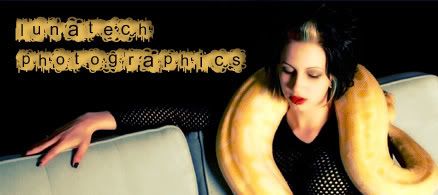 To put my banner on your page click in the text area below, select all, then copy and paste the code onto your page, remember to remove the ***'s or it wont work.
SUPPORT THE FORK!
....
Status:

Married

Here for:

Networking, Friends

Hometown:

Green Pond, New Jersey

Orientation:

Bi

Body type:

5' 1" / Slim / Slender

Ethnicity:

Latino / Hispanic

Religion:

Other

Zodiac Sign:

Taurus

Children:

Someday

Smoke / Drink:

Yes / No

Education:

College graduate

Occupation:

Photographer
The Art Institute Of Portland

Portland, OR

Graduated:

N/A

Degree:

Bachelor's Degree

Major:

Graphic Design

2006 to Present

Portland Community College

Portland, OREGON

Graduated:

N/A

Student status:

Alumni

Degree:

Other

Major:

Photography

2002 to 2003

Arts & Communicaton High Schoo

Beaverton, OREGON

Graduated:

N/A

Student status:

Alumni

Degree:

High School Diploma

Major:

Photography/Writing

Clubs:

Photography Teachers Assistant / Lab Tech / Independent Study

1999 to 2002
LunaTech Photographics

Portland, Oregon US

Owner, Photographer, Graphic Designer, Model

sept. 2001 - present

Photo Geek

Portland, OR US

Creator, developer

2005 - present

Straub Collaborative

Portland, OR US

Post Production Photo Retoucher

Jan 2008 - present