No recent updates in this category.
Why not...
Lyrique Tragedy hasn't earned any badges yet... have you?
General

Music

I'm such a sucker for virtual pets... Isn't he just adorable? You know you want to play with him... ..

Movies

Godfather

,

Casablanca

,

Tombstone

,

300

,

Donnie Darko

,

Ran

,

Throne of Blood

,

Life of David Gale

,

Shakespeare in Love (of course!)

,

Donnie Brasco

,

Goodfellas

,

When Harry Met Sally

,

Gone in 60 Seconds

,

Beyond Borders

,

Manic

,

Hotel Rwanda

,

Syriana

,

Good Night and Good Luck

,

North Country

,

LoTR

,

Elizabeth

,

Crash

,

Rear Window

,

Blow

,

Henry V

,

Prospero's Books

,

Trainspotting

,

Sliding Doors

,

The Red Violin

,

Smokin' Aces

Television

.. ..

..

House,

Law & Order (all of them!)

,

most everything on PBS

, Heroes... I don't watch TV all that much. Usually I have a director's commentary for some movie playing in the background when I work though... Hmm.. I suppose that doesn't count...

Books

Good Omens, Ender's Game, Anna Karenina, House of Leaves, Crime and Punishment, Picasso: Creator & Destroyer, Fragile Things, Because She Can, Mysteries of Udolopho, Twillight, Mists of Avalon, American Gods, Alice in Wonderland (also, Through the Looking Glass), Lolita, Castle of Otranto

See

Lyrique Tragedy Reviews

for more Reviews/commentaries/etc.

(I wonder if I can put a LibraryThing Widget here... hmmm)

Heroes

Nerdy, perhaps, but Queen Elizabeth I.
About me:
~*~ ~*~ ~*~ ~*~ ~*~ ~*~
"When they ask me what I liked best, I'll tell them it was you."
~City of Angels
~*~ ~*~ ~*~ ~*~ ~*~ ~*~
~*~ ~*~ ~*~ ~*~ ~*~ ~*~
"You know that place between sleep and awake, where you're still dreaming? That's where I'll always think of you."
~Tinkerbell
~*~ ~*~ ~*~ ~*~ ~*~ ~*~
"After a while, you just want to be with the one who makes you laugh."

~Mr. Big, Sex and the City
~*~ ~*~ ~*~ ~*~ ~*~ ~*~
"Life has no purpose. It is everywhere undone by arbitrariness. I do this, and it matters not a jot if I do the opposite. But in the playhouse, every action, good or bad, has its consequence. Drop a handkercheif and it will return to smother you."
~John Wilmot, Second Earl of Rochester, The Libertine
..
~*~ ~*~ ~*~ ~*~ ~*~ ~*~
"Love looks not with the eyes but with the mind."
~ A Midsummer Night's Dream
~*~ ~*~ ~*~ ~*~ ~*~ ~*~
Kat: "I've been spilling my guts all weekend and I don't know anything about you."

Nick: "I'm allergic to fabric softener. I majored in comparative literature at Brown. I hate anchovies. And I think I'd miss you even if we'd have never met."The Wedding Date, 2005
~*~ ~*~ ~*~ ~*~ ~*~ ~*~
"A heart is a fragile thing. That's why we protect them so vigorously, give them away so rarely and why it means so much when we do. Some hearts are more fragile than others...purer somehow, like crystal in a world of glass...even the way they shatter is beautiful."
-Everwood,
~*~ ~*~ ~*~ ~*~ ~*~ ~*~
"There are only two worlds -- your world, which is the real world, and other worlds, the fantasy. Worlds like this are worlds of the human imagination: their reality, or lack of reality, is not important. What is important is that they are there. These worlds provide an alternative. Provide an escape. Provide a threat. Provide a dream, and power; provide refuge, and pain. They give your world meaning. They do not exist; and thus they are all that matters. Do you understand?"

~Titania in Book of Magic by Neil Gaiman
~*~ ~*~ ~*~ ~*~ ~*~ ~*~
"Happy Endings are just stories that haven't finished yet."
~Jane, Mr. & Mrs. Smith, 2005
Honestly, there's not too much to know...
I write various kinds of fiction (Historical, Fantasy, Sci-Fi, and Horror--sometimes all at once!), and I'm working on my current novel after abandoning the other two to the "Too much wrong with this to finish" pile.
Like the rest of my life and the odd combination of quotes above, it's complicated and a work in progress. Currently, I'm struggling between the ending that I thought the characters were headed toward when I first started writing this book almost a year ago, and the more positive, hopeful ending that keeps rearing its head. I'm working on both possibilities, even though my gut tells me that it should end well for the characters. Writing tragedy is easy, almost second nature, for me, but writing comedy (in the classical sense) is much more difficult. It's easy to be moving with the tragic. Comedies take much more attention and care.
I also have a comic book script in the final editing stages that my co-writer and I are hoping to send off. Then there are the short stories, and the myriad other novel concepts and worlds and characters that keep wracking my brain for attention...
In the meantime, visit
Lyrique Tragedy Reviews
for author interviews, Book, Film, and Site reviews, and links to Agent sites, publishers, and Author sites and blogs!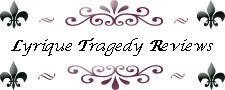 And don't forget to drop by for your weekly dose of "Words, words, words" on the new Podcast Minute Lit!
..About D.M. Papuga:..
I currently teach literature, composition, argument, critical reading, and Shakespeare at three different universities, and have taught at 5 different major universities all over the U.S. My specialization is in the Early Modern Period--specifically tragedies-- along with various modes of Literary Theory, Film, and Pop Culture.
N.B.: I understand that grammar is a sucking black hole of cluelessness, and I don't expect people to be perfect grammarians (Hell, there are only a handful in the world--not including myself), but if you message me and use l33t-speak, text messaging shortcuts (b4, gr8, 2, u, etc.), or fail to understand that a sentence includes punctuation (or proper capitalization of words like "I," for that matter) do not expect a response from me. Using standard English is a pet-peeve of mine, and if you want to be taken seriously (not only by me, but by other "adults" as well), it should be one of yours too. I teach ENGLISH, remember? That's all. I'll step off my soap box now...
Who I'd like to meet:
Well, now this is a silly prompt if I've ever seen one! Most of the people I'd like to meet are dead, so this does me no good. Though, I would certainly like to have a coffee-conversation with Neil Gaiman, Orson Scott Card, and Al Pacino. When I'm famous, I'll post those transcripts.
I love to meet authors, agents, publishers, bookstore owners, and anyone interested in the "book" business.
If you're an author with a soon to be released book, and interested in having your work reviewed on my site (both here and on Lyrique Tragedy Reviews) message me, or contact me via email.
Write Well!
~D.M. Papuga
I hate to have to do this, but apparently it's necessary...
Please be advised that if you solicit anything other than your pending book release, signing tour, etc. (In other words, spamming for clicks, post for cash ads, fast money schemes, or "how to get rich from home" ads, obviously) I will immediately delete the post and block you. I love meeting folks, but no one likes the hard sell. Similarly, if your profile appears to be a vehicle for those things, You will be denied, blocked and promptly forgotten.
Status:

In a Relationship

Here for:

Networking

Hometown:

Pittsburgh

Orientation:

Straight

Height:

5' 8"

Religion:

Other

Zodiac Sign:

Aries

Children:

Someday

Education:

Post grad
University Of Alabama

Tuscaloosa, AL

Graduated:

2003

Student status:

Alumni

Degree:

Master's Degree

Major:

English Lit-- Renaissance

Clubs:

EGO, Strode Program in the Renaissance

2000 to 2003

University Of Pittsburgh-Main Campus

Pittsburgh, PA

Graduated:

2000

Student status:

Alumni

Major:

English Literature

Minor:

Theater & Psychology

Clubs:

Cheerleader, Theater

1997 to 2000

Carnegie Mellon University

Pittsburgh, PA

Graduated:

N/A

Student status:

Alumni

Degree:

None

Major:

Criminal / Abnormal Psychology

Clubs:

Cheerleading, diving, Sports Editor

1995 to 1997

Keystone Oaks Hs

Pittsburgh, PA

Graduated:

1995

Student status:

Alumni

Degree:

High School Diploma

Clubs:

You name it...

1991 to 1995