Play

Play Next

Add to queue
Play

Play Next

Add to queue

7,008 plays

Play

Play Next

Add to queue

1,940 plays

Play

Play Next

Add to queue

1,560 plays

Play

Play Next

Add to queue

633 plays

Play

Play Next

Add to queue

692 plays
..
Members:
"
Johnny Duflicker -Lead Vocals, Guitar
Jesse Strokes - Bass, Vocals

Chris Hawkeye - Guitar, Vocals

Mac - Drums, Vocals
Bio:
..

4 piece Punk Rock'n'Roll band from Ottawa, Canada. Started in January 2006 after the break-up of their previous band BlackSheep (2002-2005). Machine Gun Dolly is fronted by guitarist and singer Johnny Duflicker with his sidekick Jesse Strokes on the Bass Guitar and Mac Simpson on Drums. Inspired by old school and early 90's punk, these boys are doing what they can to keep good music alive. In Febuary 2010, Chris Hawkeye joined the band as the additional guitar player the band has spent many years looking for after the break-up of his old band, The Zero Hours. Be on the look out for a new album in 2011!

We have shared the stage with The Lower Class Brats, Time Again, Koffin Kats, The Brains, Against All Authority, The Alley Dukes, The Krum Bums, The Creepshow, Union Made, Subsistance, The Ruffianz, The Flatliners, The Matadors, The Rotten and many more...


Member Since:
March 19, 2006


Influences:
Lars Frederiksen and the Bastards, The Forgotten, Social Distortion, The Clash, The Ramones, The Adicts, U.S Bombs, Rancid, Motorhead, Time Again, The Unseen, Dropkick Murphys, Nekromantix, Nirvana, Cock Sparrer, Devil's Brigade, The Riptides, Die Hunns, Left Alone, The Misfits, Dead Kennedys, Elvis, The Brains, Street Dogs, Buddy Holly, AC/DC, The Cramps, Operation Ivy...


Sounds Like:
"Nuclear Generation"
Label: Title Track Recordz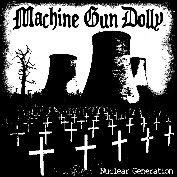 CLICK COVER TO BUY
1. Intro
2. One Shot One Kill
3. She Don't Care
4. Nuclear Generation
5. Let's Fight
6. Friends And Enemies
7. Junkie
8. Stuck In A Rut
9. Slaves Of Society
10 Working Tom
11. Nothing To Prove
12. Danny Boy
13. Shine His Crown
14. Our Generation
Recorded by J-S @ 3dB Productions
http://www.myspace.com/3dbdown
CLICK COVER TO BUY
1. Criminals
2. My Name
3. Live Fast Die Young
4. Devil's Rejects
5. BackBone
Recorded by J-S @ 3dB Productions
Mastered By Rene Garcia (The Brains)
Record Label:
Title Track Recordz
Machine Gun Dolly has 5576 friends.