No recent updates in this category.
Why not...
Myspace Loser Formerly Known as The Barroom Hero hasn't earned any badges yet... have you?
General

Reading, writing, politics, music, philosophy, religion, verbally berating things I don't like, etc. You know, the usual.

Music

"Eclectic variety." Seriously

,

though

, putting on here the kinds of music I listen to or the bands I like... that just gives people more fodder on judging me. I'm doing it anyways,

damnit

,

but I lodge my objections up front. Make your own decisions as to my musical taste

,

and whether or not I'm "cool". And

,

don't bother trying to kid yourself

,

deep down you know you're judging me. It's ok

,

we all do it to one degree or another:
Velvet Underground

,

The Clash

,

Lou Reed's solo

,

Tom Waits

,

Blackalicious

,

Brainiac

,

Public Enemy

,

Johnny Cash

,

Willie Nelson

,

Devotchka

,

The Pixies

,

The Shins

,

Mozart

,

Dead Can Dance

,

Beethoven

,

Calexico

,

Drop Kick Murphy's

,

Elvis Costello

,

Nick Cave and the Bad Seeds

,

The Birthday Party

,

Marty Robbins

,

The Specials

,

Jurassic 5

,

Bob Wills' Texas Playboys

,

Tribe Called Quest

,

The Roots

,

etc.
There's a whole mess of 'em

, a veritable litter of musical extravagancia. My taste is all over the place.

Tom Waits, A True American Bad Ass

Movies

Ditto on the movies when it comes to my objections and what have you. I'm not a huge movie buff

,

but I've got a couple that I enjoy: Spun

,

Sin City (recent addition... I'm a comic book nerd at heart)

,

Train Spotting (ain't seen it in years

,

though)

,

Anything from Monty Python

,

Adventures of Baron Munchaussen (spelling

,

anyone? I know that's horribly off-kilter

,

but so's the name)

,

Equilibrium (some of the finest gun-fu)

,

Ghost in the Shell (the greatness of this is in the ideas behind the movie

,

and the ideas that the movie can foster within a viewers head... cyber-Punk at its best

,

almost sheer perfection)

,

Apocalypse Now

,

The Battle for Algiers

(if you are concerned about any of the current goings on in the world,

injustices by the american government

,

military

,

whatever

,

and you actually think we are the first to have ever pulled this kind of shit with a foreign country

,

then this is a MUST SEE. IF YOU HAVE NOT seen this movie and you fit into the above category

,

you're a twit. You will cease to be a twit when

,

and only when

,

you buy this and watch it. WHOO! Long parenthetical statements take the wind out of me). And

,

finally

,

anything with Al Pacino. A whole mess of other movies in addition to this list

,

probably not too numerous to name. But

,

well

, you get the idea.

Even though it's not on the list:

The Outlaw Josey Wales
One of the best Westerns ever.

Television

"And lo! A great beast did descend upon the kingdom called Amerika

, and it did devoureth the brains of all the citizenry and those that did dwell within that land! Not a soul twas spared,

not child

,

nor man

,

nor woman

,

nor old

,

nor lame. And the people cried out

,

'oh fucking lord

,

it's a big box with a big fucking window on the front and it's in mah brain justa chowin' down

,

lord!'

And it's name was Television

,

the 5th Horseman."

Excerpted from the Book of Jezebel Chapter 5

,

000; Verse 23

And that's why I don't watch the shit.

Books

So many books. I literally had to give away my collection because it was overflowing into my bathtub. And books don't go in the bathtub.

Everybody knows that.... moron

Robert Anton Wilson, Lao Tzu, Confucious, Sun Tzu, all the other Taoist writers not nearly as famous but just as wonderful, James Joyce, Bukowski (though, the fucker's begun to wear on me. Only so much drunken beating of prostitutes and girlfriends that I can take), Brett Easton Ellis, Phillip K. Dick, Crowley (pronounced like "holy"), Lovecraft in all his cyclopean cthonic glory, Hunter S. Thompson, Alan Moore,

Warren Ellis

, Neil Gaiman, Grant Morrison,

James Curcio

, Howard Campbell aka Ben Mack, Niccolo Macchiavelli, and finally R. Buckminster Fuller.

And probably so many more that if I were to write them all here, my fingers would fall off from typing for the eons required, then your head would explode upon reading them. Because I'm waaaaay cooler than you, and my books are better than yours.
About me:
....
If you want to add me as a friend, here's a general disclaimer: I won't just add you unless you are really cool. So fucking cool that my eyes bleed, erupting mucusy sanguine liquid all over my computer monitor. At least fucking message me. I don't like people enough as is. And don't just put "you're cool" cause that ain't gonna cut it. Tell me it's because my cock is ginormous, or because you love LSD and I remind you of the time your entire arm broke out in sores one second then went away the next, etc. That would make my day. If you don't like any of this... I think we know what you can go do, even if it is anatomically impossible.

Frequency23
One of the many places you can find me.
Look! There's
another
,
another
and another:
MayhemRadio Podcast Project
I've been reading some other stories of people having problems with it, so let me know if gets wonky. I value many things in life: Family, Friends, Booze, Literature, Ideas, and Fresh Smokes. Everything else that happens to come along the path... well, I suppose those are just the perks of being alive.
Oh, and coffee... gotta have my coffee. Meet Juan, my drug dealer:


None of that starbucks bullshit, either. That's not coffee, that's caffeine for yuppies. Fuck yuppies.
I'm intensely interested by politics, philosophy, religions, and man's (not just American) culture: music, art, theatre, literature, movies, comic books, etc. There are too many interesting things out there to like just one group, culture, study, genre, thing, woman, etc.
Other important things about me:

In general, I'm not a big fan of people. Actually, I dislike most people. I try my hardest not to be selective with my hate, though. It's similar to easy spread... one little tub goes a long way. There's enough for everyone to get some.

I drink beer, the cheapest wine possible (aka Carlo Rossi: Sangria in a gallon jug for $10), whiskey, Guiness, sometimes Rum when I'm in a piratey mood... Ar. I also read, write, watch westerns, and walk around in a wife-beater when I'm at home.

I have a creepy man crush on Al Pacino. I want to have 10 zillion of his babies. It's probably because he's short and must have balls so big you could go bowling with 'em.



Devil's Advocate... God I hate lawyers... Satan, though? Eh... not so bad.

Who I'd like to meet:
Hmmm... Whom I would like to meet, eh?
People who honestly give a shit.
Cystic Fibrosis. You're a dirty bastard if you don't donate.
Other than that?
No one in particular. God probably doesn't exist, so I can rule out him... Jesus is still sitting in a tomb somewhere... Nope, ya got me. Nobody. Well, except maybe this guy: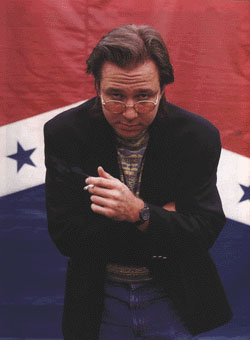 "I dunno how much AIDS scares y'all, but I got a theory: the day they come out with a cure for AIDS, a guaranteed one-shot cure, on that day there's gonna be fucking in the streets, man."
-Bill Motherfuckin' Hicks-
December 16, 1961 - February 26, 1994

But only because he's a genius, a paragon of comedic talent, a prophet from the age of enlightenment sent here to spread bliss, spiritual awareness, and expansion of consciousness to all by attacking everyone who drags down this great experiment named humanity. We're all just energy slowed to the same vibratory rate, the imagination of ourselves perceiving god perceiving us.

Squeegee your third-eye my fellow viruses with shoes, because if we don't open ourselves to the world around us we're all in for one goddamned bumpy ride!

-R. I. P. Billy Boy-....
Status:

Single

Hometown:

Grapevine, Texas

Orientation:

Straight

Body type:

5' 4" / Average

Ethnicity:

White / Caucasian

Religion:

Agnostic

Zodiac Sign:

Aries

Children:

I don't want kids

Smoke / Drink:

Yes / Yes

Education:

In college

Occupation:

Sell out... gotsta pay the bills somehow...

Income:

Less than $30,000