Bio:
.. .. .. ..
..........
..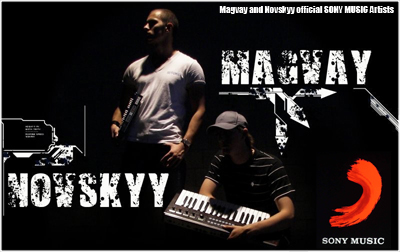 Magvay & Novskyy feat. Benni Fridge - Mir gehr es gut [Official Video]
Magvay & Novskyy @ Event Arena (Spornitz, 30.01.2010)
Nachtaktiva @ Maria am Ostbahnhof (Berlin, 19.06.2009)
Live @ Maria am Ostbahnhof (Berlin 13.03.2009)
CLICK ON THE LINK TO WATCH THIS VIDEO:
Magvay & Novskyy feat. Lize - Graf Cox (Sexy Girl) [Official Video]
Live-Act @ Goya Club (Berlin 24.11.2007)
Add to My Profile
|
More Videos
Live-Act @ Felix Club (Berlin 07.09.2007)
Add to My Profile
|
More Videos
Live-Act @ Maxxim Club (Berlin 15.09.2007)
Add to My Profile
|
More Videos
DJ MAGVAY (dj-magvay.com):
DJ Magvay (Alex Lammok) started his music career in 1998.
Like the most of hobby DJ's he played at various private parties
for about two years. It was nothing serious at that time,
he was playing just for fun. But in the year 2000
Alex found suddenly an opportunity to earn the skill
of playing on turntables. He took a couple of lessons and
many advices from young DJ's, who where already playing
for a while. Then Alex started to buy the vinyl and to collect
the experience of DJing. Every Friday Magvay played a short
set for about 30 minutes in some small night club. At this time
he focused himself on the Progressive House with some
elements of
Techno.In
the 2001 cause of some changes in
his life Alex lost the connections and the opportunity to play
in the night clubs, but started to produce his own House and
Techno
tracks.In
the beginning of the 2002 he made some
connections to a couple of bars (Caroshi, Helva, Wille)
in the centre of Berlin, where he could play as a DJ.
It was not much, but it was enough for a new start.
In the middle of 2003 Alex started to play on some regular
parties in Antique, S-Club and Safe-T-Club. Since that time
he played in more than 70 clubs all over Germany.
In the 2006 Magvay got acquainted with LM Novskyy and
they decided to make an Electro/Minimal Project/Live-Act.
Cause of many booking requests and the lack of time they
started to cooperate only in the summer 2007. They began
to produce music together and worked hard till their first
release on ArtMinimal Records (Berlin, Germany).
At the same time Magvay & Novskyy played their own
music LIVE in the best clubs of Berlin (Felix, Maxxim, Goya).
As the first worldwide release was out, Alex and Novskyy
began to work more than ever before to pay as much attention
as needed to the quality of the
tracks.In
the January 2008 DJ Magvay
experimented on this new solo tracks and discovered his
own electro sound. Now there is enough material for about
3 new releases. All these tracks will be released soon.
LM NOVSKYY(novskyy.com):
Novskyy (Miloslav Lavrinovskyy) is the young producer/Dj who represents
the new generation of techno music in Berlin. He spends almost all of his
time in the studio discovering new sides and edges of the electronic music.
He says: "Good tunes always make spiders smile.
•DJ As a Dj he started his career in early 2003 from warm-up sets to
"special guest" in the best parties and events,
he has always showed his own art of performance and exclusive
tracks from the leading European labels. He has played in more
than 15 night clubs through Berlin and also all over the Germany and
Ukraine.Nevertheless his favorite public and clubs are in Berlin.
Here has acted in such clubs as Felix(in which "PACHA parties" are
held),Maxxim (in which"Hed Kandi parties"," Kontor Events",
" Ibiza Amnesia parties", "Paris Hilton events" are held)
and Goya club, also in different underground clubs in and out of Germany.
•Producer
Experience in audio engineering and musical education plus successful DJ
career helped him to produce his own music. In the beginning of the 2007
Novskyy in the pair of berlin producer Magvay founded a
new project "Magvay and Novskyy".The project made its de*but
on the German label "Artminimal"(label's representatives
are Dandi and Ugo) and on "76 recordings",U.K.
and "Toyroom records",Germany.After a very short period of time
a new record "White corner" was ready and released by
"040 Recordings" (Germany) on the same label with
Swen Weber, Tube and Berger, John Acquviva.
In the end of 2008 track "Berlin, Don't Cry" came out on the
official CD release of "IBIZA AFTERHOUR 2008".
The compilation summed up the best dance tracks of the expiring
year from Ibiza.Next releases "Graf Cox" feat. Lize came out on
" Reeper-bahn records",Germany, on the same label with Swen Weber.
Live sets and tracks were produced on different Europe and world's
radiostations.Detailed releases description you can find below.
•Label manager.. Audio engineer
Wide experience in musical sphere as audio engineer, producer and
promotion manager has helped him to become A..R manager on
"Detached Records"label, Berlin. Label "Detached Records" is a
German record label which distribute electronic music in more
than 30 digital stores all over the world( ITunes, Juno, DjDownload,
DanceRecords). Label tracks are on the famous
CD compilations such as "Ministry of Sound" and "Pacha Ibiza".
In early 2007 he worked on the music for a film ''Familie des Humanisten''
(von J. Bauch) together with the composer Yuval Halpern
(Film Festival - Achtung Berlin - New Berlin Film
Award(
http://www.achtungberlin.de/
)
Releases:

Graf Cox (Reeperbahn / Germany) October 2008
White Corner (040 / Germany) October 2008
Guru Tunes (Detached / Germany) August 2008
Der Terrier (Artminimal / Germany) August 2008
Your Dress Is Wet (Musictracx / UK) August 2008
Berlin, Don't Cry (Toyroom / Germany) August 2008
Potion (Hardplace / USA) August 2008
KOhm Fashion (76 Recordings / UK) July 2008
Butterfly (Artminimal / Germany) July 2008
Lost Roots (Robodust / Belgien) September 2008
Still Connected (Robodust / Belgien) September 2008
Nach dem Signalton (Artminimal / Germany) December 2007
Acht Affen und der Reisverschluss (Artminimal / Germany) Dec. 2007
Minimal Saloon (Artminimal / Germany) December 2007
..
More Info's & Contacts:
www.magvay-novskyy.com
Member Since:
July 03, 2007
Record Label:
Sony Music, Reeperbahn, 040 Recordings
No recent updates in this category.
Why not...
Genre: Electro / Progressive / Techno

Location Berlin, DE

Profile Views: 57708

Last Login: 7/14/2011

Member Since 7/3/2007

Website www.magvay-novskyy.com

Record Label Sony Music, Reeperbahn, 040 Recordings

Type of Label Indie

Bio

.. .. .. .. ................ .. .. .. .. .. .. .. .. .. .. .. .... .. ........ .. .. .. .. .. .. .. .. .. .. .. .. .. .. .. .. .. .. .. .. .. .. .. .. .. .. .. .. .. .. .. .. .. .. .. ..Magvay & Novskyy feat. Benni Fridge - Mir gehr es gut [Official Video].... .. .. .. .. .. .. .... ..Magvay & Novskyy @ Event Arena (Spornitz, 30.01.2010).... .. .. .. .. .. .. .. .. ..Nachtaktiva @ Maria am Ostbahnhof (Berlin, 19.06.2009).... .. .. .. .. .. .. .... ..Live @ Maria am Ostbahnhof (Berlin 13.03.2009).... .. .. .. .. .. .. ...... ..CLICK ON THE LINK TO WATCH THIS VIDEO:.. Magvay & Novskyy feat. Lize - Graf Cox (Sexy Girl) [Official Video]...... .. .. .. .. .. .. .. .. ..Live-Act @ Goya Club (Berlin 24.11.2007)...... .. .. .. .. .. .. .. ......Add to My Profile.. | ..More Videos.... ..Live-Act @ Felix Club (Berlin 07.09.2007)...... .. .. .. .. .. .. .. ......Add to My Profile.. | ..More Videos.... ..Live-Act @ Maxxim Club (Berlin 15.09.2007)...... .. .. .. .. .. .. .. ......Add to My Profile.. | ..More Videos.... .. .. .. .. .. .. .. .. .. .. .. .. ..DJ MAGVAY (..dj-magvay.com..):.. DJ Magvay (Alex Lammok) started his music career in 1998. .. Like the most of hobby DJ's he played at various private parties .. for about two years. It was nothing serious at that time, .. he was playing just for fun. But in the year 2000.. Alex found suddenly an opportunity to earn the skill.. of playing on turntables. He took a couple of lessons and.. many advices from young DJ's, who where already playing.. for a while. Then Alex started to buy the vinyl and to collect .. the experience of DJing. Every Friday Magvay played a short.. set for about 30 minutes in some small night club. At this time.. he focused himself on the Progressive House with some.. elements of Techno.In the 2001 cause of some changes in .. his life Alex lost the connections and the opportunity to play.. in the night clubs, but started to produce his own House and.. Techno tracks.In the beginning of the 2002 he made some.. connections to a couple of bars (Caroshi, Helva, Wille).. in the centre of Berlin, where he could play as a DJ. .. It was not much, but it was enough for a new start... In the middle of 2003 Alex started to play on some regular.. parties in Antique, S-Club and Safe-T-Club. Since that time .. he played in more than 70 clubs all over Germany... In the 2006 Magvay got acquainted with LM Novskyy and .. they decided to make an Electro/Minimal Project/Live-Act. .. Cause of many booking requests and the lack of time they .. started to cooperate only in the summer 2007. They began .. to produce music together and worked hard till their first .. release on ArtMinimal Records (Berlin, Germany). .. At the same time Magvay & Novskyy played their own .. music LIVE in the best clubs of Berlin (Felix, Maxxim, Goya)... As the first worldwide release was out, Alex and Novskyy .. began to work more than ever before to pay as much attention.. as needed to the quality of the tracks.In the January 2008 DJ Magvay.. experimented on this new solo tracks and discovered his.. own electro sound. Now there is enough material for about .. 3 new releases. All these tracks will be released soon... ..LM NOVSKYY(..novskyy.com..):.. Novskyy (Miloslav Lavrinovskyy) is the young producer/Dj who represents.. the new generation of techno music in Berlin. He spends almost all of his.. time in the studio discovering new sides and edges of the electronic music... He says: "Good tunes always make spiders smile... •DJ As a Dj he started his career in early 2003 from warm-up sets to.. "special guest" in the best parties and events,.. he has always showed his own art of performance and exclusive.. tracks from the leading European labels. He has played in more.. than 15 night clubs through Berlin and also all over the Germany and.. Ukraine.Nevertheless his favorite public and clubs are in Berlin... Here has acted in such clubs as Felix(in which "PACHA parties" are.. held),Maxxim (in which"Hed Kandi parties"," Kontor Events",.. " Ibiza Amnesia parties", "Paris Hilton events" are held).. and Goya club, also in different underground clubs in and out of Germany... •Producer.. Experience in audio engineering and musical education plus successful DJ.. career helped him to produce his own music. In the beginning of the 2007.. Novskyy in the pair of berlin producer Magvay founded a.. new project "Magvay and Novskyy".The project made its de*but .. on the German label "Artminimal"(label's representatives .. are Dandi and Ugo) and on "76 recordings",U.K... and "Toyroom records",Germany.After a very short period of time.. a new record "White corner" was ready and released by .. "040 Recordings" (Germany) on the same label with .. Swen Weber, Tube and Berger, John Acquviva... In the end of 2008 track "Berlin, Don't Cry" came out on the.. official CD release of "IBIZA AFTERHOUR 2008"... The compilation summed up the best dance tracks of the expiring.. year from Ibiza.Next releases "Graf Cox" feat. Lize came out on .. " Reeper-bahn records",Germany, on the same label with Swen Weber... Live sets and tracks were produced on different Europe and world's.. radiostations.Detailed releases description you can find below... •Label manager.. Audio engineer.. Wide experience in musical sphere as audio engineer, producer and.. promotion manager has helped him to become A..R manager on.. "Detached Records"label, Berlin. Label "Detached Records" is a .. German record label which distribute electronic music in more .. than 30 digital stores all over the world( ITunes, Juno, DjDownload,.. DanceRecords). Label tracks are on the famous.. CD compilations such as "Ministry of Sound" and "Pacha Ibiza"... In early 2007 he worked on the music for a film ''Familie des Humanisten''.. (von J. Bauch) together with the composer Yuval Halpern.. (Film Festival - Achtung Berlin - New Berlin Film.. Award(http://www.achtungberlin.de/).. ..Releases:.... Graf Cox (Reeperbahn / Germany) October 2008 .. White Corner (040 / Germany) October 2008.. Guru Tunes (Detached / Germany) August 2008.. Der Terrier (Artminimal / Germany) August 2008.. Your Dress Is Wet (Musictracx / UK) August 2008.. Berlin, Don't Cry (Toyroom / Germany) August 2008.. Potion (Hardplace / USA) August 2008.. KOhm Fashion (76 Recordings / UK) July 2008.. Butterfly (Artminimal / Germany) July 2008.. Lost Roots (Robodust / Belgien) September 2008.. Still Connected (Robodust / Belgien) September 2008.. Nach dem Signalton (Artminimal / Germany) December 2007.. Acht Affen und der Reisverschluss (Artminimal / Germany) Dec. 2007.. Minimal Saloon (Artminimal / Germany) December 2007.. .. .. More Info's & Contacts:.. ..www.magvay-novskyy.com..

Members

DJ Magvay (..dj-magvay.com..), LM Novskyy(..novskyy.com..) .... .. .. .. .. .. .. .. .. .. .. ..PLEASE SEND ALL BOOKING OFFERS TO:.. ..simone@booking-punkt.de.... Punkt Booking Office.. ASP.: Simone Klinge Otto.. Fon: +49 (0)2566 933 812.. Fax: +49 (0)2566 933 814.. ..

Influences

Sounds Like