The Jack Newman
Orchestra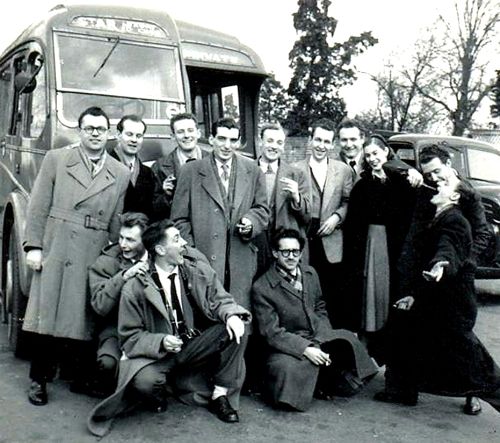 Above: About to go on tour. Below: Live at The Collins Music Hall, London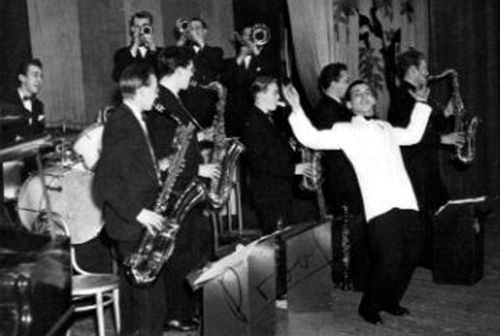 Jack Newman was (possibly) the youngest nationally touring professional UK Swing Bandleader in the post-War years up to and including the birth of Rock'n'Roll.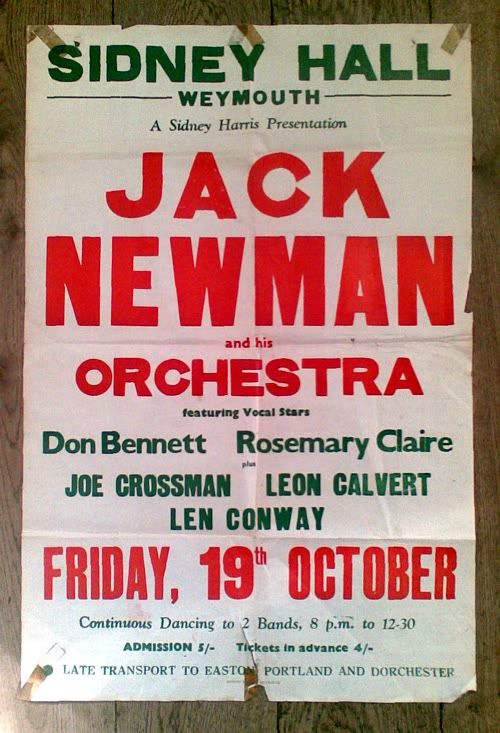 From his late teens until his late twenties my Dad built a five-piece into a Big Band playing opposite all the Names of the day - Joe Loss, Teddy Foster, Ted Heath and the like, until the Electric Guitar pulled the carpet from under all of their feet.
Where he had once been a young upstart threatening the security of a middle aged establishment, suddenly he found himself on the wrong side of the new teen culture and decided to "leave Show Business" though in his heart he never did.
In the 1970's he became manager of old friend and UK Bandleader Sid Phillips, father of jazz drummer Simon Phillips. As manager it was my Dad who conceived and realized the album 'Two Generations'.
Later he reunited his original Big Band and gave a series of well-received broadcasts for BBC Radio 2's 'Late Night Line-Up', 'Band Parade' and 'Night-Ride' programmes. Two tracks from these sessions can be heard on the music player here
He passed away on Wednesday 9th November 2011.
Resigned but ever hopeful of returning to his former life, my Dad shared with me many of his memories of post-War "Showbusiness" from when I was first a teenager; stories of giving concerts all over pre-motorway Britain (wherever I'd been he'd done a gig there), of regularly visiting the London Two I's Coffee Bar (Bill Haley unrecognized without his kiss curl, Tommy Steele auditioning, my Dad's former coach driver Johnny introducing him to his new employers Cliff & The Shadows. Cliff, apparently, was unhappy about his vocal on a new recording which his producer had refused to let him do another take on). In fact all the names and places of the UK Swing / Rock'n'Roll crossover he cared to mention. It was a small industry still being rebuilt, so small that everyone could know (of) everyone else.
My obvious favourite was the one about three men in a London music publisher's office. One (manager) looking for a deal, the other two (friends) differing in their interest. To be blunt it was, or so I was always one of the few he ever told, the day Dick James (an ex-singer and friend from Big Band days) met Brian Epstein though my evidence is entirely circumstantial.
Adventures with my Dad
by
MARTIN NEWMAN
Unconnected as I assumed they were, the following short stories from my childhood had little significance for me until I began to write them down and piece them together. Between the lines, in the implications of things, I started to discover a much bigger picture that I had previously been oblivious of...

One break-time in my Infants & Junior School playground some friends and I were talking about what our Dads 'were'. I didn't know. I knew he used to be something but was now something else. "A Policeman" I lied.
N.E.M.S.
North End Music Stores, the Epstein family business in Liverpool, the initials of which Brian E. used as the name for the Artist Management Company he formed to sign local groups and singers.
I am safely locked in the family car waiting for my Dad to get back from somewhere we've stopped to do with his work. It's a weekday morning of early school holidays and, apart from the door that my Dad went in, the quiet London street has nothing of interest whatsoever. Still in short trousers, I check my long socks are folded over at exactly the same height and wish I hadn't decided not to bring my comics.
Suddenly he returns and hands me a white A5 leaflet with four big royal blue capital letters on the front, each with a dot after. The paper is crisp, glossy and never been opened. I open it. On the left are paragraphs of small royal blue typing. On the right is a royal blue list of nearly all the brand new beat groups. "I know these!" I turn and see him smile an obvious look. We drive away.
HOLLIES v. BEATLES
Shortly after my Dad took the above film I went off The Beatles. Everything about them seemed to be a disagreement at home and everywhere else everyone loved them. I went looking for my own thing.
The moment 'Stay' by The Hollies burst out of the radio I was hooked in to their early B sides and first E.P.'s. I absorbed them utterly and thought my collection complete until I discovered they had released two earlier singles. I asked my Dad and he said he knew someone he could ask.

Early one evening I was with him in his office waiting for him to finish his work and drive us both home. Daring to remind him that he said he knew someone he could ask I was happy to find him happy to be reminded. I listened excitedly from the other room to him chatting, I assumed, to a man in a shop. When I heard him laugh I thought my luck was in until he came off the phone and told me they'd both been deleted.
A couple of years ago I asked my Dad about the above and only then did he tell me that it was Dick James he'd phoned. Having bought all their records for me he knew The Beatles and The Hollies were both on the Parlophone label.
THE HONEYCOMBS
One night my Mum & Dad took me to a Variety Show at The London Palladium. We dressed up smartly and sat in the stalls so near the front I could look down into the dark Orchestra Pit at the musicians preparing for the Show.
In the most hushed silence a man stood alone on the huge empty stage and sang excitedly about a girl called Maria. I thought he was going to cry except he seemed very happy about it.
The best bit was The Honeycombs. With their brand new jangly electric guitar sound (produced by Joe Meek), female drummer (a First) and current Big Hit, they were irresistible and I felt privileged to be there.
After the show my Dad led us backstage and suddenly there they all are in a line looking down smiling at me. The Honeycombs. Whatever music related question it was that they asked me my answer made them chuckle. Then my Dad asked them how everything was and they replied Very happily in the positive.
PINKERTON'S ASSORTED COLOURS

I'm walking with my Dad at night in a London (West Hampstead) back street looking for the entrance to a small (DECCA) recording studio.

Then we're in a tiny control room where a man on a comfy chair with wheels is pushing himself about to fiddle with buttons and machines. Behind the glass, laughing, are the lead singer and guitarist of Pinkerton's Assorted Colours. The rest, I'm disappointed to learn, are all older session musicians. They are recording a follow-up single to their recent hit 'Mirror Mirror'.
Not understanding much about anything I have little to recount except, a few weeks later, I see the full band miming the very song on Top Of The Pops and it's obvious the bass player doesn't know what he's doing.
ENGELBERT HUMPERDINK

On my Dad's invitation, an older friend and I are in the control room of an enormous DECCA recording studio. It's like the cockpit at the centre of a spaceship. Somewhere there is an Orchestra and, much to everyone's impatience, they are recording the same bit over and over again because the drummer just can't get it.

During a break the story goes round that a music journalist had arrived and obliviously asked a group of people (including Engelbert) where Engelbert Humperdink was. I look down to the studio floor from the control room window and see my Dad with a group of people (including Engelbert, tanned and unmistakable) and chuckle along with everyone else.

Being the guitar/bass in our own teenage psychedelic blues group, of infinitely greater interest to my friend and I was the sudden soulful electric strains of Real Blues drifting in from the half open door of a smaller studio down the corridor. We ventured as near as we dared but turned back and never found out who it was.
SHAKIN' STEVENS & THE SUNSETS

I'm walking down a stairway with my Dad into a very long lower floor room where there are lots of grown-ups standing and talking. At one end there is a foot high wooden stage where, I'm told, a band is soon to play. At the other end there is a window where I leave my Dad with others and walk around on my own. As I near the stage I overhear some men sitting on it whisper to each other: "Sshh. That's his son..." Surprised and embarrassed I walk away and very quickly become Very Bored.
Eventually the band comes out dressed in matching pale blue denim jackets and jeans. They play old Rock'n'Roll. I stay bored except the lead singer several times throws himself, knees first, across the stage like he really means it. We leave soon after. At the time I thought they were the Entertainment, now I realize they were the Showcase and my Dad was considering them for management.
NORTHERN SONGS
Meanwhile, back several years to the London office where, according to my Dad, a manager is looking for a music publisher and two others are differing in their interest …
As a young teenager I neither believed nor disbelieved my Dad. Later I wasn't sure then, after my pram memory psychosis I accepted his stories were true (for how many years did his unyielding realism crash down on my dreams).
I resolved to investigate and in January 2005 secretly wrote to George Martin because my Dad had said that, while living in a flat off Abbey Road, he had visited the EMI Studios on a number of pre-Beatle occasions hoping to interest a Mr. Martin there in recording a Rock'n'Roll Big Band. He said he had also seen him at his London office but the answer was No.
In my letter I said I was researching a book about my Dad and asked if he could offer any memories about him and members of his Orchestra (Stan Roderick, Leon Calvert, Johnny Howard, Pete Winslow, Joe Grossman among many - I've seen their names in my Dad's original Band accounts). I also mentioned my Dad's friendship with Dick James.
While hoping for a reply I was amazed to discover in 'Revolution in the Head' by Ian Macdonald that Stan Roderick and Leon Calvert had both recorded for The Beatles, the former playing trumpet on 'Strawberry Fields Forever', the latter trumpet and flugelhorn on 'Penny Lane' and 'Martha My Dear'.
Though I had forgotten the "Sir" and all attendant salutations, I received a lovely reply on behalf of Sir George from his PA dated 23 May 2005. George, she said, was busy working on a big project with his son Giles and had no time to write personally. She said how sorry Sir George was that he couldn't offer any anecdotes about my Dad but that he did remember members of his Orchestra and mentioned Dick James in relation to Bron's Music.
My Dad had told me about Bron's, how they were the main suppliers for Big Bands until guitars took over and they became Music Publishers. Told to me by my Dad and later confirmed in the above letter, Dick James, a redundant singer, became a song plugger for Bron's. But I always thought my Dad had meant Bronze. One day I casually asked him how he spelt Bron's and, knowing nothing of the letter, he replied obviously B-R-O-N-S.
On that day (of days) when Epstein met James my Dad said that he was in the same street as Bron's Music at another music publisher (Campbell Connelly) having some Band arrangements made. Upon leaving he (said he) met James and another man in the street. He said he often went in to see James when in the area. James apparently introduced my Dad as an ex-Bandleader turned Company Director, well qualifying him to add his experience to their discussions. He said they went to the café over the road and, each drinking tea, continued to talk about creating a new music publishing company (ALLEGEDLY and pure supposition on my part) so that James wouldn't have to involve his current employers. My Dad never said this though I did ask him and, for what it's worth, he didn't refute it. Afterwards my Dad said he accompanied them (each in silence) back to James' office and heard several recordings.
At the risk of undeserving but understandable derision, I say that my Dad did "walk away from" an alleged subsequent offer from James of 50% of his share. "Nah."
With all I now know and understand about my Dad's own musical hopes and personal responsibilities at that time, having looked at every atom of it, every outward, inward, resentful and forgiving angle I've ever been invaded by, all I can say is that if I had been him in that moment I'm sure I would have done exactly the same as he did. "Nah". Guitars were not as popular as they had been ("I wanna be ... Bobby's girl!") and my Dad was starting to earn good money with his new and growing Automatic Typing Ltd. But O love that burns my heart.
Then, as if taunted by Fate, I discovered in 'Revolution in the Head' (Ian Macdonald) that the very last day all four Beatles were together in a recording studio was 20 August 1969, my Dad's birthday.
And now today, Tuesday 7th February 2012, upon reading the news that Brian Epstein's NEMS office in Liverpool is to be demolished http://www.beatlesnews.com I discover that the first time Brian Epstein heard The Beatles play in the Cavern was November 9, the very day my Dad passed away.
23 MAY 2012 So, the last ever day The Beatles were officially together is the same as the date that my Dad was born, and the day that Brian Epstein first saw them live is the same as the date that my Dad died.