Play

Play Next

Add to queue
Play

Play Next

Add to queue

480 plays

Play

Play Next

Add to queue

419 plays

Play

Play Next

Add to queue

269 plays

Play

Play Next

Add to queue

237 plays
Genre: 2-step

Location Racine, Wisconsin, US

Profile Views: 15315

Last Login: 2/17/2012

Member Since 6/17/2009

Website your lookin at it and www.massmurdermessiah.viviti.com

Record Label unsigned

Type of Label Major

Bio

....Coming from previous band Omerta(RIP), Guitarist/Vocalist Josh Bodi decided to go with where his writing and heart always led him, to the underground. Armed with a drum machine, a 30 pack of Coors Light, stacks of midget porn, the best of Nacho Vidal and sick gutterals he started programming and writing music in the summer of 2007. Fashioned after numerous influences Mass Murder Messiah just pummels with brutal relentless riffs. Just what you find in the underground sick twisted musicians with a thirst for brutal music. Noticing that the music needed some devastating low end he was joined by fellow ex-Omerta bassist and longtime friend Paul Billips. Billips then recorded an assault of bass brutality and what you now here are the four songs that were recorded. Mass Murder Messiah is a new face in the underground and is all about creating brutal music, hanging out with good people and doing as many shows as possible. .. .. .. MERCH FOR SALE GO TO ..massmurdermessiah.viviti.com.. TO PURCHASE!! .. .. ...... .. Hoodies: $40 .. Hats: $15 .. Shirts: $10 .. Bottle Openers: $4 .. Keychains: $2 .. Buttons: $.50 .. Stickers: $1 .. FREE DEMO WITH PURCHASE!!! .. .. .. .. .......... .. .. .. .. .. .. .. ...... .. .. .. .. .. .. .. .. ...... .. .. .. ...... .. .. .. .. ...... .. .. .. .. ...... .. .. .. .. ...... .. .. .. ...... .. .. .. ...... .. .. .. ...... .. ...... ......

Members

...... .. Bodi- Guitars, Drum Programming, Samples, and Vox .. .. ...... .. Paul "Spicy Muthafuckin Brown" Billips- Bass .. .. .. .. .. .. .. .. .. .. .. .. .. .. .. .. .. .. .. ..

Influences

Skinless, Defeated Sanity, Dying Fetus, Vomit Remnants, Decrepit Birth Malignancy, Waco Jesus, Putrid Pile, Foetopsy, Insidious Decrepancy, Swedish Brawds, Devourment, Patrick Batemen, Cock and Ball Torture, Farting, Adam Richman, Midget Porn, and all types of ill shit.

Sounds Like

Nacho Vidal obliterating Belladonna's asshole
No recent updates in this category.
Why not...
02:33 | 43 plays | Nov 2 2009
Bio:
Coming from previous band Omerta(RIP), Guitarist/Vocalist Josh Bodi decided to go with where his writing and heart always led him, to the underground. Armed with a drum machine, a 30 pack of Coors Light, stacks of midget porn, the best of Nacho Vidal and sick gutterals he started programming and writing music in the summer of 2007. Fashioned after numerous influences Mass Murder Messiah just pummels with brutal relentless riffs. Just what you find in the underground sick twisted musicians with a thirst for brutal music. Noticing that the music needed some devastating low end he was joined by fellow ex-Omerta bassist and longtime friend Paul Billips. Billips then recorded an assault of bass brutality and what you now here are the four songs that were recorded. Mass Murder Messiah is a new face in the underground and is all about creating brutal music, hanging out with good people and doing as many shows as possible.


MERCH FOR SALE GO TO massmurdermessiah.viviti.com TO PURCHASE!!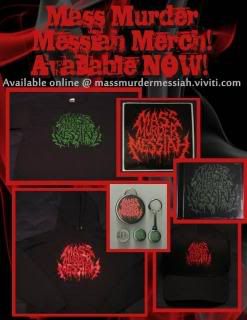 Hoodies: $40
Hats: $15
Shirts: $10
Bottle Openers: $4
Keychains: $2
Buttons: $.50
Stickers: $1
FREE DEMO WITH PURCHASE!!!



..
..

....


..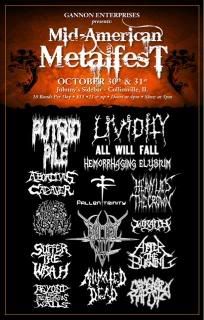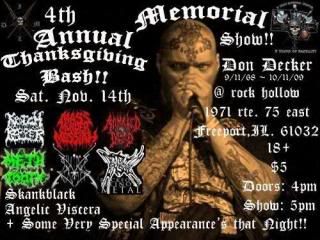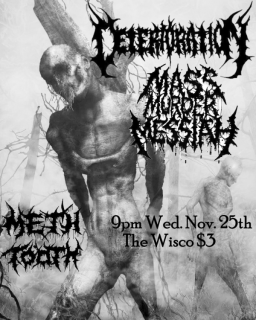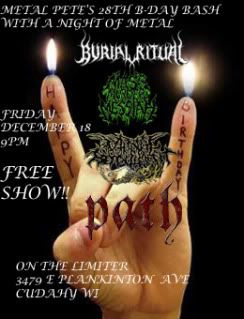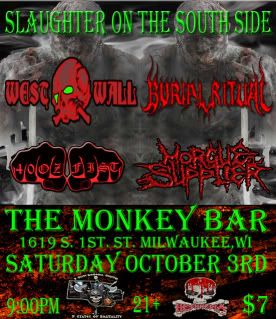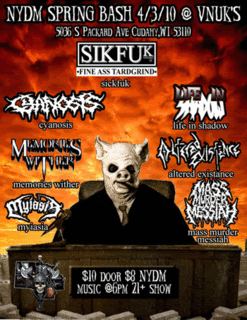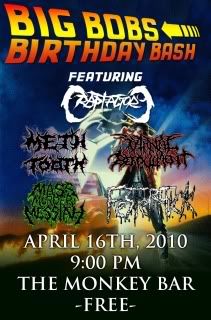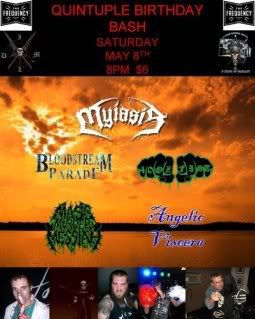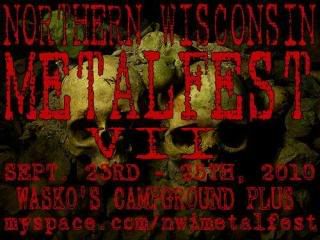 Member Since:
June 17, 2009
Members:
Bodi- Guitars, Drum Programming, Samples, and Vox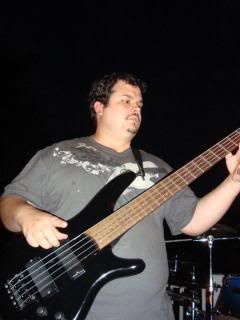 Paul "Spicy Muthafuckin Brown" Billips- Bass






Influences:
Skinless, Defeated Sanity, Dying Fetus, Vomit Remnants, Decrepit Birth Malignancy, Waco Jesus, Putrid Pile, Foetopsy, Insidious Decrepancy, Swedish Brawds, Devourment, Patrick Batemen, Cock and Ball Torture, Farting, Adam Richman, Midget Porn, and all types of ill shit.
Sounds Like:
Nacho Vidal obliterating Belladonna's asshole
Record Label:
unsigned