No recent updates in this category.
Why not...
MATTHEW JAY TRIBUTE (1978-2003) hasn't earned any badges yet... have you?
General

"Look up and see the angels* The gates have opened up for you* I hope your mind is peaceful* And love is everything you do" ~Matthew Jay

In September of 2003, the music world lost one of its brightest up and coming stars with the death of English musician MATTHEW JAY.The young folk/pop artist was on the road to becoming one of the premier singer/songwriters of his generation.Though Matthew was often compared to revered acts such as Elliott Smith and Nick Drake, it was only a matter of time before he would make his own indelible mark within the music industry in his own right.

The buzz from his introductory EP's "Four Songs" and "Friendly Fire" helped to set the stage for Matthew's full-length debut record "Draw". The album spawned the hit singles "Let Your Shoulder Fall" and "Please Dont Send Me Away," and was well received with critical acclaim. Shortly after the albums' release, Matthew embarked on a world-wide tour as a support act for artists such as Starsailor, Dido and Tracy Chapman and gained fans all over the U.S., Canada, Europe and Scandanavia. The future was bright for Matthew. He was destined for great things in his career, but sadly his life was tragically cut short at the tender age of 24 due to a fall from a 7th story window in Nottingham, England.

Inspired by the outpouring of love and condolences from fans, Matthew's family decided to release the album "...too soon" as a memorial to their beloved son and brother. The cd contains b-sides as well as previously unreleased material and rare remixes of Matthews' music and in the coming months, more of the songs Matthew was working on before his untimely passing will be released to the public.

Though Matthew is no longer with us, the memories

remain.He

will never be forgotten, as his legacy will live on forever through the music that he left behind.

Music
Play

Play Next

Add to queue

Play

Play Next

Add to queue

Play

Play Next

Add to queue

Play

Play Next

Add to queue

Play

Play Next

Add to queue
About me:
MATTHEW JAY~ 1978-2003
Creating this tribute page for Matthew was a labor of love for me. He was a friend and an inspiration to me. Mere words cannot begin to express the impact that Matthew had on my life and I will never forget him. He was a joy and a light in so many of the lives that he touched, not only through his music, but with his friendship.
Matthew was brilliant, funny, compassionate, and had a keen insight and sensitivity about so many things. He was an "old soul", wise beyond his years and his music was a reflection of all of these qualities that made him such a dynamic and wonderful person. So it is with love and great honor for me to be able to create something like this to commemorate such a beautiful spirit as Matthew Jay.
With this tribute page, I warmly welcome those of you who were there since the beginning of Matthew's career as well as all new fans who are just now getting exposed to his music. I thank you all so much for adding me as a friend and helping me to keep Matthews' memory and legacy alive.
For more information on Matthew Jays' life, music and career, please visit the official websites at
www.crookedsmile.com
and
www.matthewjay.com
or
the official myspace page
.
Peace and Blessings,
Karen~
Click icon to purchase all Matthew Jay music...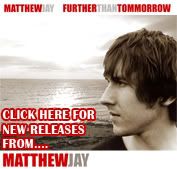 .. I edited my profile with
Thomas' Myspace Editor V4.4
Who I'd like to meet:
Status:

Single

Here for:

Friends

Zodiac Sign:

Libra