Play

Play Next

Add to queue
Play

Play Next

Add to queue

101,912 plays

Play

Play Next

Add to queue

55,224 plays
Genre: Experimental / Jazz / Nu-Jazz

Location PHILADELPHIA, Pennsylvania, US

Profile Views: 395436

Last Login: 6/18/2010

Member Since 5/27/2006

Website www.michaelbrecker.com

Record Label Verve

Type of Label Major

Bio

.............. .. .... .. .. .. This Web site is dedicated to Michael Brecker (March 29th, 1949 - January 13th, 2007) .. .. This is not an official site. All comments you send will be sent to his address and will be read by Susan and the kids. .. .. "They needed good music upstairs..." .. .. .. .. .. .. News.. .. .. January 13th .. .. I got the sad news from various of sources around the globe that Michael has lost his fight with leukemia. A great loss in modern jazz. .. .. NEW YORK -- Michael Brecker, a versatile and highly influential tenor saxophonist who won 11 Grammys over a career that spanned more than three decades, died Saturday at age 57. .. .. Brecker died in a hospital in New York City of leukemia, according to his longtime friend and manager, Darryl Pitt. .. .... Bio.. .. .. A remarkable technician and a highly influential tenor saxophonist (the biggest influence on other tenors since Wayne Shorter), Michael Brecker took a long time before getting around to recording his first solo album. He spent much of his career as a top-notch studio player who often appeared backing pop singers, leading some jazz listeners to overlook his very strong improvising skills. .. .. Brecker originally started on clarinet and alto before switching to tenor in high school. Early on, he played with rock and R&B-oriented bands. In 1969, he moved to New York, and soon joined Dreams, an early fusion group. Brecker was with Horace Silver during 1973-1974, gigged with Billy Cobham, and then co-led the Brecker Brothers (a commercially successful funk group) with his brother, trumpeter Randy Brecker, for most of the 1970s. He was with Steps (later Steps Ahead) in the early '80s, doubled on an EWI (electronic wind instrument), and made a countless number of studio sessions during the 1970s and '80s, popping up practically everywhere (including with James Taylor, Yoko Ono, and Paul Simon). With the release of his first album as a leader in 1987 (when he was already 38), Brecker started appearing more often in challenging jazz settings. He recorded additional sets as a leader (in 1988 and 1990), teamed up with McCoy Tyner on one of 1995's most rewarding jazz recordings, and toured with a reunited Brecker Brothers band. Two Blocks From the Edge followed in 1998, and a year later, Brecker returned with Time Is of the Essence. The early 2000s saw the release of Nearness of You: The Ballad Book and Wide Angles in 2001 and 2003 respectively. .. .. However, after experiencing some mysterious back pain during a concert in 2005, Brecker was diagnosed with myelodysplastic syndrome (MDS), a cancer of the blood marrow. A failed search for a matching bone marrow donor eventually led to an experimental partially matching blood stem cell transplant via his daughter in late 2005. .. .. Scott Yanow, All Music Guide ..

Members

.. .. IMPORTANT UPDATE...... .. .. .. ..MICHAEL BRECKER QUARTET.... .. .. .. Michael Brecker: Tenor-saxophone .. Joey Calderazzo: Piano .. Chris Minh Doky: Double Bass .. Jeff "Tain" Watts: Drums .. .. .. ..STES AHEAD.... .. .. .. Micheal Brecker: EWI, Tenor Sax .. Mike Mainieri: Vibraphone, Synthesizer .. Mike Stern: Guitar .. Darryl Jones: Bass .. Steve Gadd/ Steve Smith: Drums .. .. .. .. ..THE BRECKERS BROTHERS BAND.... .. .. .. Michael Brecker: EWI, Tenor-saxophone .. Rhandy Brecker: Trumpet .. George Whitty: Synthesizer .. Mike Stern: Guitar .. James Genus: Bass .. Dennis Chambers (or) Dave Weckl: Drums .. .. .. LINKS!!.. .. .. .. Michael Brecker Liverecordings .... .. Michael Brecker Official Website.... .. Michael Brecker Videos .. .. Michael Brecker OLD WEBSITE .... .. EWI Website .... .. Michael Brecker Page At Vervemusic .... .. .. .......... .. .. .. .. ....

Influences

John Coltrane .. Charlie Parker .. Thelonious Monk .. Wayne Shorter..

Sounds Like

Steps Ahead .. Brecker Brothers .. Michael Brecker Quartet
No recent updates in this category.
Why not...
Bio:
..
..
This Web site is dedicated to Michael Brecker (March 29th, 1949 - January 13th, 2007)

This is not an official site. All comments you send will be sent to his address and will be read by Susan and the kids.

"They needed good music upstairs..."


News
January 13th
I got the sad news from various of sources around the globe that Michael has lost his fight with leukemia. A great loss in modern jazz.
NEW YORK -- Michael Brecker, a versatile and highly influential tenor saxophonist who won 11 Grammys over a career that spanned more than three decades, died Saturday at age 57.
Brecker died in a hospital in New York City of leukemia, according to his longtime friend and manager, Darryl Pitt.
Bio
A remarkable technician and a highly influential tenor saxophonist (the biggest influence on other tenors since Wayne Shorter), Michael Brecker took a long time before getting around to recording his first solo album. He spent much of his career as a top-notch studio player who often appeared backing pop singers, leading some jazz listeners to overlook his very strong improvising skills.
Brecker originally started on clarinet and alto before switching to tenor in high school. Early on, he played with rock and R&B-oriented bands. In 1969, he moved to New York, and soon joined Dreams, an early fusion group. Brecker was with Horace Silver during 1973-1974, gigged with Billy Cobham, and then co-led the Brecker Brothers (a commercially successful funk group) with his brother, trumpeter Randy Brecker, for most of the 1970s. He was with Steps (later Steps Ahead) in the early '80s, doubled on an EWI (electronic wind instrument), and made a countless number of studio sessions during the 1970s and '80s, popping up practically everywhere (including with James Taylor, Yoko Ono, and Paul Simon). With the release of his first album as a leader in 1987 (when he was already 38), Brecker started appearing more often in challenging jazz settings. He recorded additional sets as a leader (in 1988 and 1990), teamed up with McCoy Tyner on one of 1995's most rewarding jazz recordings, and toured with a reunited Brecker Brothers band. Two Blocks From the Edge followed in 1998, and a year later, Brecker returned with Time Is of the Essence. The early 2000s saw the release of Nearness of You: The Ballad Book and Wide Angles in 2001 and 2003 respectively.
However, after experiencing some mysterious back pain during a concert in 2005, Brecker was diagnosed with myelodysplastic syndrome (MDS), a cancer of the blood marrow. A failed search for a matching bone marrow donor eventually led to an experimental partially matching blood stem cell transplant via his daughter in late 2005.
Scott Yanow, All Music Guide
Member Since:
May 27, 2006
Members:
IMPORTANT UPDATE
..MICHAEL BRECKER QUARTET..
Michael Brecker: Tenor-saxophone
Joey Calderazzo: Piano
Chris Minh Doky: Double Bass
Jeff "Tain" Watts: Drums
..STES AHEAD..
Micheal Brecker: EWI, Tenor Sax
Mike Mainieri: Vibraphone, Synthesizer
Mike Stern: Guitar
Darryl Jones: Bass
Steve Gadd/ Steve Smith: Drums
..THE BRECKERS BROTHERS BAND..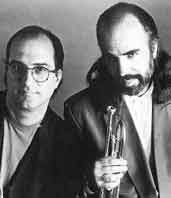 Michael Brecker: EWI, Tenor-saxophone
Rhandy Brecker: Trumpet
George Whitty: Synthesizer
Mike Stern: Guitar
James Genus: Bass
Dennis Chambers (or) Dave Weckl: Drums
LINKS!!
Michael Brecker Liverecordings
Michael Brecker Official Website
Michael Brecker Videos
Michael Brecker OLD WEBSITE
EWI Website
Michael Brecker Page At Vervemusic
......
Influences:
John Coltrane
Charlie Parker
Thelonious Monk
Wayne Shorter

Sounds Like:
Steps Ahead
Brecker Brothers
Michael Brecker Quartet
Record Label:
Verve
Michael Brecker has 34067 friends.