Play

Play Next

Add to queue
Play

Play Next

Add to queue

1,537 plays

Play

Play Next

Add to queue

922 plays

Play

Play Next

Add to queue

22,008 plays

Play

Play Next

Add to queue

2,119 plays

Play

Play Next

Add to queue

11,719 plays
Genre: House

Location YES, THE STRINGS ARE REAL !!!, BR

Profile Views: 172405

Last Login: 8/14/2011

Member Since 6/25/2006

Website www.djmeme.com

Record Label SOULFURIC, DEFECTED/FLUENTIAL , KNEE DEEP

Type of Label Indie

Bio

.. .. .. .. .. .. .... .. .. .. .. .. .. .. .. .. .. ....CLICK HERE TO SEE FULL INTERVIEW!.... .. .. .. ...... .. .. .. Brazil's top House DJ and critically acclaimed remixer/producer DJ MEME gained recognition early in his career with remixes for major artists as far back as the early Eighties creating mega mixes for the likes of The Bee Gees, New Order & the Pet Shop Boys among others. In 1996, Meme remixed of "Estoy AquiI" for the then newcomer Shakira which exploded on the club scene and became a worldwide hit, resulting in a huge demand from major labels for MEME's ability to inject underground dance rhythms into popular music. As a result MEME went on to produce stunning remixes for major pop acts including Mariah Carey, Toni Braxton, Dido, Ricky Martin, Des'ree among many to great acclaim and scooping up no less than 23 Gold Records, 15 Platinum and 3 Diamond records and many awards in the process!.. .. Fast Forward to today and DJ MEME's magical heartfelt music is a regular on our soulful dancefloors worldwide, with his talent for producing beautiful emotional house laced with his signature strings and disco flavours sometimes spliced with echoes of his native latin roots championed by the World's DJ Elite and clubbers alike. MEME has earned himself the title of one of the remixers of the moment, remixing contemporary soulful anthems including Kenny Bobien's 'I Shall Not Be Moved' (Soulfuric), Groove Junkies 'Dr Feelgood' (MoHo), Audiowhores ft Pete Simpson 'Not Going Back' (Papa), Kenny Thomas 'Keep The Fires Burning'(Soul-Fi), Jamie Lewis & Michael Watford's 'It's Over' (Defected) Knee Deep's 'Me Kumba' (Knee Deep), Darryl D'Bonneau's 'Say You're Gonna Stay' (Jellybean Soul) and the massive orchestral dance anthem 'The Cure & The Cause' by Fish Go Deep (Defected) among many others, And with many more gems forthcoming, Meme is currently one of the busiest men in dance!.. .. In 2005 Meme turned his hand to his own productions releasing "Viva" under the moniker Mandala, on Knee Deep Records, which gained broad DJ support worldwide and even reached the 2 position on DJ Magazine's Hype Charts. His last single, a latin house fuelled giant titled "V.A.I." for Soulfuric Records exploded on the dancefloors, reaching 5 on DJ MAG's Hype charts, and gained support by DJs including Dimitri from Paris, The Groove Junkies and Aaron Ross, just to name a few... .. As a DJ, Meme's unique and delicious recipe of smile inducing latin and disco fused house is regular on the menu at the world's greatest clubs. He regularly tours the World's finest spots in countries such as Germany, Spain, Ibiza, Austria, Romania, Hungary, France, Switzerland, Ireland, Italy, USA and as far afield as Indonesia & Korea. May 2008 saw Meme's amazing debut at the Southport Weekender festival (UK), with many of his remixes already dubbed as Southport Weekender anthems, he set a dancefloor of 2000 fans alight, resulting in an additional set the following night with the same results! .. .. Here are some IMPORTANT AWARDS:.. .. 23 GOLD RECORDS.. .. 15 PLATINUM RECORDS.. .. 3 DIAMOND RECORDS (more than a million).. .. DANCE MUSIC PRODUCER OF THE YEAR ON 1994 (DJ SOUND Magazine).. .. 2000 SPECIAL AWARD for MOST ACTIVE PERSONALITY ON DANCE SCENE on the last 10 years (DJ SOUND Magazine).. .. BEST RADIO SHOW IN 1990 (BRAZILIAN ACADEMY OF LETTERS).. .. BEST RADIO SHOW IN 1991 (DJ SOUND Magazine).. .. BEST RADIO SHOW ON 1991 (BRAZILIAN ACADEMY OF LETTERS).. .. 36 TRACKS ON THE BRAZILIAN TOP 10.. .. .. .. .. .. .. .. .. .. .. .. .. .. .. .. .. .. .. .. .. .. .. .. .. .. .. .. .. .. ..

Members

.. ...... .. .. .. ...... .. .. .. ...... .. .. .. ..CLICK IMAGE FOR DIRECT LINK TO CHART.... .......... .. .. ..CLICK BANNER TO LISTEN/BUY PACK 2 @ TRAXSOURCE.COM.... ...... .. .. ..CLICK BANNER TO LISTEN/BUY PACK 1 @ TRAXSOURCE.COM.... ...... .. .. ....NEW SOULFURIC! DJ Meme Orchestra "Any Love"...... .. ..see which DJ's are ROCKIN' "Any Love" WORLD WIDE!!!...... .. .. .. .. .. .. .. ...... .. .. .... .. ..

Influences

.. STRINGS SESSION FOR "THE CURE AND THE CAUSE- DJ MEME MIX .. .. .. .. .. .. .. .. STRINGS SESSION PART 2 FOR "THE CURE AND THE CAUSE- DJ MEME MIX .. .. .. .. .. .. .. .. THE CURE AND THE CAUSE - DJ MEME REMIX .. .. .. .. .. .. .. .. DJ MEME@SOULHEAVEN - BOGOTÁ .. .. .. .. .. .. .. .. PRIVILEGE BRAZIL - 7TH ANNIVERSARY PARTY ( SUN IS COMING UP ) .. .. .. .. .. .. .. .. LIVE P.A. WITH TRACEY K @ SOUTHPORT WEEKENDER 42 AFTERPARTY .. .. .. .. .. .. .. .. DJing at SOUTHPORT WEEKENDER 42 .. .. .. .. .. .. .. .. BASS SESSION WITH DUNGA FOR KEEP THE FIRES BURNING .. .. .. .. .. .. .. .. WITH JASK IN ORLANDO @ PARADISE .. .. .. .. .. .. .. .. HORNS AND STRINGS SESSION FOR I LOVE AMERICA by HANNA HAIS .. .. .. .. .. ..

Sounds Like
No recent updates in this category.
Why not...
Bio:
..
..
..
Brazil's top House DJ and critically acclaimed remixer/producer DJ MEME gained recognition early in his career with remixes for major artists as far back as the early Eighties creating mega mixes for the likes of The Bee Gees, New Order & the Pet Shop Boys among others. In 1996, Meme remixed of "Estoy AquiI" for the then newcomer Shakira which exploded on the club scene and became a worldwide hit, resulting in a huge demand from major labels for MEME's ability to inject underground dance rhythms into popular music. As a result MEME went on to produce stunning remixes for major pop acts including Mariah Carey, Toni Braxton, Dido, Ricky Martin, Des'ree among many to great acclaim and scooping up no less than 23 Gold Records, 15 Platinum and 3 Diamond records and many awards in the process!

Fast Forward to today and DJ MEME's magical heartfelt music is a regular on our soulful dancefloors worldwide, with his talent for producing beautiful emotional house laced with his signature strings and disco flavours sometimes spliced with echoes of his native latin roots championed by the World's DJ Elite and clubbers alike. MEME has earned himself the title of one of the remixers of the moment, remixing contemporary soulful anthems including Kenny Bobien's 'I Shall Not Be Moved' (Soulfuric), Groove Junkies 'Dr Feelgood' (MoHo), Audiowhores ft Pete Simpson 'Not Going Back' (Papa), Kenny Thomas 'Keep The Fires Burning'(Soul-Fi), Jamie Lewis & Michael Watford's 'It's Over' (Defected) Knee Deep's 'Me Kumba' (Knee Deep), Darryl D'Bonneau's 'Say You're Gonna Stay' (Jellybean Soul) and the massive orchestral dance anthem 'The Cure & The Cause' by Fish Go Deep (Defected) among many others, And with many more gems forthcoming, Meme is currently one of the busiest men in dance!

In 2005 Meme turned his hand to his own productions releasing "Viva" under the moniker Mandala, on Knee Deep Records, which gained broad DJ support worldwide and even reached the 2 position on DJ Magazine's Hype Charts. His last single, a latin house fuelled giant titled "V.A.I." for Soulfuric Records exploded on the dancefloors, reaching 5 on DJ MAG's Hype charts, and gained support by DJs including Dimitri from Paris, The Groove Junkies and Aaron Ross, just to name a few.

As a DJ, Meme's unique and delicious recipe of smile inducing latin and disco fused house is regular on the menu at the world's greatest clubs. He regularly tours the World's finest spots in countries such as Germany, Spain, Ibiza, Austria, Romania, Hungary, France, Switzerland, Ireland, Italy, USA and as far afield as Indonesia & Korea. May 2008 saw Meme's amazing debut at the Southport Weekender festival (UK), with many of his remixes already dubbed as Southport Weekender anthems, he set a dancefloor of 2000 fans alight, resulting in an additional set the following night with the same results!

Here are some IMPORTANT AWARDS:

23 GOLD RECORDS

15 PLATINUM RECORDS

3 DIAMOND RECORDS (more than a million)

DANCE MUSIC PRODUCER OF THE YEAR ON 1994 (DJ SOUND Magazine)

2000 SPECIAL AWARD for MOST ACTIVE PERSONALITY ON DANCE SCENE on the last 10 years (DJ SOUND Magazine)

BEST RADIO SHOW IN 1990 (BRAZILIAN ACADEMY OF LETTERS)

BEST RADIO SHOW IN 1991 (DJ SOUND Magazine)

BEST RADIO SHOW ON 1991 (BRAZILIAN ACADEMY OF LETTERS)

36 TRACKS ON THE BRAZILIAN TOP 10





.. ..
..
Member Since:
June 25, 2006
Members:
CLICK IMAGE FOR DIRECT LINK TO CHART
CLICK BANNER TO LISTEN/BUY PACK 2 @ TRAXSOURCE.COM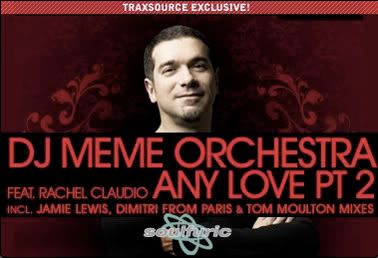 CLICK BANNER TO LISTEN/BUY PACK 1 @ TRAXSOURCE.COM
NEW SOULFURIC! DJ Meme Orchestra "Any Love"
see which DJ's are ROCKIN' "Any Love" WORLD WIDE!!!
..
Influences:
STRINGS SESSION FOR "THE CURE AND THE CAUSE- DJ MEME MIX


STRINGS SESSION PART 2 FOR "THE CURE AND THE CAUSE- DJ MEME MIX


THE CURE AND THE CAUSE - DJ MEME REMIX


DJ MEME@SOULHEAVEN - BOGOTÁ


PRIVILEGE BRAZIL - 7TH ANNIVERSARY PARTY ( SUN IS COMING UP )


LIVE P.A. WITH TRACEY K @ SOUTHPORT WEEKENDER 42 AFTERPARTY


DJing at SOUTHPORT WEEKENDER 42


BASS SESSION WITH DUNGA FOR KEEP THE FIRES BURNING


WITH JASK IN ORLANDO @ PARADISE


HORNS AND STRINGS SESSION FOR I LOVE AMERICA by HANNA HAIS

Record Label:
SOULFURIC, DEFECTED/FLUENTIAL , KNEE DEEP
DJ MEME has 6528 friends.