No recent updates in this category.
Why not...
Rock, Hard Rock, Metal, Jazz, Fusion. Playing for over 18 years. Work part time in a high profile retail music store. JUST LOVE IT!

Publishing
Art
Graphic Designer

Finnishing Diploma in Graphic Design. Currently Hold Cert IV in Multimedia & (Graphic Design)
About me:
Ex- Truth Corroded Drummer.
Ex- Chakkra Drummer.
Se Bon ki Ra - My METAL outlet.
*A Hatian proverb meaning Good is Rare*
BAD BLOOD & BROKEN BONES - My ROCK outlet.
Check out the video of both bands below!
Bad Blood & Broken Bones - The Only Reason
http://www.youtube.com/watch?v=OdmzwdB1IJM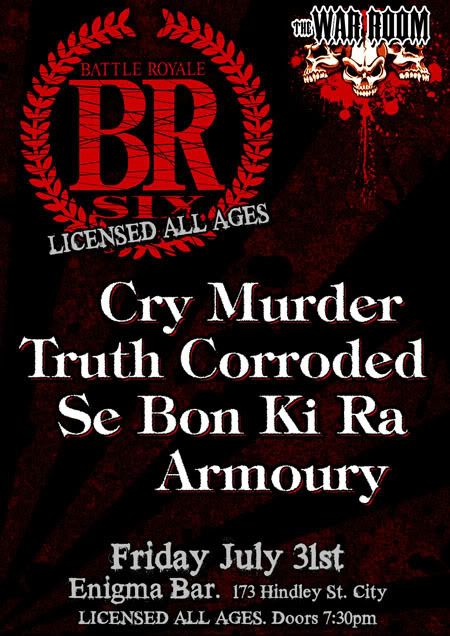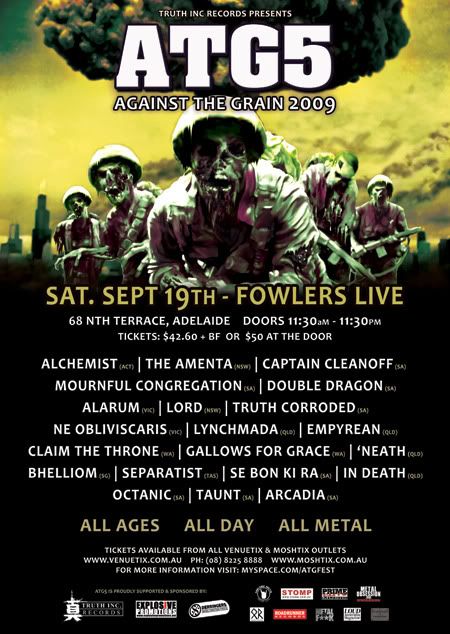 Who I'd like to meet:
"The only people for me are the mad ones, the ones who are mad to live, mad to talk, mad to be saved, desirous of everything at the same time, the ones who never yawn or say a commonplace thing, but burn, burn, burn, like fabulous yellow roman candles exploding like spiders across the stars and in the middle you see the blue centerlight pop and everybody goes "Awww!" - Kerouac.
Status:

Single

Here for:

Networking, Dating, Friends

Hometown:

Alice Springs

Orientation:

Straight

Body type:

3' 0" / Slim / Slender

Ethnicity:

White / Caucasian

Religion:

Atheist

Zodiac Sign:

Scorpio

Children:

Proud parent

Drink:

Yes

Education:

Some college

Occupation:

Retail, Graphic Designer, Noise Maker
General

Music - Partaking, creating & editing. Art, Design, drawing, life - shaggin, drinking, you know all the good stuff.


How Jdi are you?

MP3's From Current Bands

.. .. .. .. ..

Music

Recently Played Itune Tracks

Top Artists For Week

Top Overall Artists

109 Songs/Artists I like

...And Justice for All ...And Justice for All Metallica
24 Hour Bullshit Point Blank Nailbomb
3 libras Acoustica A Perfect Circle
A Farewell To Kings A Farewell To Kings Rush
Ace of spades No Remorse Motorhead
Ænema Aenima Tool
All Along The Watchtower Best Of Bob Dylan
All Hail the New Flesh City Strapping Young Lad
Amir Of The Desert Coal Chamber [UK] Coal Chamber
Angel of Death Reign in Blood Slayer
Arise/Dead Embryonic Cells Under A Pale Grey Sky-Live [Disc 2] Sepultura
Back to the Primitive Primitive Soulfly
Badge Strange Brew: The Very Best of Cream Cream
Bark at the Moon Live & Loud Disc 2 Ozzy Osbourne
Battleship Perfect Is The Enemy Of The Good Burnt By The Sun
Black Hole Sun Superunknown Soundgarden
Black Sabbath Black Sabbath [Castle 1996] Black Sabbath
Blackout Best Of Rockers 'n' Ballads Scorpions
Blaze Of Glory Cross Road [UK] Bon Jovi
Blinded In Chains City Of Evil Avenged Sevenfold
Bloodlust Chimaira Chimaira
Boom! Steal This Album! System of a Down
Break Stuff Significant Other Limp Bizkit
Calm Like a Bomb The Battle of Los Angeles [UK Bonus Track] Rage Against the Machine
Captain howdy Impulsive disturbance Tidal
Captives Our Enemy Is The Weapon Truth Corroded
Cast Down The Heretic Annihilation Of The Wicked Nile
Closer (Deviation) Closer to God Nine Inch Nails
Constitution Down (Joey Jordison Sessions) The All Star Sessions Roadrunner United
Davidian Burn My Eyes Machine Head
Dead Bodies Everywhere Follow The Leader [Japan] Korn
Demigod Demigod Behemoth
Diab Soule Pagan Terrorism Tactics Acid Bath
Dystopia Enemy Of God Kreator
Electric Head: The Ecstasy (Pt. 2) Astro-Creep: 2000 White Zombie
The Faded Line Ashes Of The Wake Lamb Of God
Feed My Frankenstein Wayne's World Alice Cooper
FFF Cryptic Writings Megadeth
Fight Hate The Craving MD.45
The First Cut Is The Deepest The Very Best Of Cat Stevens Cat Stevens
Fucking Hostile Vulgar Display of Power Pantera
Get A Grip Get A Grip [UK] Aerosmith
Ghost of Perdition Ghost Reveries Opeth
Goddamn Devil America's Least Wanted Ugly Kid Joe
The Height of Callousness The Height of Callousness Spineshank
I'm Charming Miasma The Black Dahlia Murder
I Am Abomination Hellfire 1349
I Am Legend - Out For Blood Doomsday Machine Arch Enemy
I Will Lick Your Arsehole Unit Regurgitator
Illegal I Song Contraband Velvet Revolver
The Illusion Of Trust Lycosa Lycosa
In Keeping Secrets of Silent Earth: 3 In Keeping Secrets of Silent Earth: 3 Coheed And Cambria
In My Words Inhumanity Mors Principium Est
Inspiration On Demand The War Within Shadows Fall
Into The Pit First Strike Still Deadly Testament
Kick Him When He's Down Ignition The Offspring
Kill Your Idols Shadow Zone Static-X
L.D. 50 The Beginning of All Things to End Mudvayne
La Ultima Hora Cultura [UK] Breed 77
Last Resort Infest Papa Roach
Lesser Than WorkingFiles se bon ki ra
Let There Be Rock Let There Be Rock AC/DC
Licking Cream Home Sevendust
Like A Coma All Has Blackened Black Like Vengeance
Never Purify Enemies of Reality Nevermore
No One Knows Songs for the Deaf Queens of the Stone Age
No Quarter Houses of the Holy Led Zeppelin
One Step Closer Dracula 2000 Linkin Park
Oral - Minda Version Wounds Like These Chakkra
Orchids Stone Sour Stone Sour
Perception Twin Begins Here The Butterfly Effect
Petrol & Chlorine Freak Show Silverchair
Pink Cigarette California Mr. Bungle
Place I Know The See.d Poetikool Justice
Plush Thank You [Import Bonus Track] Stone Temple Pilots
Pressure Break the Cycle Staind
Promises Singles Going Steady The Buzzcocks
Psychopomp Transmission The Tea Party
Rape Me In Utero Nirvana
The Reflecting God Antichrist Superstar Marilyn Manson
Roadrager Sudden Blinding Certainty Pre-Shrunk
Seabeast Leviathan Mastodon
Sebastian Bach & Friends - Riot Act : live '99 Bring 'em Bach Alive! (1999) & Twisted Forever (2000) Sebastian Bach & Friends
Serial Killer Eternal Nightmare Vio-Lence
Set It Off Audioslave Audioslave
Set It Off Satellite P.O.D.
Set To Destruct Hazardous Mutation (Master) Municipal Waste
Settle Down Mary Star of the Sea Zwan
Seven whispers fell silent A celebration of guilt Arsis
Shadowchild A Predator's Portrait Soilwork
Shelter Eye Of Every Storm Neurosis
Silence Is Violence The New Normal Cog
Slave To The Grind Forty Seasons: The Best of Skid Row Skid Row
Slice Paper Wrists The Opposite of December Poison the Well
So What The Mind Is a Terrible Thing to Taste Ministry
Somebody Kill Me The Wedding Singer Adam Sandler
Soul Burn Destroy Erase Improve Meshuggah
Stabwound Epitaph Necrophagist
StillLifePortrait 4 Imovie Project Antistatic
Stockholm Syndrome Absolution Muse
Suck My Kiss Blood Sugar Sex Magik The Red Hot Chili Peppers
Tea in the Sahara Greatest Hits The Police
To Counter & Groove In E Minor Ink Complete Spastic Ink
Track 01 Omnium Omnium
Vermilion Vol. 3: The Subliminal Verses Slipknot
Viola Vision of Disorder Vision Of Disorder
Wasting Away Point Blank Nailbomb
Zero Occasus The Amenta
Zero Mellon Collie and the Infinite Sadness Disc 1 The Smashing Pumpkins

Hallett Cove School

HALLETT COVE, Australia

Graduated:

1998

Student status:

Alumni

Degree:

High School Diploma

1992 to 1998