Play

Play Next

Add to queue
Play

Play Next

Add to queue

971 plays

Play

Play Next

Add to queue

19,440 plays

Play

Play Next

Add to queue

17,630 plays

Play

Play Next

Add to queue

1,886 plays

Play

Play Next

Add to queue

1,385 plays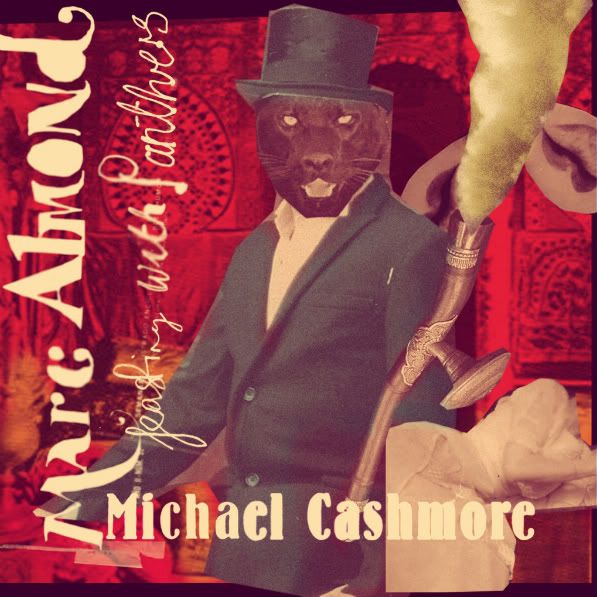 Marc Almond and Michael Cashmore - Feasting With Panthers

FEASTING WITH PANTHERS is a collaboration between Marc Almond and composer Michael Cashmore setting poems of Count Eric Stenbock plus unique translations by Poet Jeremy Reed, of poems by Jean Genet, Rimbaud, Paul Verlaine as well as Reeds own Poetry, to music. 'Decadent' poems of Thwarted love, Opiated romance, decadence and death woven with a Homo-eroticism accompanied by Michael Cashmore's haunting, melancholic music that gives the verse a feeling of yearning for beauty and a longing for lost innocence and youth.
The album was recorded over several years sending files by email and post, never once recording together in the studio, Berlin based Michael Cashmore working at home to compose the music, playing all of the instruments and adding Marcs vocals from files recorded in London. The result is a glorious union, both in voice and music, complementing the text.
The project began after Current 93's David Tibet gave Marc a book of Poems by the Baltic German Poet Count Stanislaus Eric Stenbock he had published through the Durtro label. Marc was instantly attracted to the dark erotic and melancholic yearning in the verse and contacted Michael Cashmore who he had previously worked with on Current 93's reading of Idumea. He felt Michael would have the right understanding of the verse with his intricate beautiful musical work. The project developed to include many of Marc's favourite Poems by some of his favourite 'outsider' Poets with a common ground.
Marc and Michael released a limited edition EP of Stenbocks Gabriel and The Lunatic Lover through Durtro Records and performed both songs at The Queen Elizabeth Hall in London with Current 93 in 2008.
The album "Feasting With Panthers" is released on 6th June through Cherry Red/ Strike Force and is available now to pre-order.

+ + + + +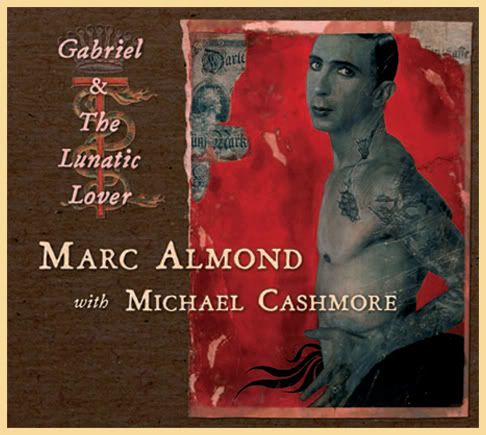 Marc Almond with Michael Cashmore - Gabriel and The Lunatic Lover

This two-track CDEP features vocals from the legendary Almond and music composed and performed by Cashmore, well-known for his extensive catalog of recordings with Current 93 and Nature And Organisation, as well as for his work as a solo artist. The duo sets to music two poems by Count Stanislaus Eric Stenbock, the extraordinary 19th-century gay writer whose bizarre life of decadence, drug-addiction, alcoholism, and poetry - coupled with Satanic, vampiric, and Catholic obsessions - led to his early death at the age of 36 in 1895. The CD is housed in a beautiful full-color digipak that contains previously unpublished paintings of Almond by Russian artist Vania Soutavliov, a rare photograph of the enigmatic Count, and the complete texts to both poems. Available online now from www.jnanarecords.com
+ + + + +
Michael Cashmore - The Snow Abides
With guests Antony and David Tibet

This release comprises five thematically linked songs: all vocals are sung by Antony (Antony and the Johnsons), all song texts are written by David Tibet, and all music is composed and played by Michael Cashmore. Available online now from www.jnanarecords.com

+ + + + +



Michael Cashmore - Sleep England


This is the first entirely solo album from Michael, who has worked extensively with Current 93 over the last 15 years, and who has also released works with his own project Nature And Organisation. The album was written, recorded, mixed and produced by Michael Cashmore. It consists of 12 new and previously unreleased tracks, and comes in a full colour digipak. This release is essential for all those who have followed the works of both Current 93 and Nature And Organisation during the last 15 years.
+ + + + +
Genre: Alternative / Experimental / Other

Location Berlin, Ge

Profile Views: 234885

Last Login: 12/27/2012

Member Since 5/12/2006

Record Label COPTIC CAT / DURTRO JNANA / CHERRY RED RECORDS

Type of Label Major

Bio

Members

Influences

Sounds Like

Michael Cashmore is an English composer and musician currently living in Berlin. His first involvement in music began in the early 80's when he started experimenting with tape machines, acoustic instruments and super 8mm film. Around that time he founded the group Nature And Organisation who made several live performances, and later in the 90's released several recorded works. After becoming a member of Current 93 in 1990 Michael began writing music almost exclusively for the group. Since moving to Berlin several years ago, aside from his work with Current 93, Michael began recording albums under his own name - the first of which "SLEEP ENGLAND" was released in 2006 followed by the mini-album "THE SNOW ABIDES" in 2007 which features all vocals by Antony (Antony and the Johnsons) and texts by David Tibet. Michael released a collaborative CD EP "GABRIEL AND THE LUNATIC LOVER" at the end of April 2008 with singer Marc Almond which featured adaptations of poetry by Count Stenbock. Spring 2011 sees the release of all the collaborative work between Michael and Marc Almond with the album "Feasting With Panthers" which features some of Marc's favourite poetry set to music by Michael. With all vocals by Marc Almond and all music composed, played and mixed by Michael Cashmore this 13 track album is released on June 6th through Cherry Red Records / Strike Force.