Play

Play Next

Add to queue
NEW MILITIA CD - STRENGTH AND HONOR
NOW AVAILABLE
$12 SHIPPED TO USA • $17 SHIPPED INTERNATIONAL
Click on Album Cover to Go to Order Page

Wholesale pricing available on orders of 5 or more CDs. Send an email to rawill@bctrophies.com for details.
Be sure to spread the word to all in the metal community! We all thank you for your patience during the long process that has led to this moment.
- Tony, Jesse, Mike, Robert & Phil - MILITIA
- TRACK LISTING -
1. A Call To Arms
2. Furious
3. The Judas Dream
4. Before The Fall
5. Doomed
6. And The Gods Made War
7. Onslaught
8. Injustice
9. The Black Marauders
10. Unveil The Faith
11. We Need A New Enemy
Genre: Metal / Progressive / Thrash

Location Austin, Texas, Un

Profile Views: 433407

Last Login: 5/22/2013

Member Since 12/16/2007

Type of Label Unsigned

Bio

Members

Mike Soliz (Vocals), Tony Smith (Guitar), Jesse Villegas (Guitar), Robert Willingham (Bass), Phil Achee (Drums)

Influences

Sounds Like
CLICK ON IMAGES TO ORDER - You will be re-directed to the Militia Store on our Facebook page - Facebook login required to purchase. If you don't have a Facebook account, email your request to rawill@bctrophies.com and we'll take care of it.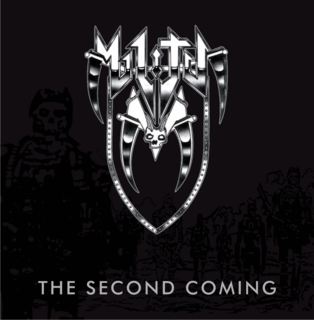 "THE SECOND COMING" LP - Re-issue of "The Sybling" EP
BLACK VINYL - $24 Shipped to the USA - $29 Shipped Beyond the USA
SILVER VINYL - SOLD OUT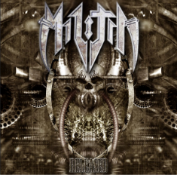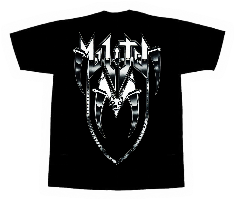 • MILITIA "RELEASED" CD •
$9 Shipped to the USA - $15 Shipped Beyond the USA

• INVERTED SYBLING BLACK SHIRT •
$9 Shipped to the USA - $15 Shipped Beyond the USA

• SPECIAL PRICE FOR ORDERING BOTH ITEMS •
$15 Shipped to the USA - $21 Shipped Beyond the USA
MILITIA - Search For Steel
Die Halle, Frankfurt - April 26, 2009
MILITIA - Metal Axe - 1985
• MILITIA HISTORY •
1984 - The Beginning


Militia was formed in January 1984 by drummer Phil Achee & bassist Robert Willingham.  Later, guitarists Tony Smith and Jesse Villegas joined and began writing songs that featured a unique combination of thrash, power and melodic/technical elements that would later prove to be a staple of Texas Metal.  After completing the tunes for about 5 songs, Militia was still looking for a vocalist.  Jason McMaster (Watch Tower) suggested to the band to offer Mike Soliz a shot.  None of the band members knew if Mike could even sing - he was known as a pretty good drummer.  But about 30 seconds into his audition, it was clear Mike was the man for the job and the first Militia line-up was complete.
Militia Enters the Texas Metal Scene


On July 3, 1984, Militia performed live for the first time, opening for Wyzard and Watch Tower at the Ritz Theater in Austin Texas.  A few months later, Militia embarked on a Texas "mini-tour", opening for Nasty Savage.  Militia would also have the honor of playing alongside Metal giants Megadeth, Exciter, Metal Church and King Diamond, as well as Texas Metal legends Watch Tower, Karion, Juggernaut, Rotting Corpse and Syrus.


Militia was fortunate enough to be part of the epic "Slayer vs. Slayer" show on November 30, 1984.  Two thousand people packed the Villa Fontana in San Antonio to witness the only show ever to feature both Slayers - one from Los Angeles and the other from San Antonio.


1985 - The First Recordings


In 1985 Militia recorded and released their first demo, "Regiments of Death", a project that begun in mid-1984 with intentions of being an EP.  After being plagued with studio issues that cost the band significant time and money, the project was downgraded to a demo and the final tracks were recorded on a 4-track recorder.

Later that year, Militia put on their very own headline show at The Ritz.  Income from this show would finance the recording and pressing of "The Sybling", a 3-song, 12" vinyl EP.  Motivated by a tight budget and the hopes of being signed to a label, the band was forced to produce only 100 copies.  Unfortunately, Militia was never signed and no more copies were ever produced.


1986 - The Beginning of the End


The departure of Jesse Villegas and Tony Smith led to the addition of Philip Patterson on guitar.  The band continued to play shows and write new material, which was featured on the band's final demo, "No Submission".  This demo reflected a significant change in style, with  more melodic tunes and a drifting away from the up-tempo thrash that was featured in the earlier music.  Slowly, the band began to struggle to find their musical identity.  Eventually, this caught up to Militia, who disbanded in 1986 shortly after the departure of Mike Soliz.


1987-2004 - Militia Goes Inactive While "The Sybling" Becomes Very Active


After Militia disbanded in 1986, it was thought that the band would be forever forgotten.  However, a small following of fans and record collectors kept the flame burning.  It was quickly realized that "The Sybling" would be a very difficult EP to acquire, and in 1991, European 7" bootlegs began circulating.  There were a few rumors that original EPs were being sold for over $1000.


The Internet era brought about a strengthened interest in the EP and in 2003, an Ebay auction featured a sale of an original EP for $1136.  "The Sybling" had officially become a collector's item.
In 2004, Militia was approached by Forged In Fire Records about putting out a CD featuring "The Sybling" and other recordings.  The band agreed to do the project, but the inability to locate master tapes stalled the project before it could ever get started.


2007-2008 - An Ebay Auction, Myspace, and Militia's Awakening


In November of 2007, drummer Phil Achee auctioned his own original EP and fetched a $3000 winning bid from a buyer in Germany.  Amazed and curious, bassist Robert Willingham set out to determine the extent of interest in Militia, especially in Europe.  The best way to accomplish this was to create a Myspace page.  The official Militia Myspace page was launched in January 2008 and almost immediately, the band was corresponding with fans all over the world.


Soon after that, Militia was invited to play the Keep It True Festival in Germany.  The band was not able to immediately accept the offer, as the members had not been in contact with each other for many years.  Eventually, all 5 original members agreed to reform and play at KIT XII in April, 2009.


These events helped to un-stall the compilation CD project, and in October, 2008, "RELEASED" was unveiled.  Now fans no longer have to listen to overcopied Militia bootlegs.  The CD also featured a 24-page booklet filled with a biography, pictures and fliers.


After months of rehearsals, Militia took to the stage for the first time since 1985 in a 3-city swing through Texas in December, 2008.  A 23-year absence was history - Militia is alive again!


2009-Present - Conquering Germany, "Strength and Honor"


After a few local warm-up shows, Militia flew off to Germany in April, 2009 and played a memorable show at the famed Keep It True Festival, along with a second energy-charged show in Frankfurt the next night.  The band received a monstrous reception at both shows.  After returning from Germany, Militia spent the next several months working on "Strength and Honor", an all-new full-length album that was released on March 15, 2012. 


Check this page often for the latest updates and news.
MILITIA has 148318 friends.